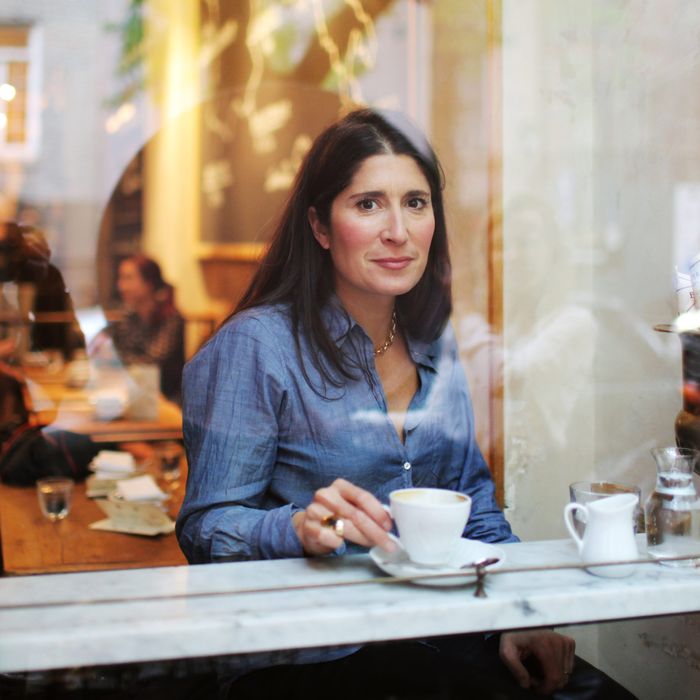 Guzmán at Buvette, one of her go-to restaurants.
Photo: Melissa Hom
In September, Pilar Guzmán took over as the editor-in-chief of Condé Nast Traveler, but any long hours that come with the new job do not come at the expense of family dinners. "I always feel guilty when I'm away for dinner," she says. This past weekend, she shared a sushi feast and a lunch at Talde's bar (no drinks) with her two young sons, and her work-hour eating was just as ideal-sounding: a custom-made lunchbox from Frank Falcinelli and Frank Castronovo, a cheeseburger at Aureole, and a meeting over a Gruyère omelette at Balthazar — where, yes, Guzmán did take notice of the bathroom attendants.
Friday, November 1
I had soft-boiled eggs and soldiers with my kids at home in Park Slope. I have two boys, ages 10 and 7. We have a big bowl of clementines, and I had a bunch of those.
I went to a work-lunch at Aureole, which is right downstairs in the Condé Nast building. I split the tilefish and a cheeseburger. I ate with Becky Lewis, who's a photo agent, and my creative director, Yolanda Edwards.
Friday night, my family has a ritual that we get takeout sushi and watch a movie. Although in this case, we watched Man vs. Wild. We ordered a mess of rolls, sashimi, and gyoza from Taro Sushi. There were never any substitutions when I was a kid — you had to eat whatever was served; my parents had no concept of "kid food." I won't shove food down my kids' throats if they hate it, but I make them try everything.
Saturday, November 2
I dropped my son off at a birthday party around the corner from Building on Bond. It's a corner café off Atlantic, and they have the most delicious huevos rancheros. Delicious! Not everything is great there, but the huevos rancheros are spectacular. I'm from L.A., I've spent a lot of time in Mexico, and I swear by these huevos rancheros. And they do a brilliant Bloody Mary — meaty, with enough beef bouillon in it, so that it's not thin tomato juice.
At night, I went to Hill Country for a birthday party for my friends. The place is kind of hokey, but the barbecue was actually okay. The ribs were great. Barbecue's not my thing, but I enjoy it. The margaritas weren't bad.
Sunday, November 3
I had smoked salmon in my fridge, so I busted that open and picked up bagels. We have a La Bagel Delight across the street from my house — a local place that's not great, but solid.
For lunch, the family went to Talde. We had the breakfast ramen, the amazing pad Thai, those pretzel dumplings, and fried rice with eggs. We love to eat at the bar with our kids. Sometimes they don't let us, since kids are not of age, obviously. But we monopolized the corner. It's not about drinking; it's about sitting and eating at the bar. It's the intimacy of the bar that I love. We had this beautiful hot chocolate, too.
I had a latte from Konditori in Brooklyn, which is a Swedish place. It's the best coffee. It's ruined me for all other coffee, frankly.
It was the marathon, and our neighbor is in his sixties and has been running it for 30 years. He has a pizza party every year afterwards to celebrate. We went over to his house and ate Joe's.
After pizza, I needed some greens, and I had made a kale salad that's a riff on an Ottolenghi Jerusalem recipe for a fattoush salad. It's not usually made with kale, but it has a dressing that's made of buttermilk, Greek yogurt, and a little bit of milk. I let the kale relax in its dressing while we were having pizza. The salad had radishes, tomatoes, avocado, and pita chips. That's my fattoush cheat: Stacy's Pita Chips, not real pita bread. And then I sautéed wax beans in garlic, olive oil, and a little parsley.
I cook on Sunday for my family, in case I can't get home in time during the week. I usually bank a couple of things: I made a huge thing of chili from an old Gourmet recipe, with ground beef, cumin, and chili powder — spicy and good. I always prep vegetables. I made a turkey bolognese sauce, and then I cleaned and cut more kale. I always make dressings on Sundays, too.
Monday, November 4
I had a hard-boiled egg from home and a blueberry smoothie from the Condé Nast cafeteria.
My creative director, Yolanda, and her husband, Matthew Hranek, spent the weekend hunting with the Franks, since they have a property upstate. They made a little care package of lunch for Yolanda and me. It was bibb lettuce with lardons, radishes, and pumpkin-seed dressing, eggplant parm, and beautifully roasted carrots.
For dinner that night, I had the chili with my family.
Tuesday, November 5
I had a business breakfast at Balthazar, and I ordered an omelette with Gruyère and a side of greens. I had a big bowl of a latte. And I was thinking about how it was strange that there were bathroom attendants!
I met a writer at Buvette for lunch, where I often have meetings. I had braised leeks with mustard vinaigrette, the croque with mushrooms, and beets.
For dinner, I bought DiPalo's uncased turkey sausage, which is my go-to ingredient if I'm making pasta. I sautéed the turkey sausage with garlic and broccoli, and I beat a raw egg into the pasta. I can turn anything into a carbonara. If you've got an egg, you've got a meal. That's my fast food.
Wednesday, November 6
This was a strange day. I didn't eat breakfast because I had to tour a middle school for my son. I had lunch at DB Bistro Moderne with my mother-in-law: roasted-tomato soup and a beautiful warm chicken salad. The chicken was juicy and perfect.
If I'm going to be out at night and away from my kids, I pack in as many events as possible. That evening, I hit three parties: the Remodelista book party, an event for the Maybourne Hotel Group, and a book party at Rouge Tomate for the Art of Eating's 50 Foods: The Essentials of Good Taste. They had Jasper Hill's Vermont cheese. I ate all of the cheese. And Sullivan Street Bakery bread. And Champagne. It was my perfect dinner.