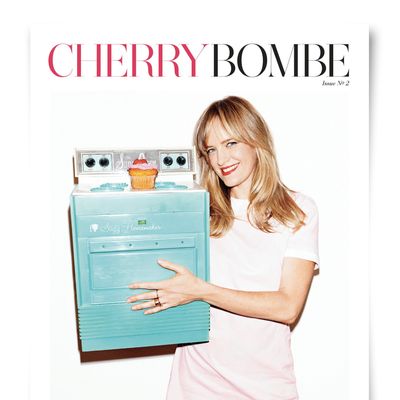 BabyCakes NYC's Erin McKenna now has a store in Disney World.
Photo: Jennifer Livingston
"Baked" is the theme of the new issue of Cherry Bombe, Kerry Diamond and Claudia Wu's biannual female-powered food magazine. Appropriately, BabyCakes NYC's Erin McKenna graces the cover, gripping a vintage sixties Suzy Homemaker stove that you may have seen in the window of her Lower East Side bakery. But it's more than a picturesque shot: In the eighties, the term "Suzy Homemaker" became a derogatory insult aimed at housewives. Holding the stove up makes a statement that the kitchen's a space of opportunity and originality for women.
This issue includes articles about Julia Roberts's leftovers, Tavi Gevinson's snack of choice, and Jessica Seinfeld's new cookbook. In "Go Ask Alice," a charming interview with Alice Waters (is there any other Alice?), Diamond gathered questions from Cherry Bombe's many talented female contributors and subjects.
Cherry Bombe also celebrates and shares the stories of (relatively) unknown women in the industry, like Hot Bread Kitchen's Jessamyn Rodriguez, photographer Sarah Anne Ward, teenage food blogger Izy Hossack, and ceramicist Catherine Bailey.
And the magazine continues to explore the connection between food and fashion. (Diamond and Wu met as colleagues at Harper's Bazaar.) You'll find a recipe for the madeleines served at Hermès headquarters, Me & Ro designer Robin Renzi's first-person narrative of working at Indochine in the eighties, and food styled to look like a quilted Lady Dior bag. Plus: Cherry Bombe, which started as a Kickstarter project in April, scored its first-ever sponsor, Madewell. Hopefully, that's a sign that Diamond and Wu can publish their delightful magazine for years to come.