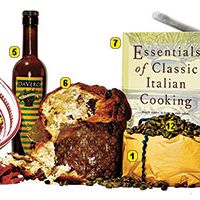 Photo: Bobby Doherty/New York Magazine
In the pantheon of clichéd holiday gifts, the food basket is up there with the fruitcake and the bacon-of-the-month club. Which is why we asked four great chefs and one cocktail whiz—Mario Carbone and Rich Torrisi of Torrisi Italian Specialties and Carbone; the Spotted Pig's April Bloomfield; Del Posto pastry maestro Brooks Headley; and PDT's Jim Meehan—to personalize the impersonal by curating fantasy theme baskets.
Mario Carbone and Rich Torrisi stock a larder that any cutting-edge Italian grandma would be proud to call her own.
1. Dancing Ewe Farm's Pecorino ($23 for a quarter-wheel; $80 for a whole wheel, below pistachios at right, at dancingewe.com). "They make the best sheep's-milk cheese in the area."
2. Deruta hand-painted ceramic pasta bowl ($60 to $135 at La Terrine East, 1024 Lexington Ave., nr. 73rd St.; 212-988-3366). "On top of every Italian-American grandma's refrigerator, just waiting for a crowd to show up."
3. Della Terra Fine Pasta's whole-grain durum-wheat semolina pasta ($9 per pound at SOS Chefs, 104 Ave. B, nr. 7th St.; 212-505-5813). "A former Del Posto cook started this Oklahoma City business."
4. Vermont pepperoni ($8 at Murray's Cheese, 254 Bleecker St., nr. Leroy St.; 212-243-3289). "A highbrow version of a greasy classic."
5. Da Vero Dry Creek Estate extra-virgin olive oil ($32 for a 375-ml. bottle at davero.com). "Our favorite American olive oil—Tuscan cuttings planted in Sonoma. Beautiful."
6. Panettone at Sullivan St Bakery (533 W. 47th St., nr. Tenth Ave.; 212-265-5580). "A fantastic version of the ubiquitous Christmas cake."
7. Essentials of Classic Italian Cooking, by Marcella Hazan ($35 at Kitchen Arts & Letters, 1435 Lexington Ave., nr. 93rd St.; 212-876-5550).
8.1-Cup Bialetti Moka Express ($25 at Broadway Panhandler, 65 E. 8th St., nr. Broadway; 866-266-5927). "Pure rocket fuel by the cup."

9. Lazzaroni sambuca ($22 for a 750-ml. bottle at Mister Wright Fine Wines & Spirits, 1593 Third Ave., nr. 89th St.; 212-722-4564). "Coffee's best friend."
10. Luxardo maraschino cherries ($22 for a 400-gram jar at Dean & DeLuca, 560 Broadway, at Prince St.; 212-226-6800). "For everything from cocktails to topping ice cream."
11. Coltellerie Berti for MATCH's ox-horn-handled ham/prosciutto slicer ($380 at Jung Lee, 25 W. 29th St., nr. Broadway; 212-257-5655). "For the advanced prosciutto connoisseur."
12. Sicilian pistachios ($50 for a half-pound at SOS Chefs).

According to April Bloomfield, a Brit's idea of the holidays involves crates of clementines, French mints, and English cheeses. For everything else, there's Myers of Keswick.
1. Brussels sprouts, cabbage, German Butterball potatoes, and, at far right, carrots (prices vary at Union Square Greenmarket). "For bubble and squeak for Boxing Day breakfast."
2. Mince pies and sausage roll ($2.75 and $3.95 each, respectively, at Myers of Keswick, 634 Hudson St., nr. Horatio St.; 212-691-4194).
3. Cadbury Roses chocolate assortment ($16.95 for a 350-gram box at Myers of Keswick).
4. Clementines ($8.50 for a three-pound box at Eataly, 200 Fifth Ave.,
at 23rd St.; 212-229-2560).
5. Haywards piccalilli ($6.25 for a 460-gram jar at Myers of Keswick).
6. Mrs. Quicke's Cheddar ($18 per pound at Murray's Cheese). "Delish."
7. Walkers crisps ($1.25 at Myers of Keswick).
8. Bangers ($7.50 per pound at Myers of Keswick).
9. Tanqueray London dry gin ($29 for a 750-ml. bottle at Mister Wright Fine Wines & Spirits). "For gin-and-tonics."
10. Growler of Wells Bombardier ale ($20 at Longbow
Pub & Pantry, 7316 Third Ave., nr. 74th St., Bay Ridge; 718-238-7468).
11. Colston Bassett Stilton ($27 per pound at Murray's Cheese).
12. French mints ($19 for an 8-oz. box at Li-Lac Chocolates, 40 Eighth Ave., at Jane St.; 212-924-2280).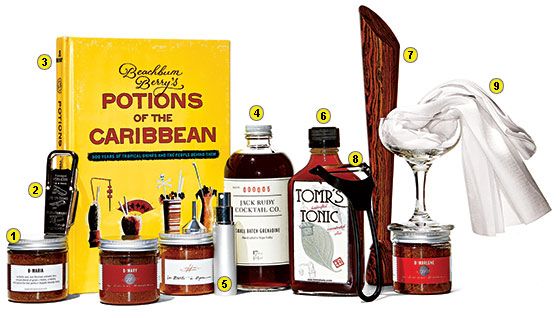 Jim Meehan's tools for the well-equipped tippler will help you open, peel, muddle, mix, season, spray, and clean. By then, you'll need a drink.
1. The Bloody Mary Collection ($15 each, including recipes, at La Boîte, 724 Eleventh Ave., nr. 51st St.; 212-247-4407). "La Boîte's Lior Lev Sercarz created a line of spice blends to accentuate four signature Bloody Mary recipes of mine."
2. Hermetus bottle opener and resealer ($8.95 at kaufmann-mercantile.com).
3. Beachbum Berry's Potions of the Caribbean ($34.95
at cocktailkingdom.com). "Tiki historian Jeff Berry's magnum opus."
4. Jack Rudy Cocktail Co.'s Small Batch Grenadine ($20 for a 17-oz. bottle at the Brooklyn Kitchen, 100 Frost St., at Meeker Ave., Williamsburg; 718-389-2982).
5. Martini atomizer ($6.95 at Sur La Table, 306 W. 57th St., nr. Eighth Ave.; 212-574-8334).
6. Tomr's Tonic ($13 for a 200-ml. bottle at Bklyn Larder, 228 Flatbush Ave., nr. Bergen St., Park Slope; 718-783-1250).
7. PUG! muddler ($35 and up, to order at jcgallagher08@hotmail.com). "Hand-turned by master carpenter Chris Gallagher to fit perfectly in the palm of your hand."
8. Morihata's FDStyle peeler ($52 at Project No. 8, 22 W. 29th St., nr. Broadway.; 212-725-0008).
9. Toraysee glass cloth ($35 at umamimart.com).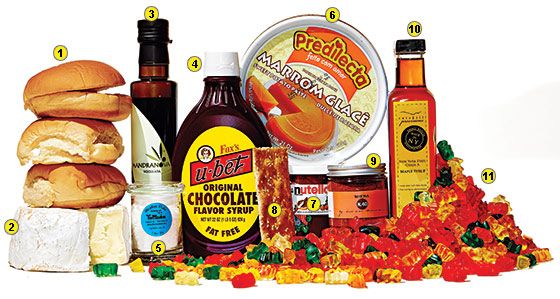 Brooks Headley's approach to dessert mixes high and low, sweet and savory, local and global—but he's not too big on egg creams.
1. Martin's potato rolls ($3.59 at D'Agostino, locations citywide). "There's a lot of sweet stuff in here. You are gonna need to make a sandwich eventually."
2. Wheel of Kunik ($33 per pound at Saxelby Cheesemongers at Essex Market, 120 Essex St., at Delancey St.; 212-228-8204).
3. Mandranova Nocellara extra-virgin olive oil ($13.80 for an 8.5-oz. bottle at Eataly).
4. Fox's U-Bet chocolate-flavored syrup ($3 at Economy Candy, 108 Rivington St., nr. Essex St.; 212-254-1531). "Not to make egg creams, because egg creams are not so good. But to mix with olive oil and sea salt and use to garnish the Kunik in a s'moreslike mash-up with the Ak-Mak crackers."
5. Meadow flake sea salt ($5 for a 1.2-oz. jar at the Meadow, 523 Hudson St., nr. 10th St.; 212-645-4633).
6. Predilecta's dulce de batata, or Brazilian sweet-potato paste ($6 per 21-oz. tin at Kalustyan's, 123 Lexington Ave., nr. 28th St.; 212-685-3451).
7. Italian Nutella ($6.55 per 200-gram jar at BuonItalia, 75 Ninth Ave., at 15th St.; 212-633-9090). "Add extra salt when you smear it on whatever."
8. Ak-Mak crackers ($2 at Commodities Natural Market, 165 First Ave., nr. 10th St.; 212-260-2600).
9. Sheba N. 40 spice blend ($15 per 2-oz. jar at La Boîte). "Lior Lev Sercarz's version of Ethiopian berbere."
10. Catskill Provisions maple syrup ($14.80 for an 8.5-oz. bottle at Eataly).
11. Haribo gummy bears ($18 for a five-pound bag at Economy Candy). "The owner recently passed away … Pay tribute! Remember that the green flavor is strawberry."
Plus: See the Full 2013 Gift Guide
*This article originally appeared in the December 2, 2013 issue of New York Magazine.