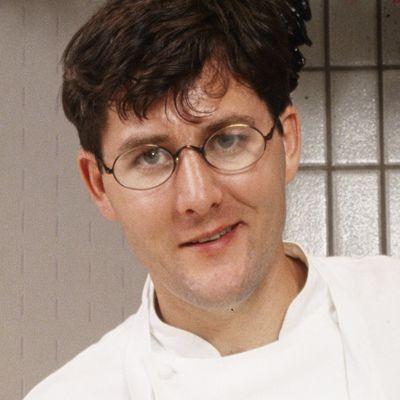 Trotter, in 1997.
Photo: George Rose/Getty Images
There is no doubt that Charlie Trotter — who passed away yesterday at the age of 54 — was one of the food world's living legends. During the 25-year run of his eponymous restaurant, Charlie Trotter's, he propelled the brick-faced townhouse at 816 West Armitage Avenue onto the international fine-dining circuit and helped establish Chicago as one of America's culinary capitals — influencing an entirely new generation of cutting-edge chefs in the process. The Trotter's kitchen served as a fertile proving ground, if not a crucible, for aspiring young chefs, and through more than a dozen books and a PBS TV show, Trotter was able to imprint his modern take on American cuisine on a far broader audience than could ever visit his restaurant.
For much of its existence, Charlie Trotter's embraced ideas that other chefs wouldn't adopt until much later. When few if any restaurants were celebrating vegetables, Trotter's offered an entire, multicourse vegetable degustation menu. Before the idea took wide hold, Trotter's installed a chef's table in its kitchen so diners could witness service unfold. By the time the Internet made precious and exotic ingredients more accessible, Trotter's kitchen staff had already been cooking with them for years. Most ambitious of all, Trotter's was known from its early days for constantly updating its menus. In the staff dining room, there was a framed quote from Winston Churchill: "To improve is to change; to be perfect is to change often."
Here, now, is a selected timeline of events that helped defined the life and legacy of Charlie Trotter.
1975: At age 16, Trotter gets his first restaurant job as a busboy at the Ground Round in his hometown of Wilmette, Illinois. A manager repeatedly has to tell the fastidious hire to not sweep up the peanut shells customers toss on the floor, lest he spoil the ambience.
1982: Trotter graduates from the University of Wisconsin at Madison. He studies philosophy and political science, but also discovers that he enjoys cooking for friends.
1982: Trotter's first kitchen experience comes at Sinclair's, a Lake Forest, Illinois, restaurant helmed by chefs Norman Van Aken and Carrie Nahabedian. (Trotter is paid $4.25 an hour.) Van Aken and Nahabedian become lifelong friends with Trotter. Later, Trotter studies briefly at the California Culinary Academy, in San Francisco. He eventually apprentices at several American restaurants, including Van Aken's well-regarded Florida restaurant, Norman's.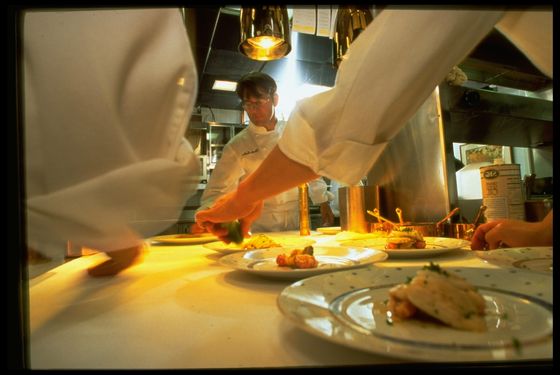 Trotter runs the pass at his restaurant in 1995.Photo: Keith Philpott/Time Life Pictures/Getty Images
1985: In the fall, Trotter embarks on a three-month tour of France and Switzerland. He dines at two world-class French restaurants: chef Fernand Point's La Pyramide and chef Frédy Girardet's eponymous Girardet. Of the latter meal, Trotter would tell an interviewer in 2003 that, "All four elements were happening in equal measure — the cuisine, the wine, the service, and the overall ambience. It taught me that dining could happen at a spiritual level."
1987: With financial backing from his father, Trotter opens Charlie Trotter's restaurant on August 17. The debut menu is à la carte and includes smoked-duck consommé with duck-sausage ravioli ($4.50) and grilled swordfish with crayfish mayonnaise ($15). Trotter had considered naming the restaurant Zeldah, after a character in a novel he read.
January, 1988: Charlie Trotter's becomes the first American restaurant with a table situated in the kitchen so guests can watch food be prepared. The chef's table trend spreads to other restaurants.
At some point during this period, Charlie Trotter's adopts a degustation-only menu format. (In interviews Trotter claimed the transition took place in the restaurant's first six months.) The new format includes a vegetable tasting. "Fish and meat are sort of uni-dimensional in their texture and their flavor, but vegetables are the things that, in a sense, give color to the plate," Trotter once remarked. "And I don't just mean visually. I mean on the palate."
Fall, 1990: Trotter stops serving spirits at Charlie Trotter's. (Trotter had also banned smoking at his restaurant shortly after the grand opening.)
Fall 1992: Trotter wins the James Beard Award for Outstanding Chef in the Midwest, his first of many Beard Awards.
Fall 1994: Charlie Trotter's, the chef's debut cookbook and a landmark culinary achievement, is published.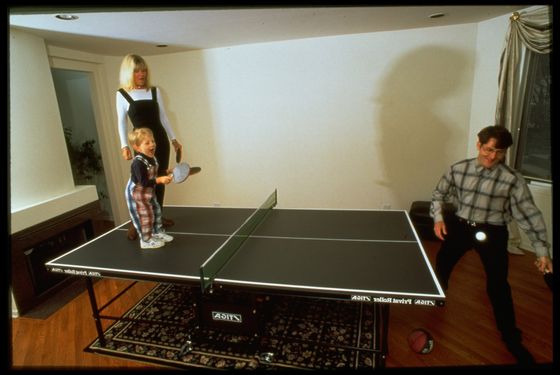 Trotter at home in 1995.Photo: Keith Philpott/Time Life Pictures/Getty Images
1995: At a reported cost of $750,000, Trotter renovates the Charlie Trotter's kitchen. The new layout deliberately omits walk-in coolers. "It means there is no cheating," Trotter said in 2003. "It ensures that we always use the freshest ingredients, the best products, because they cannot be held over."
Fall 1997: Kitchen Sessions With Charlie Trotter, his PBS TV show, broadcasts for the first time.
Late 1990s: Prompted by frequent guests Michael and Roxanne Klein, Trotter quietly begins offering a raw menu Charlie Trotter's. Trotter later co-writes a book on raw cookery with Roxanne Klein.
1999: The James Beard Foundation names Trotter the country's Outstanding Chef. The same year, Trotter launches his charity, the Charlie Trotter Culinary Education Foundation. Three times a week from then on, the chef invites Chicago-area high-school students to dine at his restaurant in an effort to expose them to the culinary field.
2000: In a move that preempts the eventual political backlash against foie gras, Trotter stops serving the delicacy at his restaurant. He also opens a takeout restaurant called Trotter's to Go.
2002: Charlie Trotter's snags another Beard Award, this one for Outstanding Service.
January, 2004: Trotter opens C Restaurant at the One and Only Palmilla Resort in Los Cabos, Mexico. It remains open until November 2008.
2007: Charlie Trotter's celebrates its twentieth anniversary. Some of the world's top chefs contribute dishes to a commemorative dinner benefiting Trotter's foundation. August 17 is named "Charlie Trotter Day" in Chicago.
2010: Restaurant Charlie—Trotter's Las Vegas outpost closes after two years in business. That autumn, the Michelin Guide awards Charlie Trotter's with two stars.
January 1, 2012: Right after midnight on New Year's Day, Trotter announces in the Charlie Trotter's dining room that the restaurant will be closing in August. He plans to travel with his wife, Rochelle, and resume his study of philosophy and political science.
That same year, Trotter is honored with the James Beard Foundation's Humanitarian of the Year award.
August, 2012: After several days of special events and revelry, during which Trotter was awarded with an honorary street by the city of Chicago, Charlie Trotter's restaurant closes on August 31. Ray Harris was in attendance for the restaurant's final service — the Trotter's devotee dined at the restaurant a remarkable 424 times during its run. (Trotter let him eat for free after his 175th meal.)
Earlier: Charlie Trotter Has Died