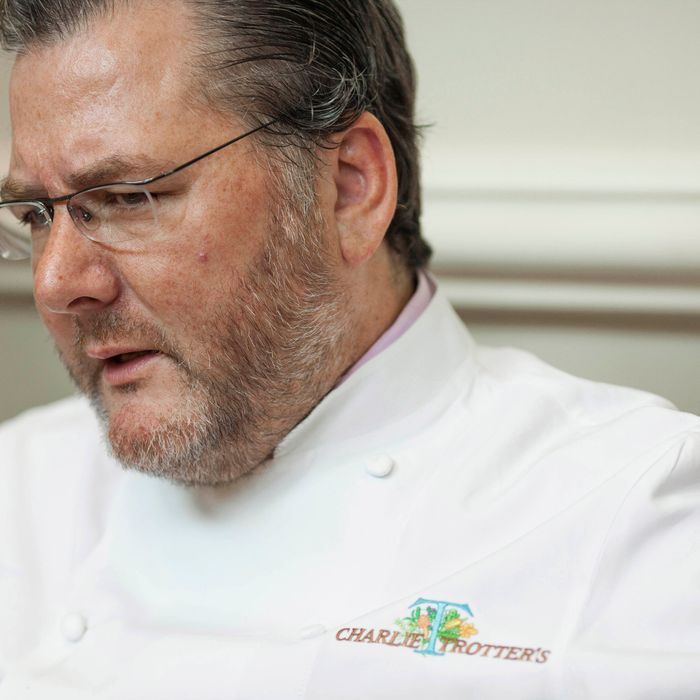 Trotter, a few days before his restaurant's closing in 2012.
Photo: Sitthixay Ditthavong/Corbis
Charlie Trotter, the celebrated chef who closed his eponymous restaurant last year after a quarter century in business, died in Chicago this morning. According to reports, he was found unresponsive at his home and taken to Northwestern Memorial Hospital in critical condition and subsequently pronounced dead. The chef was only 54 years old.
According to a report in the Chicago Tribune, an ambulance was called a little before 11 a.m. when Trotter was found "unconscious and not breathing" by his adult son Dylan.Trotter was, to say the least, a complex figure: While his restaurant was justly celebrated for its boundary-pushing innovation and an unprecedented attention to detail, Trotter himself was often portrayed as a brilliant yet thorny chef, and a severe disciplinarian in the kitchen, though many chefs who worked for him — most notably Graham Elliot — pledged unyielding loyalty. But even outside of the restaurant, Trotter was often portrayed as standoffish and difficult. (Chicago Magazine's Jeff Ruby told the Times last year, "In the Mount Rushmore of Chicago, his face would probably be up there: Michael Jordan, Al Capone, Charlie Trotter, Mayor Daley — and they'd all be scowling.")
Trotter at his restaurant with (from left) Sean Brock, Maxime Billet, and Trotter's wife Rochelle.Photo: Galdones Photography
When Charlie Trotter's closed in August, 2012, the chef was celebrated with a series of lavish send-off dinners and media profiles. And, on the day before the restaurant closed, the city of Chicago unveiled Honorary Charlie Trotter Way.
When Trotter first announced his restaurant would close, he said he was looking forward to spending time with his wife and going back to school. Since that time, though, stories about Trotter have presented a similarly divisive image: In June of this year, two New York wine collectors sued the chef for allegedly selling them a fraudulent 1945 Domaine de la Romanée-Conti for $46,000. (In a statement, Trotter attributed the buyers' frustration to "buyer's remorse.") In September, art students alleged that the chef threw a tantrum as the group prepped an exhibit in Trotter's vacant restaurant space. Those allegations were followed with a bizarre video in which a disheveled Trotter more or less ignored one of WGN-TV's reporters.
Mayor Emanuel calls Charlie Trotter, who died today, a "legendary figure" who helped elevate Chicago to be a "culinary capital."— Phil Rogers (@nbcphilrogers) November 5, 2013

Though all chefs can be demanding and stubborn,Trotter was often called out for his generosity and charitable contributions, as well. And, as the Tribune reports, at least one neighbor of Trotter's remembers him quite fondly, as a generous chef who was friendly in passing and partook in neighborhood events.
This post has been updated with new information throughout.
Related: Read Rochelle Trotter's Statement on Her Husband's Death
Related:A Timeline of Charlie Trotter's Influence and Achievements
Sources: Famed chef Charlie Trotter found dead in home [Chicago Tribune]
Restaurant Icon Charlie Trotter Dead [CBS Chicago]
Chicago Chef Charlie Trotter Dead at 54 [NBC Chicago]