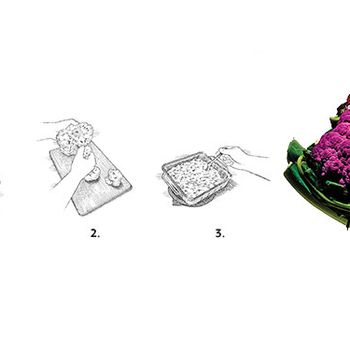 Photo: Bobby Doherty/New York Magazine; Illustrations by John Burgoyne
Thanks to the way its sturdy leaves wrap around its white curd, or head, forestalling photosynthesis, cauliflower seems the most demure of crucifers. But that pale brassica also comes in striking shades like orange, green, and purple. Any of them would work well chopped up, roasted, and tucked into this macaroni-and-cheese recipe adapted from Melt (Little, Brown; $30), a new cookbook that takes a refreshingly seasonal approach to the ultimate comfort food.
Stephanie Stiavetti and Garrett McCord's Cauliflower-and-Gruyère Macaroni Gratin
1 medium cauliflower
1 tbs. olive oil
Sea salt
Freshly ground black pepper
8 ounces elbow macaroni
8 ounces Gruyère, shredded
1 1/2 cups heavy cream
1 tsp. mustard powder
1/4 tsp. ground nutmeg
3 ounces Parmesan, finely grated
Preheat oven to 375°F. (1) Trim the cauliflower by cutting away the leaves from the stalk. (2) Break into florets, then cut into small pieces. Toss florets with olive oil, and lightly season with salt and pepper. Roast them for 20 to 25 minutes in a 9-by-9-inch pan or casserole dish, until slightly browned and easily pierced with a fork. While the cauliflower is roasting, cook the pasta in a large pot of salted boiling water until just shy of al dente. Drain, and set aside. Pour the pasta into the pan with the cauliflower. Add the Gruyère, cream, mustard powder, nutmeg, 1/2 teaspoon salt, and 1/2 teaspoon pepper, and mix well. (3) Use a spoon to push the pasta beneath the surface of the cream, and top with Parmesan. Bake for 1 hour, then allow to cool for 5 to 10 minutes or until the cream sets. Serves 4 to 6.
*This article originally appeared in the November 11, 2013 issue of New York Magazine.