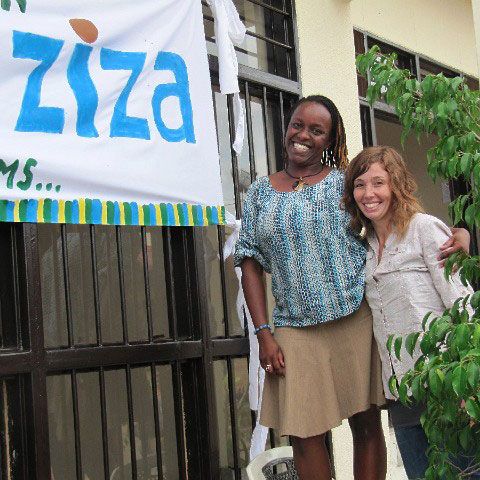 Blue Marble co-founder Alexis Miesen and Kiki Katese.
Photo: Courtesy of the 2050 Group
In 2008, Blue Marble Ice Cream founders Alexis Miesen and Jennie Dundas teamed up with Rwanda's only all-female drumming troupe, Ingoma Nshya, to launch the tiny African nation's first-ever ice-cream shop, Inzozi Nziza (which translates to "sweet dreams"). A new documentary, in theaters today, captures the collaboration: Sweet Dreams, directed and produced by Academy Award winners Lisa and Rob Fruchtman, follows women living in the small town of Butare, who are still recovering from the devastation of the 1994 Rwandan genocide. Miesen and Dundas provided the emotional and financial support needed to launch the ice-cream shop, and now the Rwandan women are the sole owners of the business. Grub spoke to Miesen, who recently decided to devote herself full-time to the Blue Marble Dreams nonprofit initiative, about her experience.
So how did this project first come about?
Jennie, my business partner, used to be an actor — a special one, a working one! The Sundance Institute has a theater component, and they invite established actors and pair them with emerging playwrights. One of the writers that they selected was this woman from Rwanda named Kiki [Katese]. When Kiki learned that Jennie owned an ice-cream business, she had this "ah-ha" moment and asked if we'd ever consider coming to her community and helping women open the country's first real ice-cream shop.
In Kiki's writing, a common theme is the power of dreams. Life in Rwanda is hard — and there's all this trauma and grief and guilt that has come about from the 1994 genocide. When you're sad and tired and hungry, that's not a time where you dream very big, and she wanted people in her country to dream big.
Kiki created the first contemporary dance company in Rwanda and started the very first drumming group in Rwanda. She's a poet, a visionary, and a jack of all trades. She wanted to set up an opportunity for parents to engage with their children in a very joyful and playful way. On top of all that, we could create jobs for local women and support local farmers and producers, which is something we're keen on doing here in New York. So, it was just like, "Holy cow."
We decided that we were just going to go for it, so we established a 501(c)(3) and took trips back and forth to figure out how it was going to work. We had no budget for it. It took us two years to open in Rwanda in 2010.
And when you started this project, in 2008, your own business in Brooklyn was only one year old.
We had many managers and family members who thought we were not only crazy, but absolutely reckless because it's so hard to run and grow a business, especially here in New York City. We were just starting out and we had so much to do to ensure our own survival. It made complete sense [to wait], but it just didn't work out that way.
Once we took the initial trip and met the women we'd be working with, it took on a new sense of urgency. It's not like they were going to die without opening an ice-cream shop. But these kinds of projects are seemingly so big and complicated, and if you sit on it too long, you can talk yourself out of it.
Is there anyone that you turned to for guidance?
There's a group that we've been involved with since the beginning, Bpeace, which is a tremendous organization that promotes peace through creating jobs. They dispatched professionals who went over to Rwanda and trained the women in everything from quality control to basic business finance and customer service.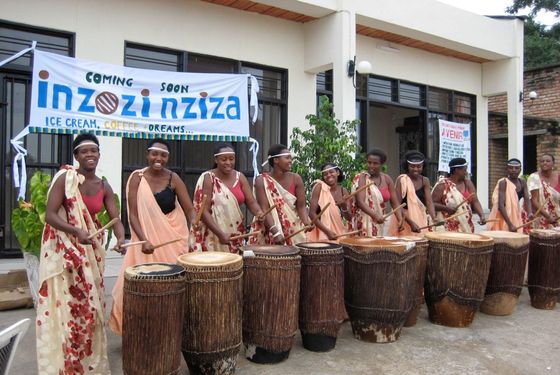 Ingoma Nshya, outside the shop.Photo: Lisa Fruchtman
How do you separate your emotional involvement, and the process of teaching these women to work independently, from the decisions that have to be made for the good of the business?
It's definitely still is a challenge. The best piece of advice that we got was to really approach these women as partners and to be as tough with them as we would with anyone we partnered with here — obviously allow for a steeper learning curve and some cultural differences, but to really hold them to a high standard. The goal is to create a sustainable business, and it's been hard.
In the beginning, we owned the shop in partnership with them, and we both had shares of the business — their cooperative and our nonprofit. We didn't set financial goals or milestones, but we waited for two-and-a-half years before we transferred our shares over to them.They knew that they had to prove themselves as capable businesswomen. They've made some decisions that we've agreed with, and some that we haven't. But my hat is off to them for maintaining a business in a poor, rural community for three years with very little financial assistance from us. It's absolutely miraculous.
One woman learned so much that she and her husband decided to open up their own business, and that's a good sign to me. The women are applying what they've learned and pursuing their dreams. It was all about triggering that question, "What else is out there for me?"
One of the most emotional moments in the film is when the Rwandan women taste ice cream for the first time ever. What was that like for you to experience firsthand?
A lot of the women had never really had something cold in their mouths before because most people don't have electricity. It's a rare thing to be able to see an adult tasting ice cream for the first time. We've seen that initial shock in children inside our shops. The ice cream settles down into this beautiful, delicious, creamy sweetness and then you see a face totally change. To witness that with adults — just to see the playfulness come out of them — it was just such a fun experience. Once they got past the initial shock, they settled into this absolute ecstasy.
Do you have plans to expand?
Yes. It's important to us that things happen organically. Our objective is not to go into communities and be like, "You need an ice-cream shop and this is what it is going to do for you." We have a few different potential partners in Kigali that we're talking to, and the idea there is to almost make it into a franchise, which as far as I can find, is a completely new model of nonprofit work.
The idea is that in Kigali, the money-making potential is far greater than in the city, Butare, where the shop is located. So, the women in Butare would go and train the Kigali women, and we would provide all the recipes and intellectual property — the branding, the logo, all the training manuals, and everything that they would need to get started. In return, that business would pay a royalty fee back to the Butare shop. It's another income stream and a way to boost the sustainability of the existing shop, because it'll never have customers with disposable income like the folks in Kigali.
And on top of that, we're in the beginning stages of developing a plan to open a shop in Haiti, and there's potential for a partnership in Ethiopia. I'm particularly interested in going to places that are still recovering from some kind of trauma. The original idea for the Haiti project came out of three women from Haiti who saw the documentary. The film has been a catalyst for action.
In turn, what has this experience taught you about running a business in New York?
We worked with the women for two years before opening and they didn't even taste ice cream until about two days before the shop opened. The faith, the bravery, and the audacity in that was really inspiring. Sometimes, it's hard to take chances and be brave in a place like New York City because the consequences if you fail are so grave, so this was emboldening. I realize that it's going to sound kind of silly because it's just ice cream, but it isn't just ice cream; it's the whole symbolic power of ice cream. This has encouraged us to try new things, be brave, and hopefully prosper.
Sweet Dreams is now playing at New York's Quad Cinema, and will open at Laemmle Music Hall in Los Angeles on November 29.