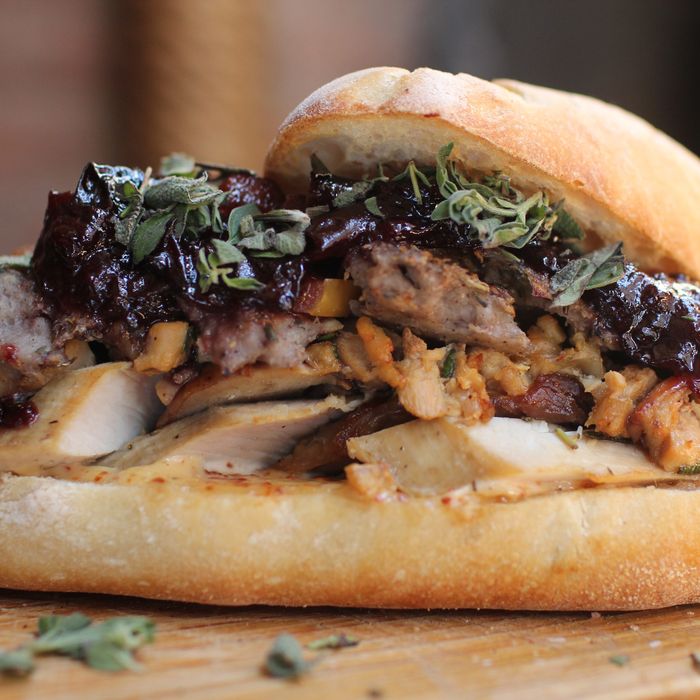 Black Tree's version features smoked turkey, rilettes, stuffing, and cranberry sauce.
Photo: Melissa Hom
It's time to jump the gun: Even if Thanksgiving — or Thanksgivukkah — is still ten days away, Grub Street is already clamoring for a leftovers sandwich. (If you're from New England, you might call them Pilgrim sandwiches.) Lucky for us, there's no need to wait until Black Friday to find things like stuffing, gravy, turkey, and cranberry sauce between two pieces of bread: Some of New York's top sandwich shops are offering Thanksgiving-inspired sandwiches right now (or they will be very, very soon). Here are fifteen of the best.
Sweet Chick
Price: $23
This chicken-and-waffles restaurant takes confit turkey leg and serves it alongside a cornbread-stuffing waffle with sausage, cranberry, and sage. It comes with a trio of mashed potatoes, cranberry compote, and house-made gravy, so you can properly stuff yourself.
No. 7 Sub
Price: $13
Of course Tyler Kord's doing something wacky: His Turducken (chicken breast, ground turkey, and duck breast) sandwich includes roasted Brussels sprouts, cranberry-jelly sauce, and potato chips.
Snice
Price: $8.75
Vegans will appreciate Snice's sandwich with tofurky, sweet potatoes, Brussels sprouts, cranberry relish, and gravy. It's available year-round.
Berkli Parc Café
Price: $11
This Lower East Side café layers roasted turkey, herb stuffing, sweet-and-sour cranberry relish, and sprouts on thick multigrain bread.
Mile End Deli
Price: Varies
There will be a variety of Thanksgivukkah specials offered next week, including smoked turkey with chopped liver, sweet potatoes, and cranberry compote on challah bread.
Black Tree
Price: $13
This new-ish shop on the Lower East Side is serious about its turkey: The sandwich features smoked leg and breast, turkey rilettes, stuffing, and house-made cranberry sauce.
Num Pang
Price: $8.75
Ratha Chaupoly and Ben Daitz's limited-edition special is an oven-roasted turkey-breast sandwich with spiced cranberry-apple chutney — plus the usual pickled carrots, cucumbers, cilantro, and chile-laced mayo.
Anfora
Price: $10
On Black Friday, the restaurant will serve a panini with slow-roasted turkey breast, sausage-cornbread-chestnut stuffing, cranberry sauce, and smoked turkey gravy on a Ciabatta roll.
Parm
Price: Varies
It's not available yet, but look out for Parm's hearty Thanksgiving hero. Honey-and-garlic-roasted turkey breast is layered with fried sage leaves, cranberry sauce, mayo, and a thin layer of sweet-potato purée on semolina bread.
Cer Te
Price: $9
The midtown shop wraps roasted turkey, cornbread stuffing, mashed potatoes, and cranberry glaze together in grilled flatbread, and serves it with a cup of brown gravy for dipping. That sandwich is available all year around, but for the month of November, there's also a special turkey-meatloaf sandwich.
Momofuku Milk Bar
Price: $4.50
Christina Tosi's Thanksgiving croissant has a cult following, and for good reason: It's stuffed with light and dark meat, homemade gravy, and cranberry sauce — and, most important, served warm out of the oven.
Glady's
Price: $12
It's definitely worth the trip to Crown Heights to eat Glady's sandwich with roasted turkey breast, milk-braised turkey leg, cranberry mostarda, and Brussels sprouts.
Murray's Cheese
Price: $8
In the corner of its flagship store, Murray's makes fresh grilled-cheese sandwiches to go. You won't want to miss the Fall Feast, with caramelized butternut squash, Gruyère cheese, tarragon cranberry sauce, and baby arugula. It'll also appear on Murray Cheese Bar's sit-down menu.
MeltKraft
Price: $9
This new-ish Park Slope restaurant specializes in grilled cheese, but its roasted-turkey sandwich with Brussels sprouts and cranberry chutney is also a strong, classic choice.
Distilled
Price: $17
The Thanksgiving-inspired Bird Burger is comprised of equal parts turkey, duck, and chicken, as well as melted cheese, on a buttery brioche bun. House-made spicy mayo and tater tots come on the side. Tater tots should always come on the side.