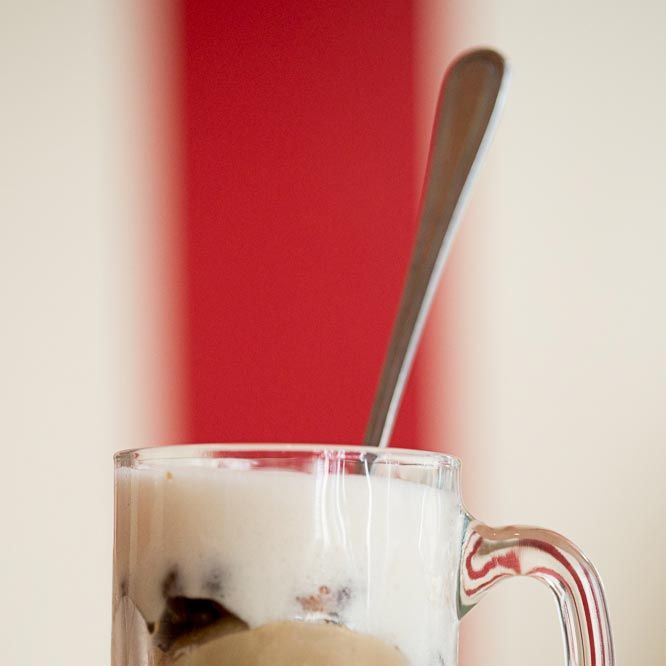 A beer sundae with Brooklyn Brewery stout and pretzel-flavored ice cream.
Photo: Courtesy of OddFellows Ice Cream Co.
The clocks have changed and your sweaters are permanently out of storage — it must officially be fall in New York. Good news: That also means pastry chefs around town have revamped their menus and introduced some seasonally appropriate sweets. Sure, there's plenty of pumpkin-flavored stuff being sold around town, but this is also the time of year that chefs get to fiddle with ingredients like concord grapes, sweet potatoes, squash, and quince. We've rounded up some great options — some from recently opened restaurants, others from new pastry chefs and old favorites — to ensure that you properly enjoy these seasonal fruits and veggies the way they taste best: doused in sugar.
Cardamom and Rosewater Rice Pudding
Where to Get It: Glasserie
This buzzy new Greenpoint spot's rice pudding is elevated by poached quince and pistachio-brioche crumble. Pickled and poached figs with house-made ricotta and fig-leaf oil is also a strong dessert choice.
Pumpkin Mille-Feuille
Where to Get It: Ai Fiori
Bob Truit, one of Food & Wine's Best New Pastry Chefs, makes a Thanksgiving-esque mille-feuille with pumpkin purée, cinnamon, apple ciders, and "lots of butter."
Winesap Apples, Oats, and Buttermilk
Where to Get It: Skál
This recently opened cozy, Nordic restaurant takes the elements of apple pie and explodes them into something new, layering apple crumble and honey with buttermilk cream, then topping it with dehydrated apple skins and thyme.
Earl Grey-and-Olive-Oil Crumble
Where to Get It: Piora
Critic Ryan Sutton's a big fan of this dehydrated dessert, which includes earl-grey ice cream, caramelized white chocolate, apple cider, pomegranates, and shiso.
Kabocha-Pumpkin Pie
Where to Get It: MaisonO
Chef Tadashi Ono uses Kabocha, or Japanese pumpkin, for his riff on the ubiquitous fall dessert. He fills a pound-cake-crumb crust with cinnamon-roasted Kabocha purée, bakes it, and serves it with maple syrup and vanilla ice cream.
Steamed Chocolate Cake
Where to Get It: Saul at the Brooklyn Museum
Saul Bolton's light, fluffy cake is complemented by squash sorbet, dulce de leche, and cherry compote.
Pumpkin Puppy Chow
Where to Get It: Picnic
This sleek new East Village restaurant specializes in comfort food, so of course there's a childhood-throwback dessert. This highbrow puppy chow is made of Chex Mix, chocolate, peanut butter, powdered sugar, and pumpkin spices.
Pine-Nut Semifreddo
Where to Get It: Locanda Verde
Newly appointed pastry chef Nancy Tran adds fig sorbetto to this semi-frozen, custardlike dessert.
Concord-Grape Date Cake
Where to Get It: Pearl & Ash
Sticky-sweet date cake's a bit tired, but this version includes concord-grape sorbet, fresh concord grapes, crunchy meringue, and caramelized white chocolate.
Sweet-Potato Ice-Cream Sundae
Where to Get It: Hearth
With a two-star review from Pete Wells, Hearth's hitting its prime. This sundae, with creamy sweet-potato ice cream, caramel sauce, and crunchy gingersnap cookies, is as warm and comforting as the ten-year-old restaurant.
Roasted Plum
Where to Get It: Daniel
This summer, Daniel Boulud named Ghaya Oliveira pastry chef at his flagship restaurant — a big deal. It's worth splurging to try her fruity dessert with caramel-licorice cream, oat crumble, and mirabelle-plum sorbet.
Quince Doughnuts
Where to Get It: Runner & Stone
Pro baker Peter Endriss just began serving doughnuts with house-made quince jelly on Saturdays and Sundays. He's also plating a pear tatin for dinner service, with caramel-roasted pears, puff-pastry crumble, whipped house-made mascarpone, and concord-grape granita.
Pumpkin Pie
Where to Get It: Momofuku Milk Bar
Pumpkin pie is ubiquitous, but this is the first year that Christina Tosi is offering it at Milk Bar. Her brilliant creation (which is really more of a cake) is comprised of graham-cracker cheesecake, pumpkin ganache, and candied pumpkin seeds. In case you don't think you can eat a whole pie (you can!), it's also available in truffle form.
Parsnip Cake
Where to Get It: Battersby
While you patiently await the imminent opening of Battersby 2.0 on Court Street, swing by for this root-vegetable cake with candied-orange peel, parsnip, and maple cream, served with coffee-bourbon ice cream.
Beer Sundae
Where to Get It: OddFellows Ice Cream Co.
Sam Mason has debuted a long list of new, fall-minded flavors (like caramelized-spiced pumpkin and maple-pecan pie), but your best bet is the beer sundae, a collaboration with Brooklyn Brewery. It features three scoops of pretzel ice cream, black-chocolate stout, Local 2 ale, and chocolate-covered pretzels covered in wheat-beer foam. Awesome.
Butternut Squash, Cocoa + Coffee
Where to Get It: Take Root
The talented women over at Take Root mix frozen butternut-squash custard with chocolate sponge cake, espresso-spiked caramel, and confit butternut squash with praline seeds. It's almost healthy.
Chinese Doughnut
Where to Get It: Martha
This recently opened Fort Greene restaurant is actually a reincarnation of the Brooklyn Sandwich Society. Right now, the menu includes a spiced Chinese doughnut with Black Mission figs and a Kecap Manis (Indonesian sweet soy) sauce.