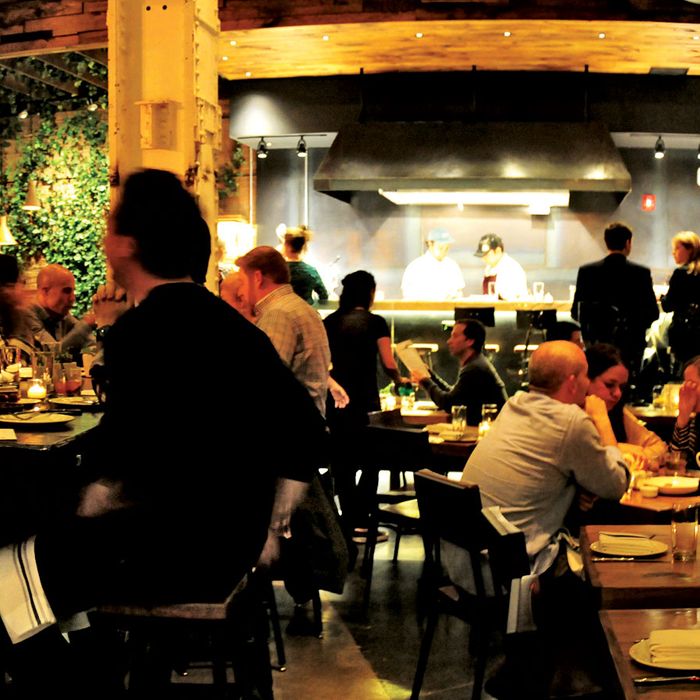 Toro
Photo: Sarah Silberg/New York Magazine
There are plenty of chefs who establish their reputations as ambitious young cooks in New York (e.g., Mario Batali, David Chang, Michael White, Tom Colicchio, April Bloomfield) and then go out into the greater world to build their international empires and prosper. But the days when the city was the exclusive kingmaker of aspiring cooks from around the globe are long gone. The late, lamented Charlie Trotter proved that you don't ever have to set foot east of the Hudson to secure a lasting, even international, reputation in today's Balkanized, locally grown fine-dining landscape. If you're brave enough to try your luck in the big city, chances are you already have a successful business model in your pocket (Thomas Keller, Pok Pok's Andy Ricker) and a James Beard Award or two on your wall. Like Vegas in its peak, New York is now a place where out-of-town chefs can monetize their gains, and if it doesn't work out, they can always fold their tents and go back home.
Ken Oringer and Jamie Bissonnette's stolid new battleship of a restaurant, Toro, which opened a couple of months ago on the western fringe of the meatpacking district, seems to have been conceived with this practical, mercenary principle in mind. The celebrated chefs came to town from Boston, where they collaborated on the original Toro tapas bar, in the South End, among other award-winning projects. Unlike the Boston branch of Toro, however, this industrial-size operation seats 120 people, not counting the hordes who mill around the cavernous bar area. Rows of cured Spanish hams are strung up here and there high in the gloomy rafters, and a large bull's head affixed to a brick wall looks like it has been transported directly from one of the grim castle halls of Game of Thrones.
Of course, volume and booze consumption are the names of the game in this particular region of Westeros, and once we were herded to our seats at one of the long tables, our party was set upon by smiling waiters, eagerly describing all manner of elaborate Iberian cocktails. My sherry julep (sherry and Curaçao with mint) looked lovely in its frosty silver cup but tasted mostly of ice, so I suggest you go straight to the classics, like the sangria (white and red splashed with oranges, brandy, and a hint of tarragon), or that addictive Basque party drink calimocho, brewed with equal parts cheap Spanish wine and good old-fashioned American Coke. The latter goes very nicely with Oringer and Bissonnette's slim version of pan con tomate (a scrim of tomatoes and garlic spread over thin, oiled toast), along with assorted other pinchos and tapas, which shortly began clattering down on our sturdy tabletop like giant hailstones.
Battle fatigue can be an occupational hazard when reviewing tapas joints, especially ones of this magnitude. But only a few of the dishes at Toro—in the blizzard of paellas, jamóns, and tapas a la plancha—were entirely forgettable, and many were quite delicious. Oringer and Bissonnette have a fondness for sea urchin (erizo in Spanish), which you can enjoy speckled with caviar, or as raw crudo in its spiky shell, or pressed in toasty tea sandwiches (­bocadillo de erizos) with drippings of miso butter. Being card-carrying members of the nose-to-tail generation, they also have a facility with offal dishes, like mashed chicken livers (stuffed in fried packets of sage), crispy fried veal sweetbreads (flavored, in a faintly Asian, General Tso's way, with peanuts and fermented black beans), and an elegant terrine made with ribbons of pig ear, which the chefs in the subterranean kitchen fix in aspic and finish on top with bits of king crab mingled with yuzu.
You can complement these interesting tapas creations with four kinds of less interesting paellas (if you get one, make it the classic Valenciana with chicken, chorizo, and assorted shellfish), which are hoisted to the table in smallish platters or great cast-iron pans. The numerous croquetas and cured jamóns we sampled began to blur together after a while, but if you can scrape together the cash, the soft, beautifully charred $90 bone-in rib eye for two to four people (aged for 40 days and scattered with garlic and crisped shallots) is almost worth the price of admission. Ditto the classic Mediterranean seafood options in the voluminous "A la Plancha" section of the menu, which includes a set of perfectly al dente razor clams garnished with chopped piquillo peppers and lemon, an almost unnaturally soft version of Galician-style octopus (with potatoes and charred onions), and a faithful iteration of baby cuttlefish, doused in its own ink.
As the decibel levels rose, and one watery cocktail succeeded another, I wondered what kind of impact this polished cooking would have in a smaller, more intimate space. But the talented chef-owners of Toro are less interested in intimate dining, at this stage of their successful careers, than in profits, and compared with many of the behemoth money machines in the neighborhood, this one has its charms. Once they stop pushing the house cocktails, the wait staff are both competent and courteous.
If you enjoy an old-world tipple after dinner, there are a decent number of Madeiras, ports, and ciders to choose from, along with a lean, decently priced list of mostly Spanish and French wines. There are three forgettable, premade desserts, but if you choose one, make it that old crowd-pleaser the fried churro, with its durable crunch.

Toro
15th St., nr. Tenth Ave.; 212-691-2360; toro-nyc.com
Hours: Dinner Monday through Wednesday 5:30 to 11 p.m. Thursday through Saturday until midnight.
Prices: Tapas and pinchos, $6 to $27; shared dishes, $60 to $90.
Ideal Meal: Bocadillo de erizos, pan con tomate, fried chicken livers or crispy veal sweetbreads, paella Valenciana and/or rib eye, octopus, cuttlefish, razor clams a la plancha.
Note: There are over twenty kinds of sherry to choose from, and you're encouraged to enjoy them Spanish style, with your meal.
Scratchpad: The room could be more personal, but we'll give one star for the fine "A la Plancha" section of the menu and another for the best of the rest.
*This article originally appeared in the December 2, 2013 issue of New York Magazine.