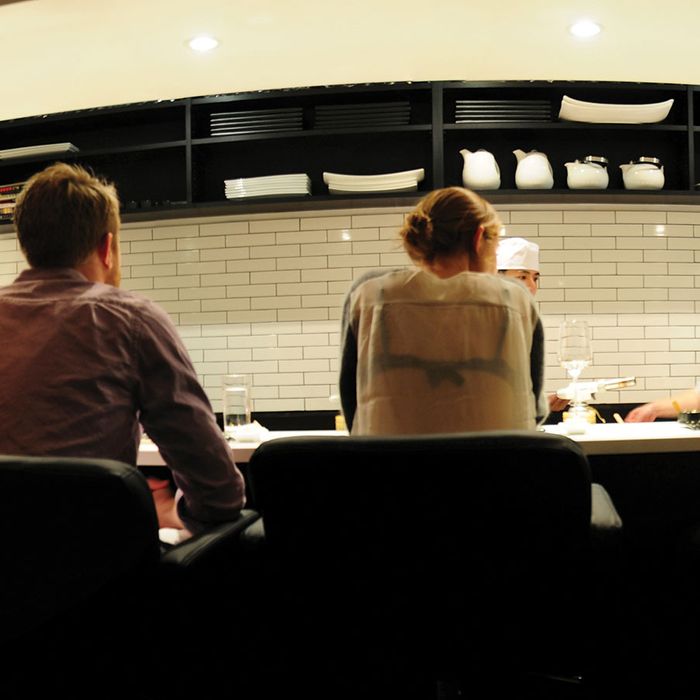 Photo: Sarah Silberg/New York Magazine
In the old days of haute cuisine, it was the ambitious Frenchmen who arrived with great fanfare, from across the sea, to be greeted by members of the city's dining community like visiting pontiffs. Lately, however, it's been the grand Japanese sushi chefs who've come to New York, often by way of other cities, with their lofty, sometimes inflated reputations preceding them. First there was Nobu (if you count him as a sushi chef, which I do), followed by Masa from L.A., and the Iron Chef Morimoto from Philadelphia. Recently, the city has been inundated with sushi chefs who've set up their popular bars and tasting rooms in all sorts of unlikely locations around town. Many, like Nobu and Masa, are known to their devoted clientele by one name only ("Ichimura at Brushtroke"), and obtaining a seat at their tiny omakase bars is harder, in some cases, than getting a table at Le Bernardin or Per Se.
The latest and most eagerly awaited member of this new wave of New York sushi chefs is Daisuke Nakazawa, whose posh new tasting restaurant, Sushi Nakazawa, has been bull-rushed by mobs of sushi aesthetes ever since it opened its doors, over two months ago, on a quiet block in the West ­Village. Nakazawa comes to the city via Seattle and before that Tokyo, where he labored for more than a decade as an apprentice to the wizened, Yoda-like sushi master Jiro Ono. Jiro has been declared a national treasure in Japan, and his ascetic, ten-seat restaurant in Tokyo's Ginza subway station is considered by many to serve the finest sushi in the world. If you've seen the elegiac documentary Jiro Dreams of Sushi, you may remember Nakazawa as the genial kitchen slave who labors for months to perfect Jiro's sweet, eggy tamago, which, as any sushi geek will tell you, is the signature dish of first-class sushi establishments.
The first thing you notice about Nakazawa's new restaurant is that it is about as far removed, aesthetically, from his former sensei's spare little bar in Tokyo as it's possible to be. Instead of the usual blond hinoki wood, the ten-seat bar here is made of the kind of polished white Italian marble that you see at the coffee shops of swanky department stores in Milan. The custom, Jetsons-style sushi chairs at the bar are set on shiny metal swivels, like bar stools, and covered in luxurious black leather. There's a proper dining room in the back, where you can enjoy your sushi at tables placed under pools of light, like at a nightclub. Unlike the famously spartan Jiro, Nakazawa employs a sommelier to help you sift through the numerous wine offerings on the padded wine list, and if you don't feel like drinking a '97 Montrachet with your tuna belly, he'll help you choose sake, too.
"This is a little less bloodless than Jiro's operation," said my friend as we swiveled happily on our chairs, nibbling on pieces of rose-colored ivory king salmon flown in from Alaska. My friend is from an old Tokyo family and has dined on sushi around the globe. When he visited Jiro's establishment, years ago, he said one of the chefs was reading a newspaper behind the bar while the great man and his acolytes doled out the carefully articulated pieces of fish in dour, disinterested silence. Freed from the exacting yoke of his master, however, Nakazawa seems barely able to contain his glee. "Where is it written that you have to be just like your teacher?" Nakazawa asked as he served us a second piece of Atlantic salmon, this one sockeye, which he and his assistants had gently smoked before service, up on the roof, over a bed of hay. It was followed by a fat, pearly flap of Maine scallop touched with yuzu-pepper paste, and a piece of triggerfish garnished, in a very un-Jiro-like way, with bits of fish liver.
Clearly, though, Nakazawa has learned valuable lessons from his famous teacher. There's an impeccable freshness to the sushi here, and in contrast to the restaurant's frilly décor, most of the pieces I sampled had the kind of focused ­simplicity that you don't find at many sushi palaces. The lucent, icy-clear ikura (salmon roe) was some of the best I've ever tasted. So was the glittery, silver-skinned saba (mackerel), from Hokkaido, and the fatty o-toro-tuna-belly hand roll, which, ­Nakazawa merrily informed us, was wrapped in a crinkly blanket of the ­highest-grade toasted nori, harvested not from China, where most nori comes from, but from Tokyo Bay. Before they serve the uni at Nakazawa, the chef passes around a tray of spiky sea urchins and asks you to choose one. In contrast to the boxed variety, this fresh-scooped uni has a milky color and the smooth, dissolving consistency of vanilla ice cream.
There are, however, a few missteps at Nakazawa. The different grades of tuna weren't the absolute best I've tasted during the course of my greedy, o-toro-eating life, and neither was the gray, vaguely wriggling tiger shrimp, which is presented live, like the sea urchin, but, because of its pallor and generally sad demeanor, looks half-dead. I was never seated in the hushed dining room, but if I had to guess, I'd say it's probably not as intimate or enjoyable as dinner at the bar with Nakazawa and his merry chefs. No matter where you sit, however, the $150 twenty-piece omakase is fairly priced by the stratospheric standards of the high-roller sushi world. If you're in a free-spending mood, there are plenty of carefully chosen white ­Burgundies and Champagnes to go with your dinner, although for penny-wise boozehounds, the best option by far is the sake tasting, which included eight glasses, on the evening I enjoyed it, for a startling, non-high-roller price of $40.

Sushi Nakazawa
23 Commerce St., nr. Bedford St.; 212-924-2212; sushinakazawa.com
Hours: Dinner Tuesday through Sunday 5 to 11 p.m.
Prices: Tasting menu only: $150 for about twenty pieces of sushi at the bar;
$120 for the same in the dining room.
Ideal Meal: Scallop, saba, uni, ikura, uni hand roll with shiso, tamago with sake pairing.
Note: Call for a reservation, because right now, the restaurant's online-reservation system is a confusing mess.
Scratchpad: Two stars for Nakazawa's sushi omakase and another for the well-curated sake pairing.
*This article originally appeared in the November 11, 2013 issue of New York Magazine.