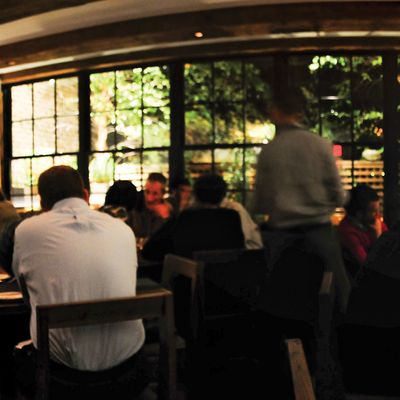 Photo: Sarah Silberg/New York Magazine
Like the name Piora, which sounds vaguely Italianate but is actually Korean for "blossom," this unlikely establishment, which materialized a couple of months ago without much fanfare or hype, is full of subtle, sometimes unintended contradictions. The chef is Italian-American and the owner Korean-American, and although the cooking contains hints of both cuisines, neither is strong enough for the result to classify as Asian fusion. The two rooms—an elegant bar area up front, a dining room looking out on a well-tended garden in back—are neighborly and inviting in a modestly posh, West Village sort of way. But the service is mannered in the style of much larger, more impersonal restaurants uptown, and if you happen to show up for your early 5:45 table before your guests, you will be brusquely consigned, like I was, to the bar area to cool your heels before "your entire party" arrives, despite the fact that the dining room is still mostly empty.
Piora's executive chef is Christopher Cipollone, who was last seen turning out very good food in a grimly appointed midtown restaurant called Tenpenny. The owner-manager, Simon Kim, has served time in the Jean-Georges empire. Their different, sometimes competing tastes can be seen in Piora's signature version of puffy monkey bread, which you can spread with whipped lardo or seaweed butter (or in my case, both). Once we were seated in the dining room (in a less than optimum table by the door), the bread was followed by an elegant assemblage of market vegetables (scattered ingeniously with Thousand Island dressing powder), a wheel of slightly desiccated duck confit (fried, and served with a prune purée flavored with Earl Grey tea), and an excellent egg creation served with artichokes, whipped potatoes, and crunchy bits of deboned chicken wing.
Cipollone has a tendency, now and then, to add two or three extra ingredients to his recipes when one will do, although if you choose wisely, it's possible to put together an unexpectedly good meal. Some of the tasters at my table thought the sweetly peppery barbecued-octopus appetizer skewed too far toward the heavy, overcharred Korean octopus model, despite the presence of candied pine nuts and a sprig of basil. No one had anything unkind to say about the scallops, however (with chanterelles and slips of crackly chicken skin), or the house pastas, all of which are constructed in a similarly rich, multitextured way. The most lavish is a dark knot of black-garlic bucatini (folded with Dungeness crab, chile flakes, and scallions), but the one I liked best was the tortellini, which the kitchen flavors with hints of porcini and stuffs with sweet deposits of Kuri squash.
Piora is getting slammed right now, which may be why a few of the entrées we sampled at our busy table by the doorway were perhaps too heavily salted (the ocean trout, the suckling pig). The crispy-edged slices of Rohan duck (with black garlic and farro) were expertly cooked, however, and so was the halibut, which Cipollone and his chefs garnish with chanterelles, more squash, and an opulent brown-­butter fumet. The subtle qualities of this cooking come a little unhinged when dessert arrives. My perfectly standard chocolate tart could have done without the accompanying litchi froth, and a strawberry-covered creation called "cotton cheesecake" tasted less of strawberries than of semi-bitter limes. But both of these work better than the bizarre house panna cotta, which is buried, in time-honored Asian style, under a small mountain of tapioca balls and shaved ice.
Given the insatiable appetite in the food world for all things Nordic, I suppose it was only a matter of time before an Icelandic restaurant popped up in the city. Never mind that Icelanders are mostly famous in the popular culinary imagination for ingesting vast quantities of rye bread and smoked fish with their local Reyka vodka, along with an occasional taste of that notorious local specialty called hákarl, otherwise known as fermented shark. I'm happy to report that there is no hákarl currently being served at Skál, a genial Icelandic-themed establishment, which opened not long ago, near the Boe Fook funeral home, way down on Canal Street. There's an interesting version of pickled smelt on the menu, however, and if you're feeling adventurous, you can order a mess of hay-smoked duck wings, dressed with ribbons of red seaweed lightly pickled in a rice-vinegar brine.
The beamy wood walls at Skál ("cheers" in Icelandic) are painted white and affixed, here and there, with antique china plates, like in a ye olde Nordic farmhouse. I wasn't mad about the seaweed-covered duck wings, but the smelt had a sweet, palate-cleansing freshness that matched this clean, rusticated décor. So did the plump Cape Cod oysters, which, according to our merry, non-Icelandic waitperson, were dressed with spoonfuls of cucumber juice. Much of the other food (good grass-fed hanger with fingerling potatoes, underspiced spiced boudin with turnips, a greasy chunk of pike dressed with pickled plums, a delicious gourmet version of the Icelandic yogurt skyr) had a messy, tossed-together quality to it, which you may or may not object to, depending on how many of the tasty house cocktails (try the Gurka, made with Nolet's gin and more cucumber juice) you imbibe.

Piora
430 Hudson St., nr. Morton St.; 212-960-3801; pioranyc.com
Hours: Dinner Monday through Wednesday 5:30 to 10:30 p.m., Thursday through Saturday to 11:30 p.m.
Prices: Appetizers, $12 to $24; entrées, $27 to $34.
Ideal Meal: Monkey bread, egg with chicken or squash tortellini, Rohan duck.
Note: The off-the-menu côte de boeuf for two ($150) is one of the more decadent cuts of beef in town.
Scratchpad: Two stars for the best of the cooking and another for the décor. Minus a star for the desserts.

Skál
37 Canal St., at Ludlow St.; 212-777-7518; skalnyc.com
Hours: Dinner 5:30 to midnight every day.
Prices: Appetizers, $9 to $15; entrées, $17 to $27.
Ideal Meal: Oysters, smelt, hanger steak with fingerling potatoes, skyr with candied beetroot.
Note: This Icelandic joint serves cured arctic char, spread over toast with trout roe and cream cheese, for brunch.
Scratchpad: Half a star each for the merry vibe and the neighborly, neo-Icelandic cuisine.
*This article originally appeared in the November 18, 2013 issue of New York Magazine.