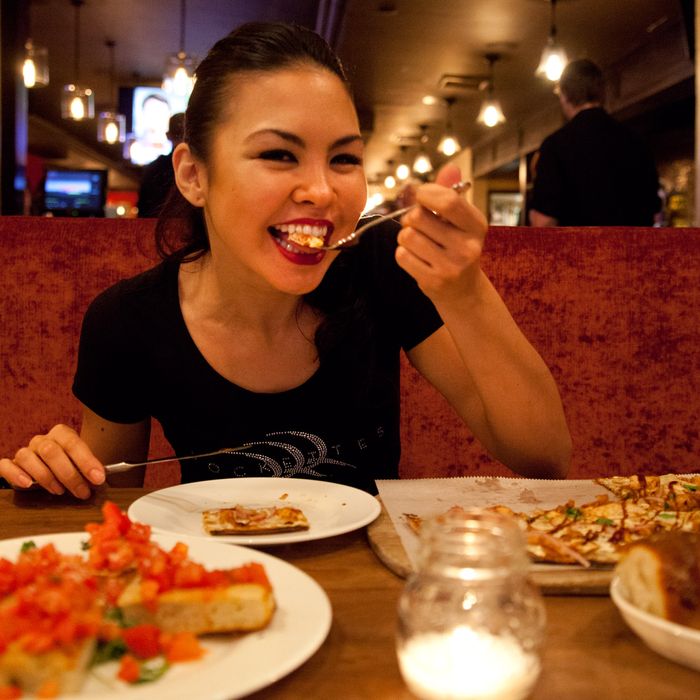 "Adding mascarpone is like adding bacon to something … "
Photo: Konstantin Sergeyev
"This is the best time of year to eat whatever I want because the shows are so rigorous," says Christine Sienicki, a Rockette who's in her thirteenth year of performing in the Radio City Christmas Spectacular. This year's show officially opened on Wednesday, and between rehearsals this past week, Sienicki found time to grab bison burgers with some fellow Rockettes, hit up Lavo for brunch, and feast on meat and cheese at Eataly. She's taking advantage of her free time while she still has it: The group performs up to four shows a day during the holiday season. Find out how Sienicki finds time to still enjoy herself and "be a regular person" when she's not onstage, straight ahead.
Friday, November 8
I woke up especially hungry since we rehearsed the day before until 10:30 p.m., but I decided to wait until I got to work to get some grub. I stopped at Café Metro near Radio City for a quick Santa Fe–omelette wrap and some fresh orange juice. Today was our first two preview shows for the Radio City Christmas Spectacular, and I was eager to get to work early.
Between shows can be tricky with food intake. You never want to overeat, but you need to eat a little something. I snacked on my usual honey-wheat pretzels and dipped them in peanut butter, and drank some Vitamin Water to hydrate.
After our second show, one of the other Rockettes Jenny LaRoche and I decided to go to the Flatiron district to shop. We were both starving, so we stopped into Eataly's La Piazza and ate a variety of meats, cheeses, olives, and bread. It was a perfect little day date with my Rockette sister!
Later that night, I was feeling the effects of a hard week of rehearsals with no days off, so I vegged out on the couch, watched some TV, and ordered takeout. I ordered my usual from my favorite Thai restaurant down the street, Sticky Rice. It has the most amazing appetizer called mango-flower dumplings, and they're filled with a mix of chicken and peanuts that literally melts in your mouth. I also got the chile-basil chicken with brown rice, and went to bed very happy.
Saturday, November 9
The first things I eat every morning are my vitamins. They're basically candy that's good for you. I had my real breakfast when I got to work: I popped into Starbucks and had a sandwich with turkey bacon, egg whites, and white cheddar, and a grande Valencia Orange Refresher. Then I was ready to kick!
My normal snacking occurred between shows: I had some flavored almonds, and hydrated with coconut water. After the shows, some of the other Rockettes and I went over to Ted's Montana Grill, which is super close. We all had the bison burger with fries and an onion ring. It's only $5! All alongside fountain cherry Cokes.
Afterward, I headed home to get ready to go out for my friend's birthday. We went to one of my favorite Lower East Side Mexican restaurants, Barrio Chino. The line is always out the door, but once you're inside, you realize that it's worth it. We all had the homemade chips and guacamole, and then I had the enchilada with mole … so good!
Sunday, November 10
Each Sunday morning, the Radio City crew from our floor brings in breakfast for us. Today, they brought us apple pie and bagels with the most amazing walnut cream cheese. I had a little bit of everything.
I didn't have much time to snack between shows since I had so many guests at the show, and I brought them all backstage for a tour afterward. But I did get to drink Ronnybrook chocolate milk, which my athletic trainer says is great after a hard workout.
After my last show, I had reservations at Lavo for brunch. Brunch is by far my favorite meal of the week: I love both sweet and savory food, so I got the "South Brooklyn" chicken and waffles. Some of the best I've ever had. The bourbon-maple syrup was delicious! My sweet tooth was well taken care of after that, but when I saw mascarpone panna cotta on the menu, I had to try it. Adding mascarpone is like adding bacon to something: You just know it's going to be good.
I was pretty stuffed from brunch for most of the night, but around 10 p.m., my stomach started growling, so I needed to make a late-night snack and I made a small turkey sandwich.
Monday, November 11
Our shows started later than usual, so I tried to sleep in while I could. I had a bowl of Kashi Go Lean Vanilla Graham Cluster cereal at home with soy milk before heading into work.
I had an event following the show, so afterward I was starved. I went to Pazza Notte, one of my favorite Italian restaurants near Radio City Music Hall to grab dinner. I had the Pomodoro & Basilico bruschetta and the super-thin Grigliata Di Pollo pizza, with roasted chicken, cheese, and BBQ sauce. It's one of my favorite BBQ pizzas in the city.
After dinner, I was pretty exhausted, so I went home to relax. My friend came by to hang out and brought me some of her homemade banana bread. I wasn't complaining.
Tuesday, November 12
We just had an evening show, so it was my day to catch up on some errands for the week. I woke up and had some more of the banana bread for breakfast with Almond Breeze coconut milk, and headed out.
I went to Le Pain Quotidien for a quick bite. I had the prosciutto-pear-and-fig tartine with honey and arugula, and an apple cider. Yum.
After the show, I ran over to my friend's place for a get-together. He's a chef and used us as guinea pigs to try out his next menu for one of his personal clients. We started off with stuffed mushrooms wrapped in prosciutto in a panko crust. Then we had French-onion soup with a gooey layer of Gruyère cheese. And for our main entrée, salmon with apple purée with a side of shrimp-and-tomato salad. Delicioso! I slept like a baby.
Wednesday, November 13
It was opening night of the Radio City Christmas Spectacular! There are always goodies and treats when we get to Radio City, so I tried to keep my breakfast light and just had Chobani Greek yogurt.
I got to work early and I stopped by Cafe Duke to grab some udon soup ahead of our last rehearsal before the show. It was perfect because it was so chilly outside.
After rehearsal, I indulged in one of the many snacks the girls brought in today. It was a deep-dish red-velvet cookie with cream-cheese frosting from Schmackary's. It might actually be my new favorite treat. It was a nice energy boost right before I performed. The whole dressing room ate them.
After our opening-night performance, we had a celebratory party at Radio City filled with hors d'oeuvres. I ate munchies like chicken on a stick. I stayed up late: The party didn't end until about 1 a.m., and even though we were exhausted, we danced a lot.