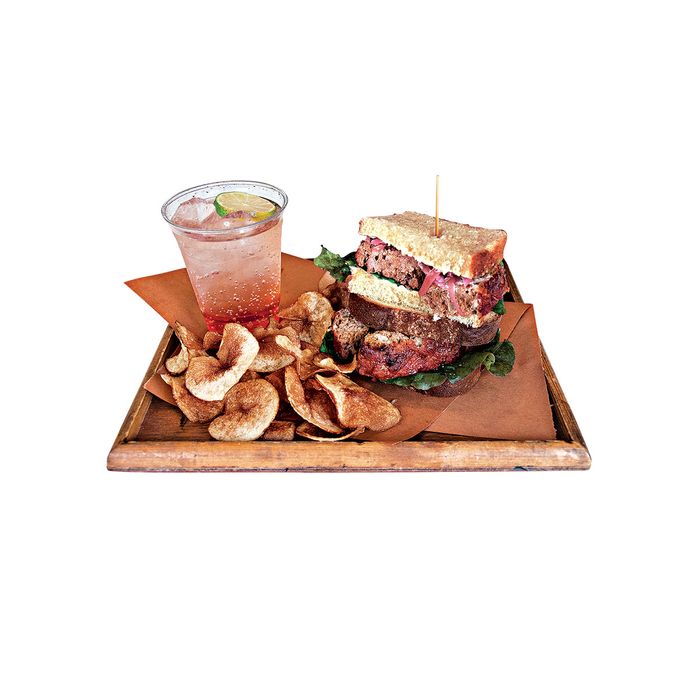 Turkey meatloaf sandwich with pickled red onion, curly endive, and mayonnaise on challah, with housemade potato chips and vanilla pear soda.
Photo: Sarah Silberg/New York Magazine
When Ilene Rosen and Sara Dima opened 606 R&D; almost two years ago, they had the best of intentions. Their restaurant would be fronted with a grocery showcasing their favorite producers. Things quickly became too busy and too cramped, and tables and chairs edged out Battenkill Valley Creamery milk, Seven Stars Farm yogurt, and Grandaisy Bakery loaves. These items and more will return early next year, when the duo (plus Dima's sister, Amy Weeks) will have finished converting a former nail salon two doors down into a takeout shop. There, in addition to selling provisions like cured meats, smoked fish, eggs, and cheese, they'll offer breakfast sandwiches, rotisserie chicken, and sandwiches like turkey meat loaf with pickled red onion on challah (pictured). There will be about six stools, should you wish to loiter over coffee and doughnuts.

R&D; Foods, 602 Vanderbilt Ave., nr. St. Marks Ave., Prospect Heights; no phone yet
*This article originally appeared in the November 25, 2013 issue of New York Magazine.