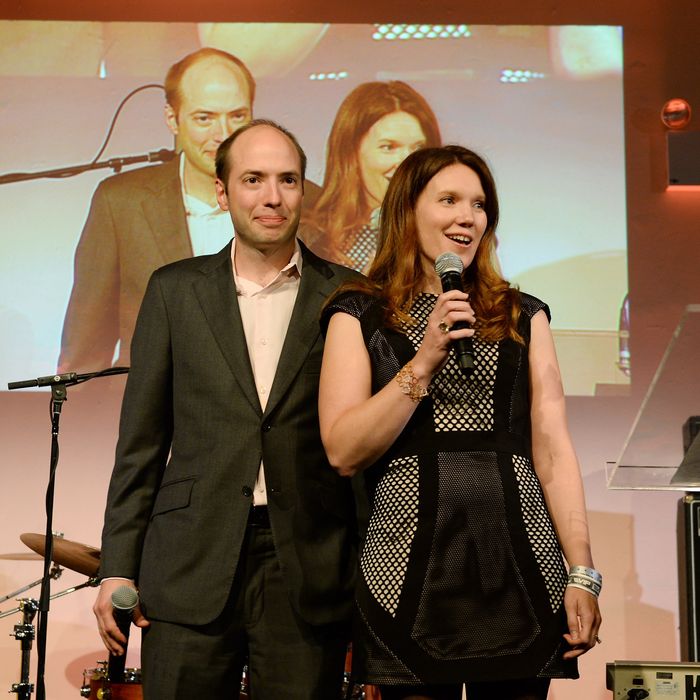 Winner Stacy Hock with her husband, Joel.
Photo: Andrew H. Walker/Getty Images
Earlier today, the world learned that City Harvest's Bid Against Hunger auction last night involved a very substantial cronut purchase. There was one question left unanswered: Just who would pay $14,000 for a dozen cronuts? We tracked down the winning bidder.
Stacy Hock, a former IBM executive, is a 36-year-old who manages her family's philanthropic efforts. Her husband Joel is the President and C.E.O. of Solutions With Impact. She has served on City Harvest's board for four years, and after donating $300,000 in 2010, the charity featured her in its ad campaign.
Prior to arriving, did you know that Bid Against Hunger would auction off cronuts?
I actually did have a heads-up about that, and I was very excited. I had never tried one.
How competitive did the bidding get?
In the beginning, it was all over the crowd, since it was an approachable item that everyone could get involved with. People were bidding against me, but they were also surprised at how far it went. It only takes two [bidders] to rise it up, and in the end, that's what it came down to. At some point I said, "Let's move this along!" Lucky for me, last night was my night.
What was your spending limit?
It's such a pleasure to play a small part in what City Harvest does by supporting them. Last night was an opportunity to do that, and it came along with the chance to finally try a cronut — and to get to share cronuts with a great group of friends. How could I pass that up? I felt I was going to win that auction lot no matter what, I have to say … I didn't have a limit: Adrenaline was rushing!
Did the cronut live up to the hype?
Shockingly, it did! My hats off to Dominique: That is one tasty culinary creation. It might be confirmation bias, but I was impressed.
How'd you share the cronuts?
My husband and I happened to be the honorees last night, so we had a large group of friends there. We took the twelve cronuts and cut them into fourths, so it was one fourth per couple. We passed them out to everybody we knew, and some people we didn't know. People were so excited, and it got rave reviews.
What about the person you outbid?
I shared it with the two main contenders. They both got a little piece.
Is this the craziest auction item that you've ever won?
I've won some crazy things. I'm responsible when it comes to my personal spending, but when it comes to charitable giving, I feel a license to indulge. This is embarrassing, but one of the greatest experiences of my life was having Eric Ripert come to prepare a private dinner for twenty in our home.
Did you at least get to keep a full cronut for yourself?
I did! At first, I shared a quarter, and then, at the very end of the night, I selfishly saved one. My husband went back to our hotel room and we were sitting there in bed, feeling like the luckiest kids at the party while indulging in our full, entire, complete cronut.\