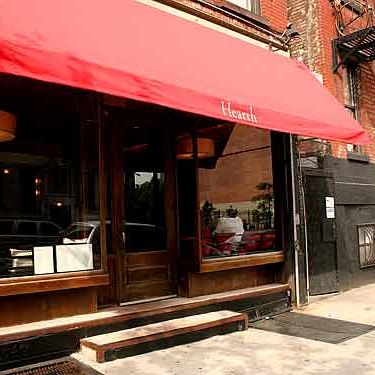 HBD, here are two stars!
Photo: Youngna Park Hearth
This week, Adam Platt awareded "three stars for [Sean] Hergatt's cooking" but "minus a star (at least) for the room and location" at Juni — a sentiment also expressed in Steve Cuozzo's review. Pete Wells checked in at Hearth nearly ten years after its original Times review, while Ryan Sutton visited Piora. Read it all, straight ahead.

Pete Wells headed to Hearth, Paul Grieco and Marco Canora's Tuscan restaurant, which is approaching its tenth anniversary. He awarded it two stars, writing, Canora "gets few points for the originality of his vision. But for his fidelity to it, Mr. Canora's score is off the charts." Hearth skips trends in favor of "diligent" cooking, offering "rich but not filthy-rich polenta" and "potato gnocchi wallowing in a wading pool of melted butter" that former Times writer Amanda Hesser praised back in 2004. It still has a few inconsistency issues: Dessert was a "nearly perfect cardamom panna cotta" one night and a "dry, drab pear spice cake" another. Wells only noticed these lapses "because they were so out of character, like John Boehner vamping on an e-cigarette." He praises Hearth for its "passionate, garrulous" wine menu, Canora's "understanding of seasons," and the stellar pastas.
Ryan Sutton awarded the "French-Italian-Korean fusion" food at Piora three stars. The restaurant is "quiet" about its approach: "There's no sign touting gochujang octopus," and that's fine with Sutton, as "good food shouldn't be explained." Must orders include the squid-ink bucatini with "razor sharp notes of ocean, heat, onion, oil and garlic" and the market vegetable salad ("less of a throwaway starter and more of a homage to France's great vegetable chefs Alain Passard and Michel Bras"). Service is also "impeccable," as is the "solid list" of wines. Sutton recommends ending the meal with the "Earl Grey cake, dehydrated into a crumble and finished with a knockout punch of bergamot ice cream."
Daniel S. Meyer was less impressed with Quality Italian, calling its "much-hyped, pizza-esque chicken parm for two" a total "letdown." While the "signature dishes flop," the rest of the menu is still "profoundly fun," thanks to chef "Scott Tacinelli's penchant for table-side cooking." Lobster Diavolo, which was "tender on one night, but stringy on another," gets set ablaze by "affable servers making wisecracks." The "tomblike menu peppered with duds" has an occasional success, like the ricotta gnudi and "crunchy baked oysters [that] are slicked with lush uni." Overall, two stars.
Alan Richman reviewed Sushi Ko, helmed by chef John Daley, whom he describes as "half New Jersey son of mechanics and half yakuza badass scary man." While there is spam sushi by request, the menu surprisingly adheres "to classic sushi and sashimi." Daley is a master of uni: "I've come across no other sushi chef so fascinated by the myriad varieties, not even at the two-star Michelin restaurant Soto," writes Richman. Skip over the "sashimi mono menu" in favor of the "sushi mono": The "sushi here is well-made, the rice firmer and more vinegary than most." The omakase was "generous but simplistic, lacking finesse." Richman left "pleased, not pulsating," giving the restaurant two out of four stars.
Steve Cuozzo gave two-and-a-half stars to Juni this week for serving "some of the most compelling food in town," but says the restaurant is constantly "flirting with self-immolation": The "oligarch-friendly prices, wintry rooms, and Fawlty Towers service" might bury talented chef Shaun Hergatt before the restaurant really "takes root." — and "cryptic menu entries typically list a vegetable or grain first even for veal tenderloin attended by approximately four quinoa grains." While the restaurant has "three-and-a-half-star cooking," it's hard to ignore the "insufferably stuffy" service and "dimly lit, carpeted, white-tablecloth spaces."
Toro is the subject of this week's New Yorker review by Hannah Goldfield. Not everything on the huge menu is worth ordering, she says. Some hits: deviled eggs "topped with salty slivers of conserved tuna," the Medjool dates stuffed with almonds and blue cheese, and "hard-to-find Spanish gooseneck barnacles" that are "as fun to look at as they are delicious." Skip the "play-it-safe classics" that are "lackluster," the house-aged duck ham that "tastes disconcertingly of chlorine," and the "tiny tangle of bland" sea cucumbers. For the steep prices and food that isn't "transcendent," it's hard to understand this "uneven newcomer's appeal."
"If you're a model, or a gerbil, La Cenita might be your Mexican go-to," writes Michael Kaminer of the new MePa Mexican eatery. While the pomegranate-studded guacamole is "almost worth the obscene price" and the desserts are a "high note," the rest of the menu is less successful. "It might be worth claiming [a food allergy] to avoid the short-rib tacos," which he describes as "three miniature, microwaved-looking mistakes." Other misses: the duck enchiladas with a "ratio of bread to bird" that is "shameful," and the "sad-looking mess" of charred octopus with the "off-putting texture of tofu." One star.