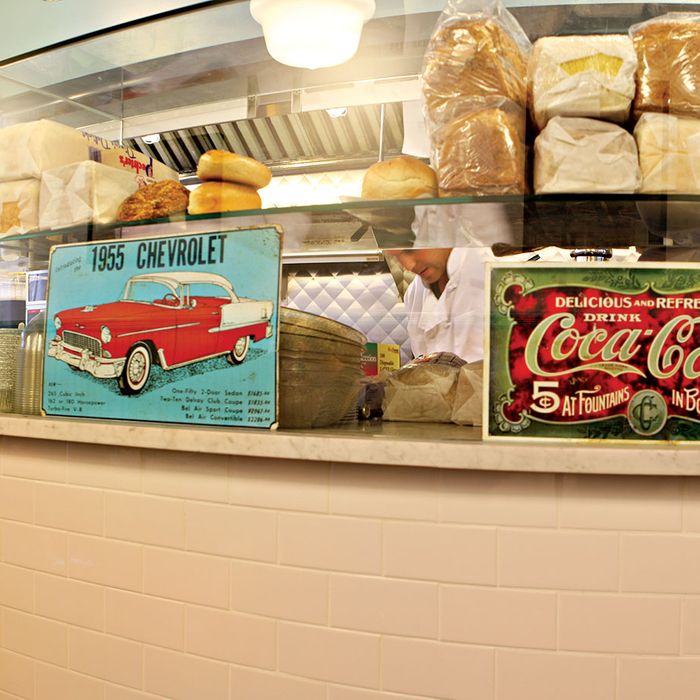 Photo: Jenny Westerhoff/New York Magazine
In this supercharged culinary wonderland of Cronuts and Umami Burgers, is there room for an old-fashioned tuna melt? That is the question posed by Archie & Sons, a throwback luncheonette recently sprouted just off St. Marks Place. Here, the bacon is not artisanal, the bread is not house-baked, and nothing is vaguely seasonal. (The Horman's Best pickles are local, though—they come from Glen Cove, Long Island.) In the grand but waning tradition of New York landmarks like B & H Dairy and Eisenberg's, Archie & Sons offers no-frills comfort in unfussy surroundings and arrives in the East Village via Hewlett and Flushing, the prior locations of owner Howie Cohen's now-­shuttered lunch counters. (Archie, in case you're wondering, was what everyone called Cohen's father-in-law, and the sons in question are Cohen's own.)
The modern-day incarnation of a fading archetype is a tough thing to pull off without lapsing into kitsch. But other than a movie-house marquee trumpeting NEW YORK'S #1 TUNA MELT and some obligatory vintage Coke ads, Archie's actual premises are rather modest and true to type: the open kitchen where a single cook mans the griddle and burners; the counter with its row of stools; a handful of Formica-topped tables, each equipped with a napkin dispenser and bottle of Heinz. The menu is as streamlined as the space and has as its core a selection of cold salads, a specialty that in these food-crazed times seems rather quaint. There is shrimp salad, salmon salad, tuna salad, egg-white-and-spinach salad, and three kinds of chicken salad (we recommend the one with peas), all unfailingly fresh, deftly but not unduly mayo'ed, and perfectly satisfying either in a sampler plate or on toasted Pechter's rye. In another distinctive twist, every salad sandwich, wrap, or plate comes with a choice of side salad—potato, macaroni, or coleslaw—which are equally fresh and tasty, in a homey, ungussied-up fashion. It seems brave in this day and age to hitch your fate to what diners might associate with the contents of a supermarket deli case, but Archie & Sons believes so strongly in its product that it stations a worker on the sidewalk out front to tempt passerby with samples of macaroni salad as if it were barbecued brisket or fro-yo.
Whether that ploy has garnered much clientele, we can't say, but we applaud the effort, and the macaroni salad. It's subtly sweet, faintly herby, and made with ridged elbows cooked soft but not to death. It also stars in an unusual concoction called the mac salad melt, which is listed on the menu under "Classics," but who ever heard of such a thing? It's open-faced, as are all the melts, and cooked under the broiler rather than on the flattop. This curiosity consists of macaroni salad spooned on top of lightly toasted bread, under a blanket of melted cheese, and in its carb-on-carb construction is reminiscent of another rarity, the baked-ziti pizza slice. Bizarrely, it works.
Don't neglect the soups, including a hearty mushroom barley and a chunky spinach and egg. (Skip the chicken noodle, with its limp noodles and wan broth.) And if you're looking for a textbook BLT or bacon, egg, and cheese, you're in the right place. It would be nice if the grilled cheese were crisper; finished in the broiler, it never gets a chance to pick up that crunchy sheen one looks for in a grilled cheese. In sum, though, Archie & Sons is a welcome ­anomaly: an old-school luncheonette with its own quirky personality, a tribute to the places that fueled the pre-Smorgasburg masses. With some tweaks in the kitchen and maybe a few more hits on its roster, it could become a neighborhood institution.
"This is the only place in the world that serves only taquitos," said the slightly scruffy dude behind the counter of the new single-item-menu snack shop, Taquitoria, the other night. "The only place in the entire world," he added. A skeptic might point out that this is like someone in the office-supply business boasting that "ours is the only store in the known universe that sells just Scotch tape." Still, if the local restaurant economy can continue to support that place on Spring Street that peddles rice pudding and rice pudding alone, why not taquitos? That, anyway, is what Taquitoria's owners (three friends who met while working at Restaurant Marc Forgione) are banking on.
In case you didn't know, a taquito, a.k.a. a flauta, is a tortilla (usually corn) rolled up tightly around a filling and deep-fried. Unlike the versions you find on, say, the hot-dog warmer at 7-Eleven, Taquitoria's ­taquitos are filled with upscale ingredients like shredded Creekstone Farms beef and Berkshire pork. There's also one stuffed with black beans and another with Bell & Evans chicken that's been braised in Marc Forgione's Batch 22 Bloody Mary mix. The taquitos come three or five to an order ($5 and $8) and topped in either "classic" style (shredded romaine, guacamole sauce, and grated cotija cheese) or "cheesy" (a tangy Cheez Whiz-like ­substance, sour cream, and a zingy pickled-jalapeño relish). Every ­combination is terrific: one salty, spicy, super-crunchy bite the culinary equivalent of ringing the county-fair sledgehammer bell in a single blow. Not that there isn't a little room for improvement: The meats and beans tend to get overwhelmed by the texture of the tortillas and the flavor of toppings. And to the frustration of those who want to try the entire menu without handing over $20, the restaurant doesn't allow you to mix up the fillings. When you run the only place on the planet trafficking strictly in taquitos, you make your own rules.

Archie & Sons
23 Third Ave., nr. St. Marks Pl.; 646-823-9423; archieandsons.com
Hours: Sunday to Wednesday, 8:30 a.m. to 10 p.m.; Thursday to Saturday to 3 a.m.
Prices: $2 to $13.
Ideal Meal: Tuna melt or chicken salad on rye, mushroom-barley soup.
Note: Breakfast is served all day.
Scratchpad: One star for attempting to preserve a dying genre, and another for the signature salads.

Taquitoria
168 Ludlow St., nr. Stanton St.; 212-780-0121; taquitoria.com
Hours: Tuesday to Thursday, noon to 2 a.m.; Friday and Saturday to 4:30 a.m.; Sunday to about 9 p.m.
Prices: $5 to $8.
Ideal Meal: Three "cheesy" pork taquitos, and three "classic" chicken.
Note: The shop takes orders through Friday for Buffalo-style taquitos ($75 for 40 for Sunday pickup; $80 with delivery).
Scratchpad: Two stars for the taquitos; one more for originality.
*This article originally appeared in the October 28, 2013 issue of New York Magazine.