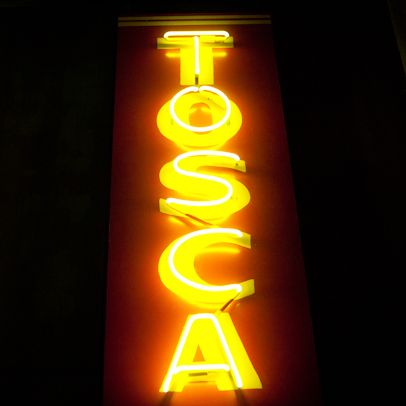 Welcome back.
Photo: Andrei Riskin
What happens when you take a century-old landmark bar — the kind of place that takes center stage in the annals of a neighborhood, a place where Allen Ginsberg once got kicked out for not wearing shoes, where Hunter S. Thompson broke an ankle jumping off the bar, and where Tim Burton sketched the storyboards for Edward Scissorhands on bar napkins — and try to update it for a modern, food-blog-reading audience? San Francisco is about to find out as its beloved Tosca Cafe reopens to the public tonight at the hands of New York food-world MVPs Ken Friedman and April Bloomfield.
Things were looking iffy for the future of Tosca last year, and the local press was going apoplectic. It was regular patron Sean Penn who stepped in to rescue the place. He saw longtime owner Jeannette Etheredge — the wizened, bon vivant fixture at the end of the bar — in an ongoing struggle with the landlord over back rent, and brought in a friend from New York who'd been looking to expand westward: Friedman, who in turn brought along Bloomfield, his longtime business partner. (Penn also invested in the redo, as did tech billionaire Ron Conway.)
In January, they sealed the deal, and now, ten months later, the kitchen build-out and "respectful" remodel are ready for their debut. The original bar, barstools, murals, weathered linoleum tile floor, and patina'd walls and ceiling remain, with just a bit of polish, and that's going to be a comfort to all of Tosca's ardent fans. But as Friedman tells Grub Street, the team heard a lot of proposals that would have taken them in a more laborious direction. "We had one company that was talking about photographing the floor, piece by piece, and re-creating the exact look of it with screen-printing and digital transfer, and finally I was just like, 'Why don't we just keep the damn floor?'" They also kept the red, rounded booths in back as well as all the original tables and chairs that look like mid-century flea-market finds, just resurfacing and re-covering them with real wood and leather.
A look at the open kitchen.Photo: Andrei Riskin
The piece that required the most work was the kitchen, which remains in the same place where it sat dark for the last 50-odd years, but with brand-new equipment, a walk-in where Etheredge's longtime office used to be, and a big opening on to the dining room. There, Bloomfield has been honing a rustic Italian menu (for this historically Italian neighborhood) with chef de cuisine Josh Even. It includes plenty of antipasti like roasted treviso, baby octopus, salumi, and crispy pig tails, as well as a couple of pastas (versions of amatriciana and cacio e pepe), a garlicky mussel soup, and three main entrées: a short rib, a roast chicken for two, and a roast trout.
Bloomfield, dispensing chicken wisdom.Photo: Andrei Riskin

The thing you really want, though, is the meatballs, currently an off-menu item that Bloomfield says took two months to perfect. "You know how meatballs are usually these boring, bland little things?" she asks. "We wanted to really punch up the flavor, so we added guanciale. I love guanciale."
The crux of the project, though, will be the injection of cool, and bustle, to this storied, old-school-hip space. Driving it will be Friedman's mastery of the art of creating a scene — a skill that comes full circle from an earlier master of the S.F. scene, Jeremiah Tower. At Wednesday night's soft opening he was canny enough to have young local chefs like Thomas McNaughton and Brandon Jew rubbing shoulders with Joe Montana, Mayor Ed Lee, and former mayor Willie Brown, all while Etheredge worked the room and held court with a cigarette on the sidewalk. (Etheredge is also featured, gesturing with a smoke, on some new coasters.)
The kitchen looks out on the dining room.Photo: Andrei Riskin
As for Bloomfield, she spent three months living in the Bay Area and working in the kitchen at Chez Panisse before opening the Spotted Pig in 2004, and now she's back, with an apartment in North Beach where she'll be living part-time. She relied on some of her friends here when it came to finding producers and learning the ropes, including Chris Cosentino, Traci Des Jardins, and Michael Tusk. "I absolutely love San Francisco," she says. "I'm so glad to be back." But given the current Indian summer heat wave the city's been having during the hectic preopening weeks, after she spent most of the sweltering summer in New York, she adds, "I'm ready for the snow." But it's unclear how much of New York winter she'll even see, since she and Friedman now both say they're committed to being in S.F. for a good piece of the next year or more.
Fernet, front and center.Photo: Andrei Riskin
After some repairs, the vintage espresso machine is staying put. The "House Capuccino" now contains Armagnac and bourbon.Photo: Andrei Riskin
Bloomfield relied on friends in the area to help her find purveyors.Photo: Andrei Riskin
The menu includes a large selection of antipasti.Photo: Andrei Riskin
Bloomfield, ready to go.Photo: Andrei Riskin
Tosca menu [PDF]