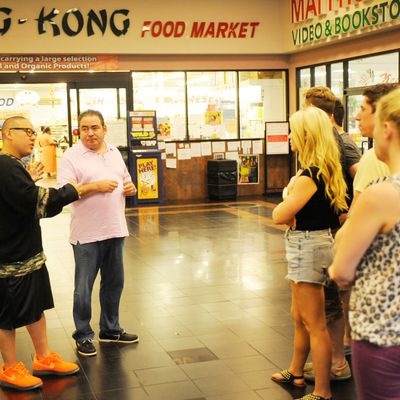 Eddie Huang explains it all.
Photo: David Moir/Bravo
At last! A Top Chef: New Orleans episode that is not steeped in hoary Big Easy cliches! I'm sure we'll be back at Pat O'Brien's dancing the Second Line with beignets in our mouths by next week, but for tonight, we take a refreshing left turn into one of the city's less-heralded subcultures: its Vietnamese-American population. Helping the gang out is the owner of BaoHaus, Eddie Huang, whom Sara calls "a food archaeologist," and whom I call "a man who dresses like a child." Seriously, you should see this guy. Kevin Smith is like, "Pull it together, Eddie Huang."
Tonight's Elimination Challenge — which we go right into without a Quickfire because I don't know why — is to cook a three-course Vietnamese meal, one course of which must feature shrimp, and to serve it to some actual Vietnamese people. Guess who's excited? That's right: Anglo-ass Travis, who exclusively dates Asian men, and who immediately thinks he can teach Eddie Huang a thing or two about Asianness because, you see he's been to Vietnam with his Asian boyfriend and his grandmother. "This is my food," says he. This is going to get racially uncomfortable, say I.
As Travis is to Asian culture, Michael is to reminding you that he's from New Orleans, by which I mean he mentions it every five seconds. Nina's had it up to here: "I think he doesn't have any real talent. I think he's faker than Pamela Anderson's breasts." Meow, and also please update your cultural references, Nina! I think she feels a natural rivalry with Michael because they both wear hairstyles that make them look like they're playing Lucy in a repertory theater production of "You're a Good Man, Charlie Brown."
We have three teams of five. The Green Team is led by Travis, who suggests a tomato-based sauce, and squashes Sara's objections by reassuring her that he saw it one time. The Red Team features Patti, Carrie, Justin, Nina, and Shirley, who has made the wise choice to actually talk to some Vietnamese New Orleaners and ask them what they like to eat. (I will point out here that Shirley actually is Asian.) Carlos, on the Orange Team, has never eaten Vietnamese food, is understandably buggin', and ultimately settles on a fish-head soup. Have you ever watched Top Chef while you are fighting food poisoning from a bad oyster? I have! Right now, in fact! Please help me.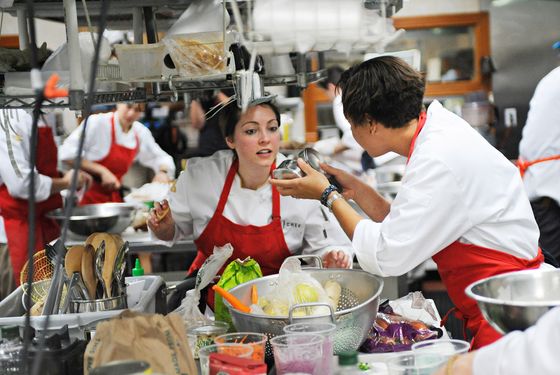 In the thick of it.Photo: David Moir/Bravo

And then there is the Lemongrass Incident. In the Asian market, Janine and Travis do most of the shopping, while Sara appoints herself shopping-cart editrix; she seems to put about a third of their chosen items back on the shelves, including the lemongrass. So once we're in the kitchen and it's time to get to work, the Greens are down one essential ingredient. But it ain't no thing for our culinary Bettie Page: "It's my theater background — if you forget a line, you just improvise." Let's all remember never to do a show with Sara. For his part, Travis says they can work around it, and when Eddie objects, Travis insists he knows better. Because, and he can't be clear enough about this, he likes to have sex with Asian men. There are no winners here, people. (Oh, also, Justin on the Red Team is positively awash in excess lemongrass, a fact that he will reveal if they simply ask, which of course they never will.)
Compounding the Green Team's troubles is Janine, who fries shrimp and immediately sauces it, allowing it to get soggy. There is no clear reason for this, but I blame Travis.
The Orange Team serves up black-pepper squid, a shrimp spring roll, fish-head soup, and beef-broth pho. Only the spring roll wins praise from the Vietnamese-Americans. The Reds do a raw-beef salad, BBQ shrimp, beef-belly pho, and a custard with caramelized banh mi, all of which pass the test. The Green Team does pork-sausage lettuce wraps, oxtail rice wraps, fried shrimp with ginger, Travis' misbegotten tomato sauce, and a coconut macaroon. Everything except the latter gets the gas face, even the rice, while we are treated to a backstage group hug of team leader Travis. Your affection is incorrect, Greens.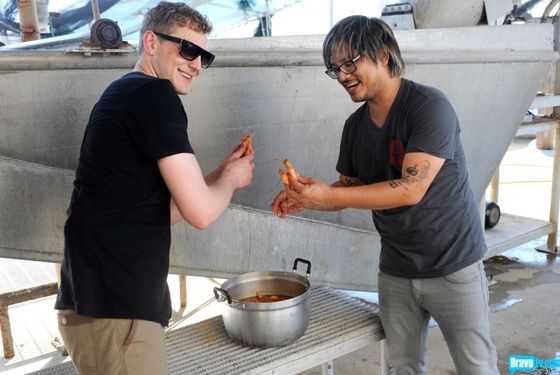 Men peel shrimp.Photo: David Moir/Bravo

Judging-table time! The TV gets switched on for the chefs, and Nina says: "Every time that TV comes on, I hope it's going to be an episode of Seinfeld." Is it still 1998 in Saloosha? The judges rave about Brian's spring roll, Stephanie's macaroon, and everything the Red Team cooked, and pretty much clown everything else. Travis takes it exactly the way you'd expect: "They didn't get my food." This guy.
Okay, Travis. Let's get into it. If you think cultures — broad, contradictory, constantly evolving cultures — are things that can be known, then I don't know what to do with you. I have lived in America my whole life, and I can't begin to understand American culture. To say that you are a master of a whole culinary world just because you have dated some of its boys smacks of some cultural imperialism and I'm going to wrap this paragraph up before it becomes a Thought Catalog post, but not before revealing that Shirley wins the challenge and Shirley is Chinese, but still had the humility to ask people what they wanted to eat rather than just insisting that she knew better because of the color of her skin.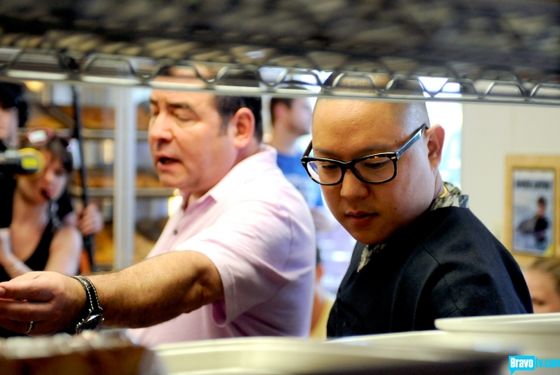 Lagasse and Huang doin' work.Photo: David Moir/Bravo

Not surprisingly, the Green Team loses. Sara reacts by immediately dissolving into tears, which is another thing I will chalk up to her theater background. She also, when asked about the rice, responds: "I will take the bullet for that. The rice cooker failed." Oh, Sara. Tom makes my point to Travis, but does it in easy culinary terms so that he can understand: "If the challenge were to make Parisian food, I'm sure there's a McDonald's there, but don't serve me a Big Mac and tell me you had one in Paris." Travis responds: "I'm not sure you understand, sir: I have a fetish for Asian men." Not really, but you know he's thinking it. Eddie praises Stephanie's macaroon, saying it represents "the janky, ratchet side of Vietnamese cuisine." The word "ratchet" has made it to Top Chef; please consider it officially played out.
Oh, also, Padma is super-drunk. I will try to transcribe this exchange:
Padma: "Go into a Veetmees restrnt, there is a room fill of rice eaters. I'm sprised none of 'em threw it back AT them."
Tom: "So you think Sara should go home?"
Padma: "Vaybe!"
It could go any of four different ways, but ultimately Janine gets a one-way ticket to Last Chance Kitchen, even though a full 75 percent of the people who are bored enough to play this Toyota live-voting thing (and I) think Travis should have gotten the boot. But hey, at least this show has a villain now! Will Travis continue to cook with his dick next week? Vaybe. See you then.