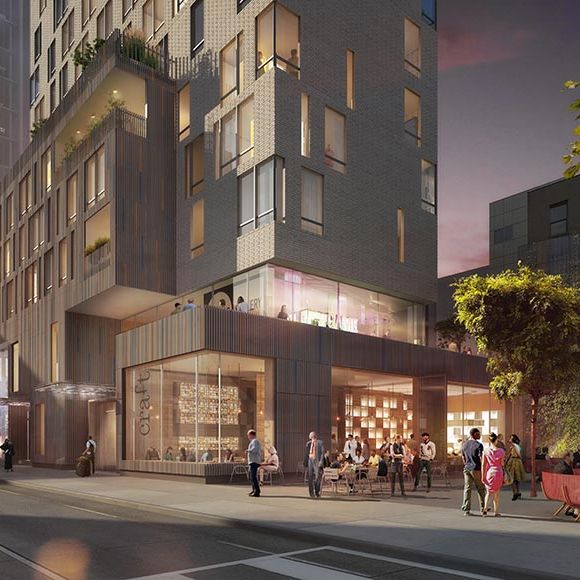 As of now, this is as real as it gets.
Photo: Courtesy Dattner Architects
Here's something interesting: Curbed notices that the winning real-estate proposal for Downtown Brooklyn's BAM Cultural District includes a rendering with a restaurant that bears some Craft branding. It sort of looks like a 'wichcraft, and the mayor's office even issued a press release that says, "The proposal includes approximately 2,700-square-feet of ground floor commercial space for a planned Craft-branded restaurant." Exciting news for Brooklynites looking to try Tom Colicchio's food without crossing the river — but, perhaps, not as exciting as it first seems.
'Wichcraft partner Jeffrey Zurofsky reached out to Grub to set the record straight: He knows Jonathan Rose, the developer behind the proposal. So Rose asked if he could include 'wichcraft in the proposal. Zurofsky agreed, and the logo was in the rendering. However, that's as far as the deal has gone so far.
Zurofsky says his team is still into the idea of opening a 'wichcraft in Brooklyn, but "there's nothing firmed up … there's no lease."
Developer Chosen For The Final DoBro Cultural District Site [Curbed via Eater NY]