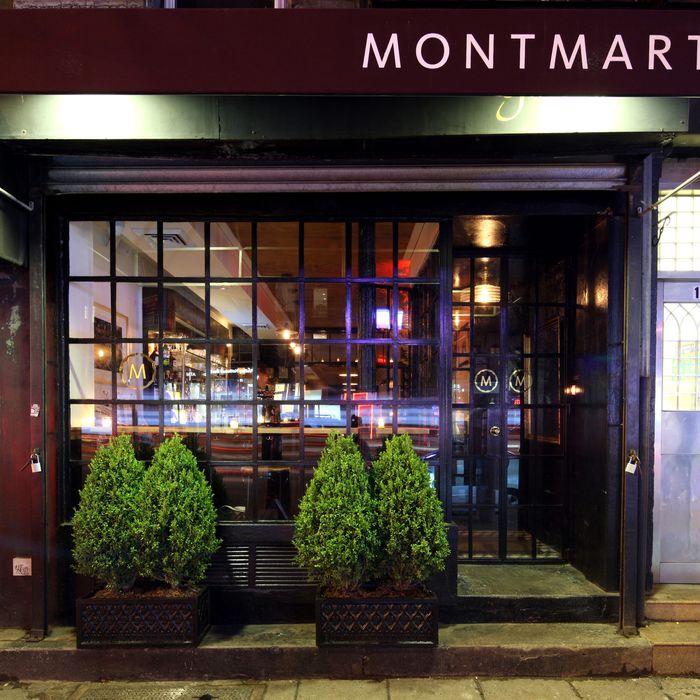 Don't change the French fries.
Photo: Melissa Hom
Eight months after opening, Michael Toscano of Perla has replaced chef-partner Tien Ho at Montmartre in Chelsea. The news, first reported at Eater NY, quotes owner of both restaurants Gabriel Stulman saying that Toscano will introduce a menu of dishes that are "inspired by the history of French cuisine and technique." Ahead, the full e-mail Stulman sent along.
The restaurateur writes:
We are excited to announce that our celebrated Chef, friend and co-owner of Perla, Michael Toscano, will become the new Executive Chef and co-owner at Montmartre. With Michael at the helm of Perla, we have seen our dream of a great Italian restaurant exceed even our own high expectations. Together, our passion and hard work have garnered critical success, national recognition and the embrace of our neighbors and beloved regulars. Opening Executive Sous Chef Jack Harris, who has been working by Toscano's side for the past six years, will be stepping up to assume the role as Perla's first Chef de Cuisine, under Michael's continued guidance.

Approaching its second year of life, with a loyal and devoted clientele, Montmartre is the perfect showcase for Michael's exceptional abilities. In his time overseeing Perla, he has demonstrated a shared vision of what makes a restaurant great, and how to assemble the right team to execute on that vision. At Montmartre, Michael will be returning to French cooking, the tradition that first drew him to the kitchen and became the foundation of his professional career. We look forward to sharing his dishes that are inspired by the history of French cuisine and technique.

While Montmartre is a success by any conventional measure, we operate under the belief that we can always do better. And under Michael, with the support of our talented front of the house team, we believe Montmartre is poised to become an even stronger restaurant, providing more inspired food and warm hospitality to our many friends, regulars and neighbors. We are appreciative of the hard work and dedication of opening Executive Chef Tien Ho and we know that he will continue to do great things. We wish him success in all of his future endeavors.
Montmartre opened in February, and Tien Ho notably tweaked the menu and format a few months later. Ho, a former Momofuku chef de cuisine, had been serving a menu of French dishes inspired by chefs like Jean-François Piège, as well as classic Vietnamese flavor profiles. When reached by Grub, the chef says he doesn't have any concrete plans just yet.
In the meantime, Stulman tells Grub Street that Toscano's new menu, a "100 percent revamp," will debut at the Chelsea restaurant on Thursday.
Earlier: Platt: Fusion-Inspired Montmartre Redeems Itself After a Few Menu Tweaks