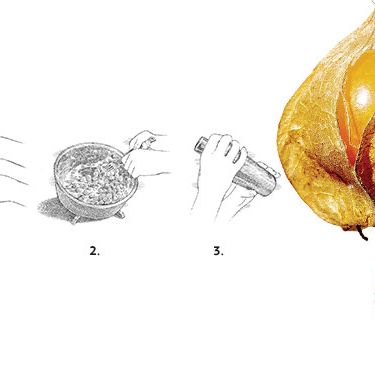 Photo: Bobby Doherty/New York Magazine; Illustrations by John Burgoyne
Masquerading under several different names (ground cherry, Cape gooseberry, et al.), husk cherries are hidden inside a light-brown calyx that's onionskin thin and crinkly. These berries are softly golden in color when ripe, have a Gobstopper-like appearance, and offer an abundant flavor profile: first nutty and brown-buttery, then sweet and juicy. Turn them into jam, like Robert Ceraso does at his Alphabet City bar the Wayland, and pair with a mildly peppery and fruity rye (try Old Overholt) to make a satisfying and deceptively stiff cocktail. Find them at Norwich Meadows Farm at Greenmarket; just make sure to buy an extra pint—their extreme poppability is hard to resist.
The Wayland's Husk-Cherry Fizz
For the jam:
1 cup husk cherries
1 tbs. lemon juice
2 tsp. low-sugar pectin
1/2 cup plus 2 tbs. sugar
For the cocktail:
1 dash habanero hot sauce
1 dash Angostura bitters
3/4 oz. simple syrup
1 oz. lemon juice
1 tbs. husk-cherry jam
2 oz. rye
Club soda to top
For the jam: Place the cherries in a bowl, cover with cold water, and let soak for a few minutes, then (1) remove husks while wet. In a wide pot over medium to medium-high heat, bring the cherries, lemon juice, 2 tablespoons of water, and pectin to a hard boil; cook for 1 minute, then add the sugar. Once this returns to a hard boil, cook 1 minute longer, (2) mashing cherries throughout heating with a fork or potato masher. Remove from heat. Transfer about half the cherries to a blender or food processor, and process briefly—do not make a purée, just smaller chunks. Return to pot and mix with the unprocessed cherries. Pour into a container and refrigerate; jam will keep for about 4 weeks. Yields roughly 5 tablespoons. For the cocktail: Combine the first six ingredients in a cocktail shaker with ice and (3) shake well; strain into a Collins glass over fresh ice. Top with club soda.
*This article originally appeared in the October 21, 2013 issue of New York Magazine.