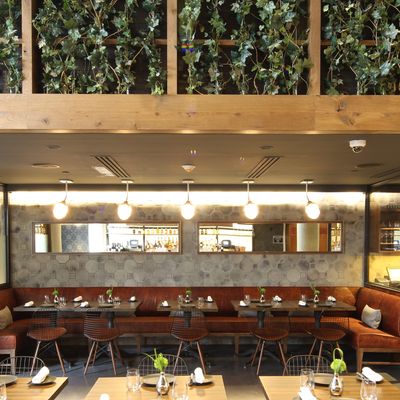 The Elm.
Photo: Melissa Hom
Adam Platt visited the Fat Radish team's new Upper East Side restaurant, the East Pole, and awarded two stars for the "vegetal, farm-friendly compositions." The Elm also garnered two-star ratings from two different critics, while an old-school Italian restaurant received three from Steve Cuozzo. Read it all, straight ahead.
Pete Wells filed on the Elm: Paul Liebrandt's ability to "tie one hand behind his back" and make that "seem like an advantage" warranted two stars. Ominously named dishes such as Flavors of Bouillabaisse ("as if the Provencal classic has been turned into edible powders") and Summer Garden are highlights, the latter showcasing Liebrandt's ability to turn a chaotic mess of 50 various vegetables and fruits into something that "tasted extremely fresh and delicious." Wells's only complaint was about the strange "Share category, where Mr. Liebrandt seems to be trying to catch the large-format wave": It requires diners to "transfer each element" to their own plates, but Wells finds "no reason" for Liebrandt "not to do all this work in the kitchen." Must-try dishes include a beet salad with a bacon XO sauce that lifts it to "a higher plane of awesomeness" and gnudi in a "wildly rich coconut-milk sauce." Don't share the fruit tart for two.
Daniel S. Meyer also gave two stars to Paul Liebrandt's "softened rendition of art-cum-cuisine," the Elm. Meyer was impressed by the Flavors of Bouillabaisse, which he deemed a "deeply soothing shellfish stew" and the charred eggplant, which "seduces bewitching scads of earthiness." He also enjoyed the Swiss-chard agnolotti with "a frothy smoked-milk veloute" and "tender hunks of lobster and sweet corn," noting that it was a "savant's take on chowder." Meyer was less pleased with the "uninspiring space," but notes that "Liebrandt's food is too inspired to be stifled by it."
Wylie Dufresne's Alder, was the focus this week's raving review by Ryan Sutton. The menu, which is "an ambitious and affordable alternative to wd~50," is filled with hits that "elevate the gastronomic melting pot that is American bar food." Dufresne sends out "whimsical riffs" on classics like a pastrami sandwich, which he deconstructs into a "caraway-flavored fettuccine that tastes precisely like fresh rye bread," and a take on French onion soup that he transforms into a "wonderful PoMo-poutine of beef gravy, stinky gruyere, and crispy onion rings." While diners should skip the curried goat ("under-rendered") and roasted chicken ("as boring as it sounds") the beet salad topped with coconut ricotta is a "game-changer." Two and a half stars.
Steve Cuozzo reviewed "preeminent power-Italian" restaurant Il Gattopardo in its new "larger and sexier" location. He takes aim at Zagat's decision to drop it from the survey and gives the restaurant three stars, admitting he "irrationally" loves it. While the clientele might be a range of New York City heavy hitters and "glamorous types," the menu is built "confidently on [the] hearty styles of Campania," best represented in dishes like a "silken vitello tonnato" and a "Neapolitan meatloaf" that "remains luxuriously soft and herbal." Diners should also order the pasta dishes, which are the chef's "real strength" and more affordable than most entrees.
Hannah Goldfield wrote about two of Brooklyn's sandwich spots, inspired by the Post's controversial story. Glady's, which recently opened in Crown Heights, "seems determined to do for the sandwich what Franny's helped to do for pizza." Favorites include the Brocc' Obama ("broccoli and ricotta plus braised collard greens and mustard vinaigrette") and the Abra Kebabra, which is "stuffed with fatty porchetta [and] crunchy thrice-cooked French fries." Goldfield also visits the newly reopened Court Street Grocers. The Hero Shop eschews shock value for "sandwiches that are simply the best versions of themselves." Some hits: the Italian combo, the vegetable-heavy Uncle Chucky (named after a "particularly generous benefactor"), and the elevated take on an egg-and-cheese, known as the Mr. Victor, all of which, she writes, "could secure a hand in marriage."
"It's as if Lehman Brothers never folded," writes Stan Sagner in his two-star review of midtown restaurant Quality Italian. The "expense-account-friendly offshoot" of Quality Meats has a decent list of standout dishes, such as Porterhouse agnolotti ("imagine Nonna's pot-roast eloping with a Chinese soup dumpling"), the "mastadon-sized" Berkshire pork-chop, and the "addictive dessert-masquerading-as-side-dish" corn creme brûlée. But service is pretty awful: "Request a bourbon and, a mere 40 minutes later, you learn that 'We don't offer that brand of Scotch.' After a server pours tap water into a glass half-full of sparkling, the botched beverage is whisked away and a quick 40 minutes later it is replaced. Empty. The wait for appetizers? Well, that's 40 minutes. Interlude for your main course? Take a wild guess."
Alan Richman also did not file a review this week, but instead published a guide to navigating and conquering an overpriced wine list, writing, "In wine, as in life, money doesn't buy happiness." Joshua David Stein did not file a review this week.