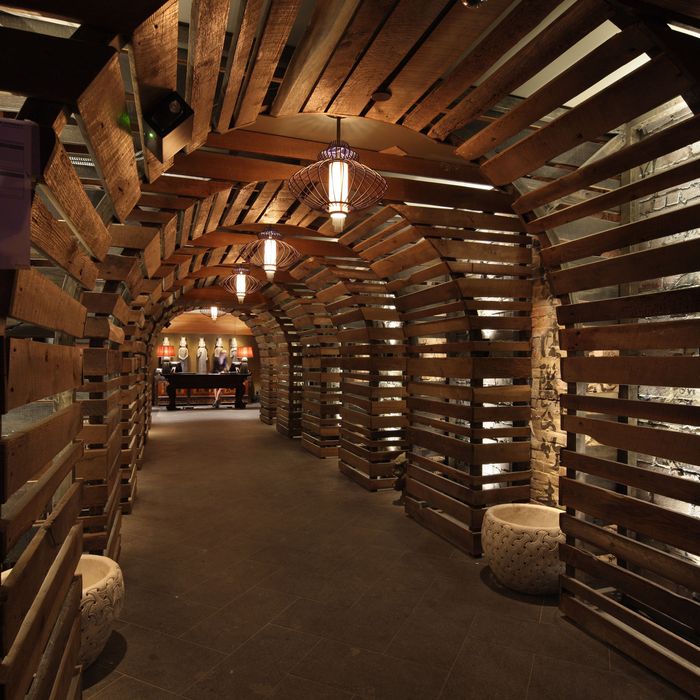 The entire hallway can be flipped over and used as a raft in the event of a flood.
Photo: Melissa Hom
Tao's midtown location has long been a dark, colossal hotbed of throbbing beats, theatrical décor, and — occasionally — pan-Asian food served to its bedazzled customers. Meanwhile, the Vegas outpost is the most profitable restaurant in the country. It looks like the brand-new Chelsea location, at 92 Ninth Avenue in the Maritime Hotel, is set to keep the unce-unce dream alive.
The new location, which opens its doors to the public tomorrow, is a 22,000-square-foot behemoth that spans what used to be two separate businesses.
The bi-level space can seat 400 people, but that really means 600 or so if you can take the model-type clientele into consideration. So, what about the food? Well, the menu includes some new dishes like roasted chicken chow mein, with hand-pulled noodles made daily in house. There's also a separate sushi bar, murals with Chinese calligraphy, and a 40-foot staircase. It's all sure to be very understated and sedate.
Take a look at the full menu, below.
Menu [PDF]
Tao, 92 Ninth Ave., 212-888-2724