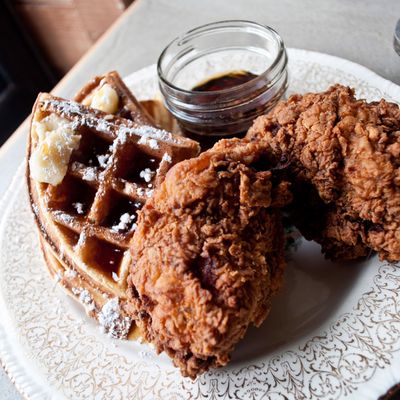 Coming spring 2014.
Photo: Nev, No Entry Design
The Pink Pony and Max Fish are gone, but as speculated last month, Williamsburg chicken and waffles restaurant Sweet Chick will open next spring at 178 Ludlow Street. (Ulli Rimkus's famed bar, in the meantime, will reopen near the Williamsburg Bridge in Brooklyn). Partners John Seymour and Sam Saleh officially signed the lease last week.
Sweet Chick opened in February, featuring a rambling menu of chef Randy Reppel's variations on chicken and waffles, including a vegetarian version, with an accompanying menu of sides like hominy Brussels sprouts, which are typically doled out in jumbo portions. Expect more of the same at Sweet Chick Manhattan. "We're psyched to take over such a dope location," says Seymour.
Earlier: Sweet Chick's Second Location Headed to Former Max Fish Space
Related: The End of the Max Fish Era