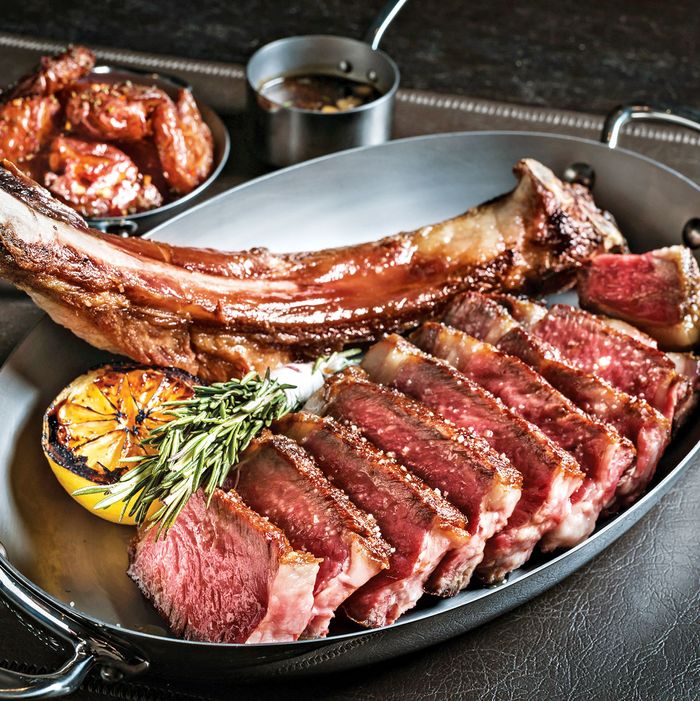 Critic consensus: Costata's not worth the money.
Photo: Gabriela Landazuri/New York Magazine
Adam Platt reviewed two downtown restaurants this week: Charlie Bird, which earned two stars, and Khe-Yo, which received only one. Meanwhile, in midtown, Betony wooed yet another critic, and out in Greenpoint, Alan Richman found some great eats. Read it all straight, ahead.
Pete Wells didn't file an official review this week, instead noting on Twitter that the New York Times' taco coverage "was an all hands on deck effort." His contribution was an article on the trouble with high-end restaurant tacos. "All the worst tacos I've eaten, and only a handful of the best, have come from New York restaurant kitchens," he writes, arguing that tacos need to be eaten immediately, and preferably standing up.
Alan Richman headed over to Greenpoint, a neighborhood facing serious gentrification in the near future. "There isn't much to like about what's happening here, with one exception: The food will get better," he says. At Glasserie, cuisine "is comfort food from a place you've probably never been. It's a little Middle Eastern, maybe a lot, but not the everyday Middle Eastern we know." Standouts include "yogurt pleasantly paired with grilled tomatoes, peaches, and corn." Next on the list was the oft-reviewed Luksus. Unlike other critics, Richman found the "the pace of the meal was excruciatingly slow." ("You've heard of the Chinese water torture. This was the Danish beer torture.") The food was "from time to time very good. Mostly, it was uneven." He did, however, enjoy the main course of Mangalista pork neck, calling it "original" and "exquisite." Richman finished his Greenpoint review with a critique of Alameda: "a sweetheart of an undersized bar and restaurant." Notable dishes: the tomato tartine ("maybe the prettiest food in Greenpoint") and the trout with creamed corn.
Ryan Sutton didn't exactly enjoy Michael White's steakhouse, Costata, where "a five-course meal for two can run as much as an evening at Le Bernardin." Not surprising seeing as the tomahawk rib eye for two costs a hefty $118, and while it is "well-salted," unfortunately "nothing makes it memorable." Hits include: raw fish like Amberjack served with pickled cauliflower, the seafood salad that Sutton describes as "perfection," polenta "with a heart-stopping topping of mushroom sugo is a must-order," and giant martinis. Overall, portions are too big, too expensive, and not all that impressive. "Costata is a fine steakhouse, but I'll get my fancy elsewhere," writes Sutton. Two stars.
Daniel S. Meyer of Time Out gave midtown eatery Betony three stars this week. The restaurant's "hyperprofessional service softened with a heaping dose of humanity" impressed him. His sentiments about Shuman's food were similar to others: "studied, but not smothered with lily-gilding ingredients or chefly futzing." Dishes such as high-end riffs on "crunchy fried pickles and toasty tuna melts" are noteworthy, as are the short ribs, which he describes as " humble braised meat dressed in the noble robe of a steak." And Meyer was pleased with cocktails like the off-the-menu milk punch, a "miraculously clear but creamy concoction."
The New Yorker's Shauna Lyon explored the "charmingly unpolished" and rule-breaking Thai food at Uncle Boon's in Soho. She notes that the menu is filled with "earthy curiosities" that "sound horrible" but taste "wonderful," including dishes such as "creamy chicken livers and pineapple cubes" and a "smoked-catfish-and-pork spread." Although Uncle Boon's doesn't yet have a liquor license, their shandies, "tailor-made to tame heat," are worth ordering. Also noteworthy: the blowfish, lamb laab, fried rice with fresh crab, and a bowl of massaman curry "made explicitly for tender beef cheeks."
Michael Kaminer filed a review to Enduro, a refined comfort food concept by "Junior's scion" Alan Rosen. He was unimpressed by the food, which apparently "falls flat." Starters like gazpacho, pickled vegetables, and shrimp cocktail "fumble high-quality ingredients with sloppy presentations." Main courses such as Cobb salad and rotisserie chicken "careen further downhill." Slight redemption can be found in the New York strip ("rich, and properly prepared") and the soft-serve cheesecake and graham-cracker ice cream ("subtle and elegant"). Still, two stars.