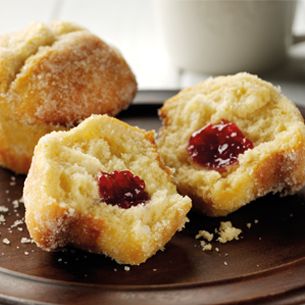 The cause of the controversy.
Photo: Courtesy of Starbucks.
Starbucks U.K.'s debut of a doughnut-muffin mash-up — called a duffin, obvs — prompted immediate claims that Starbucks had stolen the pastry idea from local English bakery Bea's of Bloomsbury, who claims to have sold a sugar-coated, jelly-stuffed "duffin" long before Starbucks ever put the invention in their glass cases. Bea's owners feared that as Starbucks' supplier had trademarked the pastry name, the bakery would be prevented from serving their original "duffin." Bea's of Bloomsbury enlisted the help of supporters with a poster in its store, and #duffingate took off.
Starbucks says its muffin-donut hybrid was "inspired by our muffins." Funny, for me, Starbucks muffins only inspire regret and despair.— Pete Wells (@pete_wells) October 8, 2013

The scandal has quickly turned into a debate over big corporations trampling small businesses. On Facebook and the company page comments section, as well as Twitter, vociferous #duffingate protestors are calling for a ban on Starbucks. Trademark dispute aside, given Starbucks' track record with their pastries, we're sure the Starbucks impostor has got nothing on Bea's.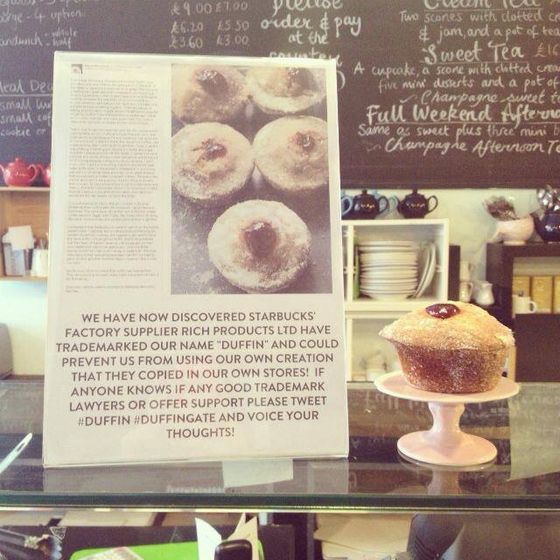 The sign at Beas.Photo: Instagram
According to claims made by Bea's Twitter, Starbucks insists it had no knowledge of the preexisting duffin — and, to be fair, it is an idea that isn't tough to imagine in these post-Cronut days — though the coffee chain does seem to be aware that their duffins are not the only ones. A spokeswoman told Businessweek, "Since launching the Starbucks Duffin we have discovered that there are lots of other Duffins out there."
In the latest from Bea's, Starbucks plans to release a statement allowing the bakery to keep the name, but now that duffin supporters are out for blood, it seems they will stop at nothing short of an official apology and name change. Perhaps Starbucks could take the colorful suggestion of some Facebook commenters, and call their pastry MuffNuts.
Apparently @starbucksuk plans to release a statement saying I would be allowed to sell #duffins. How magnanimous of them. #duffingate— Bea's of Bloomsbury (@beas_bloomsbury) October 8, 2013

More #duffingate outrage:
I think @starbucksuk were hoping to fill the #duffin timeline with we love starbucks tweets. Yeah. #duffingate— Bea's of Bloomsbury (@beas_bloomsbury) October 8, 2013

Hey @StarbucksUK, you don't have to be a dick about everything, you know? "@beas_bloomsbury: #duffin #duffingate http://t.co/AOT9otkqNb"— Andy Price (@Andyy_P) October 8, 2013


Starbucks Launches Donut-Muffin, Yet Another Pastry for the Indecisive [Bloomberg Businessweek]