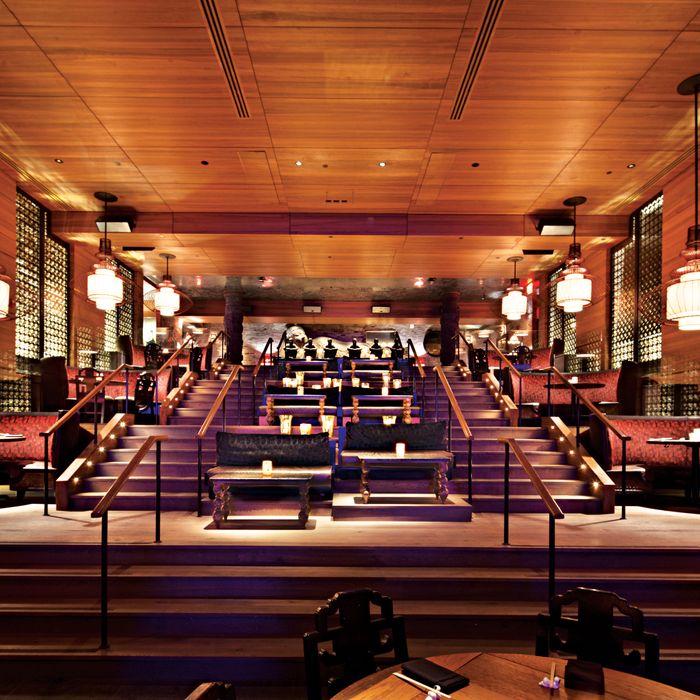 Tao Downtown
Photo: Melissa Hom/New York Magazine
Restaurant seating plans have always been a source of anxiety for diners, who've had to endure sardine-can banquettes, discomforting proximity to bathroom and kitchen doors, and the perennial specter of banishment to some perceived Siberia. Now, though, the drama of being escorted to your table has reached a new level—literally. When Rockwell Group designed the cavernous new Tao Downtown (92 Ninth Ave., at 16th St.; 212-888-2724), a 22,000-square-foot space below the Maritime Hotel, the firm installed a 40-foot grand stairway to lead guests to the subterranean dining room. Some diners will never make it there, though; they'll be spending the evening on the staircase itself, at one of six round booths that hug the walls at each of three landings, or on the sofas and tables that run down the middle. This is not, according to David Rockwell, a strategy to bump up capacity (the stairway seats 80, all told), but rather an interior designer's elaborate nod to an ingrained proclivity of this city's inhabitants. "Perching is something New Yorkers love to do," he says, "whether on the stoop of a brownstone or sitting on a wall."
Rockwell's not the only one to take inspiration from city streets. "We really love expanding on the idea of New York stoop culture," says Nathaniel Ru, co-owner of Sweetgreen (1164 Broadway, nr. 28th St.; 646-449-8884), the new gourmet salad bar in NoMad. Ru and his partners had salvaged school bleachers reclad in reclaimed oak "to match our aesthetic" and installed power outlets in custom-built railings so solo diners could plug in laptops. Beyond providing what Ru calls "a great communal space," the bleachers retract to reveal a platform stage for the occasional live performance. Bleacher-style seating also factors into the design at Counter Culture Coffee's new training center in Nolita (376 Broome St., nr. Mott St.; 212-213-4411), which offers public cuppings and professional workshops. Architect Jane Kim used reclaimed maple and accessorized the step seating with built-in drawers, reading lights, power outlets, and conference-table extensions on the first tier.
But it's hardly necessary to go to those lengths. When Diller Scofidio + Renfro renovated American Table Cafe and Bar at Lincoln Center (1941 Broadway, at 65th St.; 212-671-4200) a year ago, the designers managed to create "outdoor seating" by randomly distributing bright-orange silicone-gel packs around the plaza's existing concrete steps. A burst of color and a soft cushion is all the invitation a hungry New Yorker needs.
*This article originally appeared in the October 28, 2013 issue of New York Magazine.