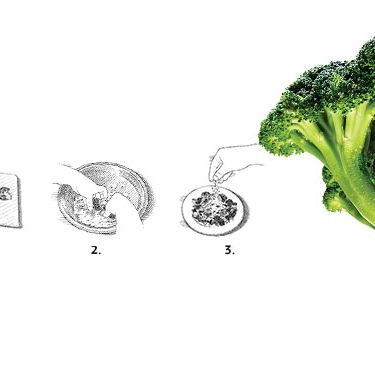 Photo: Bobby Doherty/New York Magazine; Illustrations by John Burgoyne
In spite of its year-round supermarket presence, broccoli, like an elite marathon runner, performs best in cool weather, when its flavor and texture are at their peak. Look for firm, deep-green-colored heads (a tinge of steely violet-blue is also a good sign) with flower buds bunched as tightly as AstroTurf. Even avowed broccoli haters might be seduced by this deep-fried recipe from the new Sorella cookbook. The restaurant's partners, Emma Hearst and Sarah Krathen, unofficially call it brocc-o-mole because of its crowd-pleasing, must-order, guacamole-like status among Sorella regulars.
Sorella's Broccoli Fritto
For the broccoli:
Vegetable oil for deep-frying
1 lb. broccoli
2 cups rice flour
Kosher salt
1 cup ice water
Pickled-pepper aïoli (recipe below)
1/2 cup fresh basil leaves, cut into chiffonade
1/2 cup Parmesan cheese, finely grated
For the pickled-pepper aïoli:
4 egg yolks
1 1/2 cups grapeseed oil
1 1/2 tsp. kosher salt
2 pickled habanero chiles, puréed
1/2 cup pepperoncini, puréed
2 1/2 tbs. each liquid from pepperoncini and habanero jars
1 1/2 tsp. sugar
For the broccoli: Pour oil into a saucepan to a depth of 4 inches, and heat over high heat to 360. (1) Cut broccoli florets off stem. In a large bowl, whisk together the rice flour and 1 tablespoon of salt. Add the ice water slowly while stirring with your fingers, taking care not to overmix; the consistency should be heavy and wet like sludgy clay. (2) Place a handful of florets in the batter, and mix until coated. Carefully lower a few battered florets into the hot oil, making sure not to overcrowd, and cook for about 1 1/2 minutes, until the batter crisps up and becomes a thin, glassy shell; it needn't color. Using a slotted spoon, transfer to paper towels to drain. Repeat with the remaining florets, letting oil return to 360 between batches. Place the drained florets in a large bowl and toss with salt to taste. Remove to a serving platter or plates, and drizzle with aïoli. (3) Sprinkle the basil on top, followed by the cheese.
For the pickled-pepper aïoli: Put the egg yolks into the bowl of a food processor, and process just until the eggs are blended. Very slowly drizzle in the oil until a stiff sauce is formed. Season with the salt. Mix in the remaining ingredients. Makes about 2 1/2 cups. Serves 4 to 6. Adapted from Sorella: Recipes, Cocktails & True Stories From Our New York Restaurant, by Emma Hearst and Sarah Krathen (Olive Press; $35).
*This article originally appeared in the October 28, 2013 issue of New York Magazine.