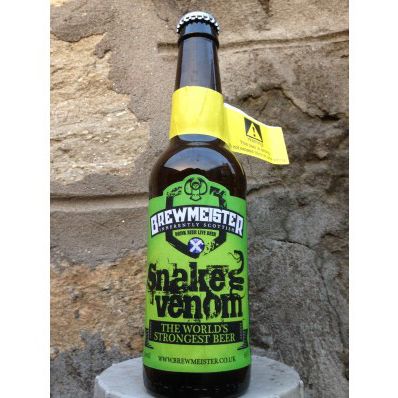 It has a nose of alcohol and whiskey, as if you couldn't guess.
Photo: Courtesy of Brewmeister
Scottish brewery Brewmeister has made the strongest beer in the world, clocking in at 67.5 percent ABV. The subtly named Snake Venom is brewed with a one-two punch provided by doses of beer and Champagne yeasts. It's also got chocolate malts and peat-smoked malt, and is freeze-concentrated several times during brewing, which has the effect of jacking up the alcohol content. This is the latest play in an ongoing battle of the booziest beer with the most intense name (Tactical Nuclear Penguin, 32 percent; Schorschbock, 40 percent; Sink the Bismarck, 41 percent), and is a one-up on Brewmeister's own previous record holder, Armageddon, which drew customer complaints for being "too weak."
"We were too nice last time," says brewer Lewis Shand. As for Snake Venom, the product description clarifies that the beer was not designed to mask the taste of alcohol. Buy a 275 ml bottle for about $80, but heed the yellow warning label: This beer is not for chugging.