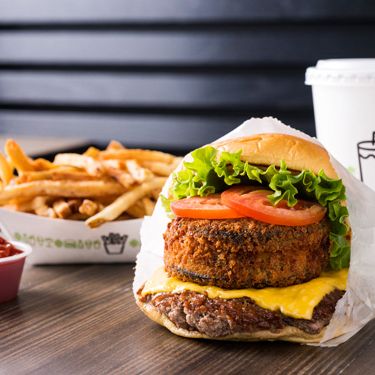 Pictured here: Hand-cut fries and the Shack Stack, large and in charge. All aboard; choo-choo.
Photo: Evan Sung
This Saturday, it's time to make the ShackBurgers, again. Here are seven vital facts about the indomitable hamburger chain's newest location. Know before you go, and all that.
1. The train station Shake Shack location has been in the works since early 2011, but the previous tenant wouldn't budge.
2. The GCT Terminal Shake Shack will be the first to sell its Brooklyn Brewery ShackMeister Ale in commuter-friendly bottles.
3. Only those new, "hand-cut" fresh French fries will be sold here, not the frozen krinkle-cuts. Aside from the UES outpost, the Grand Central location is only the second Shake Shack to offer the made-from-scratch Russets. (Soon, all locations will make their own.)
4. The location's signature concrete will have a vanilla custard base mixed with malt, Valrhona chocolate crunchie, and toffee, forming the "GCT Crunch-stellation," a nod to the historic space's ceiling.
5. Danny Meyer and the chain's owners will start off by paying an annual minimum rent of $435,000 for the 2,300-square-foot space. That's 94,565 single ShackBurgers.
6. The eighth annual Shacktoberfest begins on Friday, but the Grand Central Terminal location will be sitting this one out — it has a lot going on already.
7. There will be giveaways at the Grand Central Terminal Shake Shack on opening day for its first customers, including retro sweat bands and Shack Shades.
Related: The Shake Shack Explosion: How Danny Meyer's Burger Chain Gets Bigger by Appearing Smaller