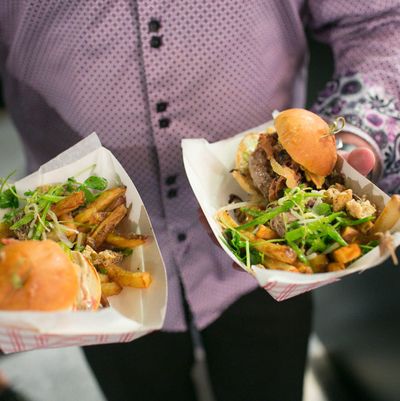 Were burgers the culprits?
Photo: Huge Galdones
Ah, the New York City Wine & Food Festival. For some, an idyllic weekend of slurping down oysters or rubbing elbows with Guy Fieri and eating his prize-winning Bacon Mac 'n' Cheese Burger. But at least one attendee — who wishes to remain anonymous because they don't want the Internet associating them with their awful-sounding symptoms — got in touch with Grub Street to say they were made very sick after going to Friday's Burger Bash, and staffers at the ER let the attendee know it wasn't an isolated incident.
You got food poisoning over the weekend.
Yes.
 
And you were at the New York Wine & Food Festival?
Yes.
 
Do you think that caused it?
Probably. I want to blame Guy Fieri, though I didn't eat his burger at the Burger Bash. But I'm guessing something I ate wasn't cooked properly.
 
So why do you think you got it at the NYCWFF?
At the ER, they said I was the fourth person that day to come in for the same symptoms, and others mentioned to the doctor they had been to NYCWFF.
 
What prompted you to go to the ER?
Obviously, when you're throwing up blood, it's time to go to the ER.
 
What did the doctors prescribe?
I'm still on the bizarre meds they gave me. Three pill bottles for almost two weeks! Ondansetron, Dicyclomine, and Famotidine. No clue what they actually do, but their prescription names are forcing me to believe they're working.
 
What can you eat now?
All I can eat is broth, toast, and crackers. Then introduce things like bananas. I've lost five pounds … I may have to do this diet biweekly. Dairy is the biggest no-no, and cheese is at the bottom of my food pyramid.
 
Any other fallout?
I had to cancel two dates! When they didn't believe my excuse, I sent them a photo of all my prescribed pill bottles.
Earlier: 2013 Blue Moon Burger Bash: Josh Capon and Guy Fieri Tie for First Place