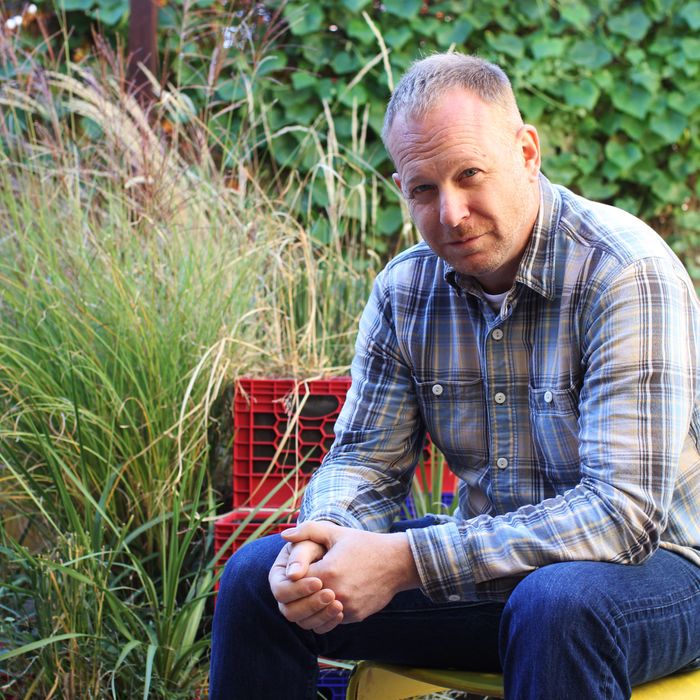 Ricker, outside at Pok Pok Ny.
Photo: Melissa Hom
Even by chef standards, Andy Ricker has a lot going on these days. Tuesday marks the release of his first cookbook, Pok Pok: Food and Stories From the Streets, Homes, and Roadside Restaurants of Thailand (Questlove's a fan), and Ricker is also in the process of moving Pok Pok Ny to a new location next month. "There's a lot on the table right now," he says. But it's not all work for Ricker, who this week also managed to check out Long Island Bar, take part in City Harvest's Bid Against Hunger, and hit the Spotted Pig for a West Coast feast from Portland's Le Pigeon. Read it all in this week's Grub Street Diet.
Friday, October 18
I'm an early riser, so typically I wake up around 6 or 6:30, do my ablutions, and hop on the computer to read the logs from all the different restaurants. We keep manager logs, operations logs, and office logs, so I'll go through about twenty of them and find out what happened. If I have to have conversations with people in Thailand, that's when I'll do it because it's evening for them. Then I decide how I'm going to get to work. I live in Wallabout in Brooklyn, so I live in a place that nobody's ever heard of, and I work in a place that nobody's ever heard of.
That morning was an Americano with a little bit of half-and-half at Local 61 in Brooklyn, right off the train. That's kind of my daily breakfast.
Lunchtime I went to Court Street Grocers with JJ Goode, co-writer of the Pok Pok cookbook. We had delicious oil-poached tuna salad, an Italian combo, and chocolate babka, but not in that order. And I had a Polar seltzer in grapefruit flavor.
On the way out of Court Street we found Haribo ginger-lemon gummy candy, the greatest gummy candy ever invented. I ate the whole bag of the goddamn things by myself.
Dinner lineup at the restaurant so I tried a few things, and also ate a piece of rugelach.
Dropped by the Long Island Bar for a drink and what I thought would be a bite of food — ended up running into the owner, Toby Cecchini. He wrote a story about drinking vinegar and mentioned Pok Pok years ago, so I ended up sitting there and having three cocktails — that was my dinner.
Saturday, October 19
Started out at Ninth Street Espresso. I was doing a New York Wine & Food Festival panel with Marcus Samuelsson, Dana Cowin, and Gabrielle Hamilton.
I drank too much the night before and I felt like troglodytes were jack-hammering my eyeballs from the inside, so at 12:30 it was time for another coffee and a ham-and-cheese croissant.
I was at the restaurant for a meeting and somebody had made a beautiful fried-chicken dinner with squash casserole, biscuits, and gravy, so I had a small plate of that.
Then I went to the Spotted Pig for the Le Pigeon party. On the third floor we had some bread with cheese and honeycomb, then went downstairs for dinner. Among the things we had were radishes with caviar butter, two roasted pigeons with oyster mushrooms, rapini, gnudi, hanger steak with oyster mushrooms, and many bottles of wine.
Sunday, October 20
It's an occasional habit of mine to check out restaurants in the neighborhood, so I went to Bar Tabac on Smith Street for the first time and had a whiskey toddy and an order of merguez sausage on skewers with zucchini and mustard, and … it was all right.
After a movie in the East Village, I went to Sao Mai and had a bowl of pho.
Monday, October 21
Running an errand at Chair Up and thought I'd be able to run around the corner and grab lunch, but there was nothing to eat except bodegas, and I was lazy. So lunch was Odwalla green juice and peanut-butter crackers, that's it.
For dinner, I was stopped and got a cocktail with friends, along with a plate of fried okra, some beef jerky, and a little plate of olives. Then off to Chuko for shoyu ramen with pork. I also had some chicken wing, and half a pork bun, and boy was I stuffed.
Tuesday, October 22
I had an Americano and a ham-and-cheese croissant from Cafe Pedlar, and for lunch it was slices of broccoli pizza and sausage-pepperoni pizza with seltzer. That's a boring lunch, but I was really busy that day and just needed something quick — that's a typical thing for me to do, unfortunately.
That night was Bid Against Hunger, an event that we participated in. There were about 60 chefs and I ate like ten different things that I'm going to try to remember: Had an amazing brioche, honey, pistachio, and ricotta-ice-cream thing; a goat taco from Marcus Samuelsson; some smoked fish; a rib with Ovaltine from Pichet Ong; a doughnut from Dough, a couple of drinks — it was ridiculous. I had tons of bites.
Wednesday, October 23
Lunch was a V8, a very small bag of corn chips, and a ham-and-cheese on rye at the local deli.
Met Pichet at Tao Downtown because he's involved in consulting there, and I wanted to see what it was like to eat in a restaurant that cost $32 million to renovate.
We had some beef rendang spring rolls and a chopped salad, some fried rice, and a piece of fish with Sichuan flavor. And I had a cocktail. And I think that spells the end of my Grub Street Diet — thank God. It's been a mortifying experience.