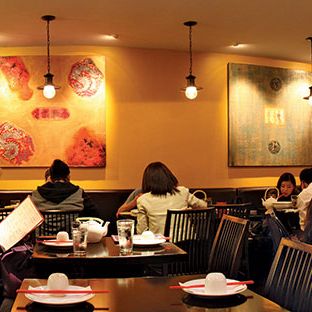 When my wife and I adopted our two daughters from China over a decade ago, they arrived in their new home with two distinctive, highly selective palates. Daughter No. 1, who was born near Shanghai, which borders Jiangsu province, favors delicate, subtle flavors, the way the Shanghainese do. She likes soup dumplings touched with black vinegar, and bowls of steamy, softly textured ­noodles. She enjoys nuanced combinations of flavors that feature ingredients over spice, and if you try to slip her a chile pepper, she crinkles her nose with a sophisticated city girl's look of ­distaste. Daughter No. 2, on the other hand, comes from China's spicy interior, and she never saw a pepper she didn't like. To the consternation of her sister, she sprinkles Sriracha sauce over her eggs in the morning. She likes her noodle dishes hot and sour, and her favorite non-Chinese foods (murky ramen soups, pepperoni pizza, fat samosas with chutney) have a richly textured, umami component to them.
Han Dynasty, which opened not long ago, on lower Third Avenue, has plenty of things for both Platt girls to love on its economical, generally exemplary menu, although it was Daughter No. 2, predictably, who couldn't wait to go back. The ­proprietor, Han Chiang, grew up near Philadelphia (where he operates five popular Han Dynasty outlets plus one in Southern ­Jersey), although his mother is Taiwanese and his father is from Sichuan. The ­restaurant has a dining counter with lucky coins embedded on its top. The yellow walls are decorated with oil paintings (one of which depicts Han Dynasty princes and poets) that look like they've been purchased from a back-alley gallery in Hong Kong. The bustling busboys wear crimson-colored T-shirts, the polished wood tables are all neatly set with plastic red chopsticks, and everything is bathed in the kind of flat, utilitarian lighting that you find at the finest establishments out in Flushing.
We started our explorations at Han Dynasty the way the Platts usually do when we visit a new Chinese restaurant, with ­platters of noodles and dumplings. In this first salvo of dishes, there were bowls of wontons and moon-shaped pork dumplings (both sunk in chile oil), along with a faithful, fiercely spicy version of that old Sichuan warhorse dan dan noodles, with minced pork. Daughter No. 1 usually averts her eyes when the ­standard, gloppy, home-delivery version of sesame noodles makes its inevitable appearance at the table. But she had nothing but complimentary things to say about the tangy, faintly sweet version here (with housemade sesame sauce), or the deeply savory, anise-laced braised-beef noodle soup, which contained chunks of soft beef and tendon hidden in its cloudy depths along with crunchy stalks of shaved bamboo.
The noodles aren't made in-house, but the impeccably balanced sauces and the freshness of the ingredients give the cooking a vibrant, home-style feel. Unlike lots of Sichuan establishments around town, the chile oil here is made from scratch, by first blanching the chile peppers to bring out their taste before adding the oil to complement the spicy heat. Daughter No. 2 and I enjoyed this sauce drenched over chopped chicken and cool, curiously tender helpings of rabbit, which, our waiter explained, is the favorite food of fashionable women in Sichuan because rabbit meat ­contains the least fat. If you're not worried about your figure, try the deep-fried dry pepper wings, which are encased in salty batter and scattered with more chile peppers and bits of crunchy fried garlic, or the excellent pork belly in garlic sauce, which is cut in melting ribbons and garnished with drifts of fresh scallions.
Instead of the usual confused cavalcade of pork, chicken, and seafood categories, the entrées are divided into broadly regional styles. You can have your lamb served in a hot pot bubbling with black mushrooms and Sichuan peppercorns, or bombed with scallions, or rolled, like they do in China's Muslim regions, in clouds of cumin. Of the two "salt-n-pepper" seafood options, our favorite was the battered shrimp, and if you have to choose one dry pepper dish, the Platt girls commend the chicken, which is crunchy on its thrice-fried cornstarch ­exterior but tender in the middle. If you get just one pork entrée, make it the double-cooked pork belly, which the chefs toss with chunks of fresh leeks, among other greenery, and the best seafood dish, we all agreed, was the innocuous-sounding black-bean-style fish, which turns out to be nuggets of gently fried bocourti (a type of catfish) speckled with black beans ­fermented in soy.
There are no fortune cookies, and you won't find slices of slightly sour, seed-ridden oranges plunked down on your table at the end of the meal. The service at Han Dynasty is a little more cheerful and also more ­attentive than at the establishments the Platts sometimes frequent down in Chinatown, and if it's a busy evening, you might even see Mr. Han moving among the tables, taking orders himself. Han ­Chiang will tell you that he only hires chefs who have full culinary degrees from China, which may be why the green beans in my order of string beans with ground pork, a Sichuan staple, were cooked just this side of crunchy, and startlingly green. Ditto the pea shoots with garlic, and the delicious eggplant in garlic sauce, a dish so expertly spiced and beautifully textured that it prompted Daughter No. 2 to finish her vegetables for the first time in weeks.

Han Dynasty
90 Third Ave., nr. 12th St.; 212-390-8685; handynasty.net
Hours: Daily 11:30 a.m. to 11 p.m.
Prices: Appetizers, $6.95 to $12.95; entrées, $12.95 to $23.95.
Ideal Meal: Dan dan and cold sesame noodles; pork belly in garlic sauce; chicken in chile oil; string beans with minced pork; eggplant with garlic sauce; dry pepper chicken; scallion-style lamb; fish black bean style; mapo tofu with minced pork.
Note: The restaurant's $20 per head (with an eight-person minimum), multicourse tasting menu is one of the better tasting-menu bargains in this omakase-mad town.
Scratchpad: Two stars for the fresh, classic Sichuan-style cooking and another for the service and bargain prices.
*This article originally appeared in the October 21, 2013 issue of New York Magazine.