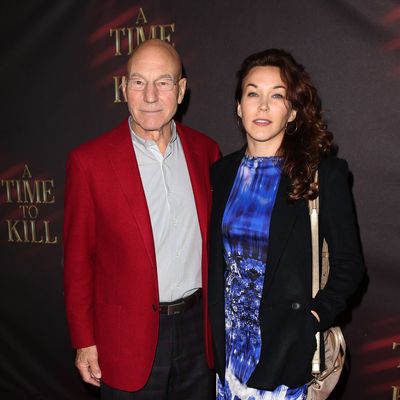 Date night!
Photo: Walter McBride/Corbis
Grub Street counts itself among the many fans of Sunny Ozell and Patrick Stewart, who were recently married, and not just because the lovebirds met at Franny's and Ozell's been introducing him to new foods like pizza slices. So when Grub ran into the newlyweds at the opening night of the Broadway production of A Time to Kill, we wanted to see what other culinary discoveries Stewart has made since getting hitched. Turns out there's a whole list.

A few new additions to Stewart's intake: kale (the couple lives in Brooklyn), Sichuan food ("a moderate amount"), and lots of vegetables ("cabbages and things"). Stewart had long ago gone off the cruciferous family because of the mush factor: "His mom overboiled everything, boiled into oblivion, so he didn't like broccoli, he didn't like cabbage, he didn't like Brussels sprouts, and now I make them in a way he does," Ozell says. "I roast the crap out of them until they're crispy." Then she adds walnuts and vinegar.
Also, soup dumplings. "He loves soup dumplings now," says Ozell. "He'd never had them before. That is transcendent. New Green Bo. It's not actually called New Green Bo anymore; they changed the name to Nice Green Bo. There's a waiter there that is so surly and mean, and I think they changed it to 'Nice' because of him."
Ozell still has two more items on her list: coffee and good wine. Even though she's exposed him to Cafe Grumpy, Stewart will still grab cups of "not killer coffee," she laughs. "I love him to death, but he'll drink shit coffee and think it's good." Same with wine: "He'll drink a shitty California Zinfandel and go, 'It's delicious!'" She's been having a little more luck with "really great Italian wines" and French wines from Provence, where the couple took a trip before the wedding back in June.
"We went to Bandol and drank our weight in rosé," Ozell says. There was also a '77 Miguoa Bandol red with vintner Lulu Peyraud. "She served us Cheetos and stale potato chips and saucisson, which was excellent," Ozell remembers.
How does Stewart feel about all these changes to his diet? "How do I look?" he asked us. Healthier, we guessed? He grinned. "Then I suppose I must feel good about it, too!"
Earlier: Patrick Stewart and His Fiancée on Meeting at Franny's and Convincing Ian McKellen to Officiate Their Wedding
Related:Sir Patrick Stewart on His First-Ever Slice of Pizza: 'My Fiancée and I Were a Little Hung-over' [Daily Intelligencer]
Related: Patrick Stewart's Wedding Details: 'Everyone Was Really, Properly Drunk [Vulture]