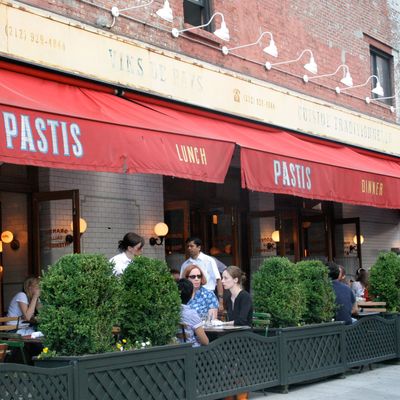 Some 200 employees are affected.
Photo: Shanna Ravindra
Crain's notices a WARN notice was filed on Tuesday in advance of the closure of Keith McNally's Parisian-style brasserie in the meatpacking district. All 200 employees will lose their jobs on January 1, but will the restaurant, which is part of a compound at 9 Ninth Avenue, reopen?
Real-estate investment group Aurora Capital Associates announced previously that a massive construction project aims to "modernize and enlarge the buildings into a 108,000 square-foot office and flagship retail property," and McNally initially said the famed restaurant would close for approximately nine months. Crain's now estimates construction will last eighteen months, and while the WARN notice implies a kind of finality, it may just be a precautionary measure on McNally's part: The industry publication reports that the restaurateur is trying to negotiate with Aurora to secure a place in the renovated building.
Trendy eatery Pastis shuttering [Crain's]
Earlier: Keith McNally: Pastis Will Close for Nine Months
Earlier: Is Keith McNally's Pastis Closing in the Meatpacking District?