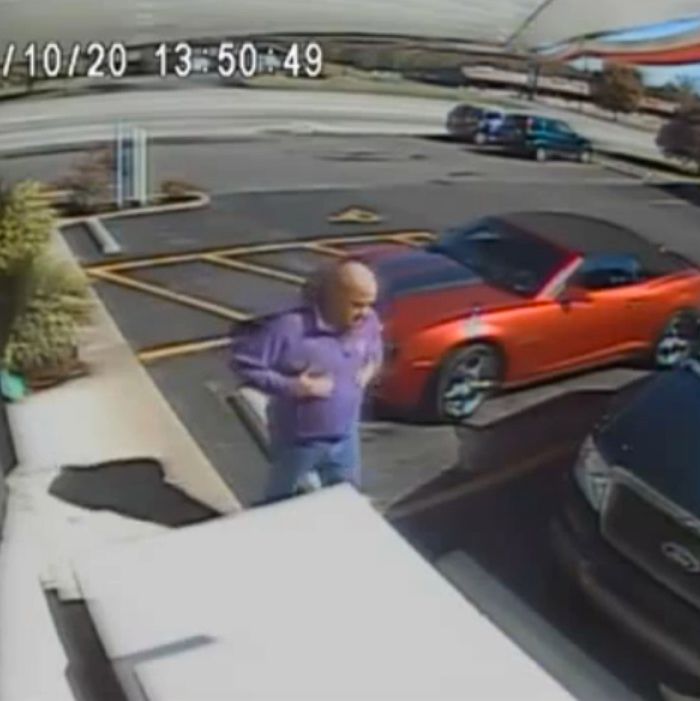 It wasn't him.
Photo: Courtesy of the Franklin County Sheriff's Office.
The case of the missing 65 cases of super-rare Pappy Van Winkle twenty-year bourbon whiskey has not yet been solved, but authorities say that tips came "flooding in" last week after the Franklin County, Kentucky, sheriff's office released surveillance video of a man who allegedly tried to sell a "large amount" of rare Pappy Van Winkle to a liquor store approximately two hours away from the distillery. The man, who was reportedly rebuffed by a store clerk, has now been identified as Chris Pickett, a high school principal.
Through a lawyer, however, Pickett says what everyone has here is a big failure to communicate. He wasn't trying to sell 205 bottles of liquor, but rather just buy one. The Bardstown School District employee was in Hilton Head, South Carolina, on vacation when he learned he was a "person of interest." He says he was just searching to add a bottle of Pappy Van Winkle to his collection and left the store when he was told it didn't have any in stock.
High school principal says he's not involved in Pappy Van Winkle heist [Wave 3]
Earlier: Here's a Person of Interest in the Case of the Stolen Pappy Van Winkle
Earlier: Someone Stole 65 Cases of Ultra-Rare Pappy Van Winkle Whiskey