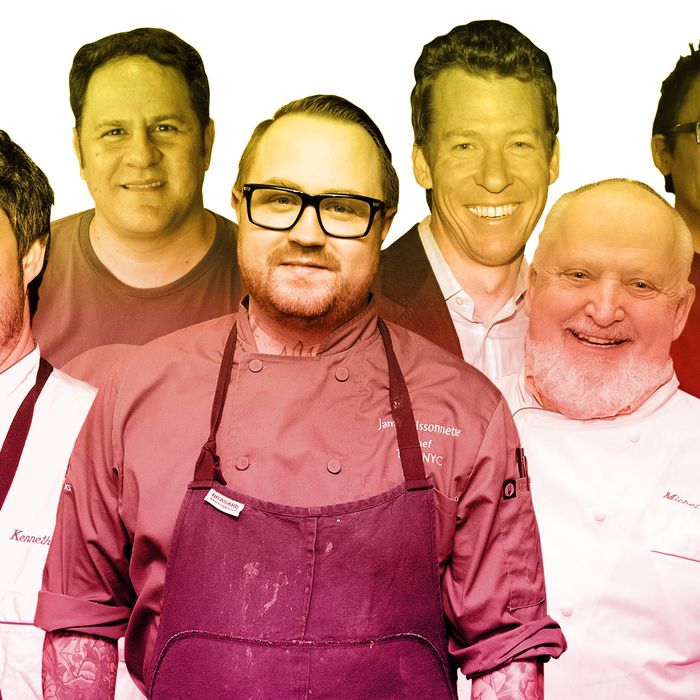 Leaders of the pack: Ken Oringer, Adam Fleischman, Jamie Bissonnette, Ryan Hardy, Michel Richard, and Han Chiang.
Photo: Paul Marotta/Getty Images; Patrick Fallon/Bloomberg; Robin Marchant/Getty Images; Patrick McMullan; Jason Kempin/Getty Images; Ruby Washington/New York Times/Redux
"Back in Philly, people are already talking to me differently," says Han Chiang, the proprietor of Han Dynasty. "Everybody looked down on me before I went to New York, thinking I wasn't going to make it. That gave me the drive to want it more." For most chefs, succeeding in New York is still the ultimate triumph, and Chiang is one of several who prove it's very possible (despite the city's reputation for only loving its homegrown talent, and the notable New York failures of a few high-profile chefs). People like Andy Ricker and Danny Bowien have helped pave the way, though that's no guarantee that other out-of-town chefs will open big in New York. People looking to make it in Manhattan would be wise to follow the strategies that are currently working for the latest batch of imported talent.
Think smallish.
Where some out-of-town chefs go wrong is that they come to New York with a large, splashy concept, but the most successful places have been more casual and understated.
"Danny Meyer told me that 90 seats seems to be the spot at which a restaurant does well enough that you can hire a good staff, but also still seems intimate enough that you can provide a good experience for diners," says Ryan Hardy, who left Little Nell in Aspen to open 77-seat Charlie Bird. "I think he's right that there seems to be a magic number."
Philadelphia-based Han Chiang didn't want his first New York outpost of Han Dynasty to feel too big, so he opened a 50-seat restaurant with ten extra spots at the bar. Toro, an import from Boston, seats 100 and feels cavernous owing to its high ceilings, but the room is organized into distinct spaces — a front bar, stools near the open kitchen — that help break up the larger-than-usual space.
Don't run back home immediately.
If an out-of-towner opens a restaurant and quickly disappears, New Yorkers will know it and call bullshit. Pok Pok's Andy Ricker and Mission Chinese Food's Danny Bowien don't seem like transplant chefs; they've become New York fixtures. Even though they're still running restaurants in other cities, they're in town as much as other chefs — or at least that's the impression they give off.
"I'm going to be there for one year," says Michel Richard, the D.C. chef who just launched his own ambitious, luxurious operation in the New York Palace. "Chefs like me open a restaurant and then they leave. We need to stay here and talk to the guests. The customers want to see the chef."
Chiang, meanwhile, likes to open as fast as possible after he signs a lease (his record is five days), and then leave the restaurant lingering in soft-opening mode while he works out the kinks. "As long as I'm there every second when it first opens, I can make sure everything is running smoothly," he says. Han Dynasty began serving and charging customers in September, but it didn't "officially" open for business until late October.
Import your all-star staff members.
Established chefs who want to open in New York usually don't arrive solo. Instead they bring their best cooks and managers with them. Temporarily relocating staffers can make the move much easier, of course. "I take a couple of my good guys to help out," Chiang says. "Eighty percent of the staff in New York is from Philly. They've worked with me for years now, and they know what I want."
Target other out-of-towners.
One way to fill your dining room if you're afraid jaded New Yorkers won't be welcoming: Try to appeal to some brand-new New Yorkers.
"I like to be around universities," says Chiang, whose East Village restaurant is close to New York University. "I always want to expand, and when students graduate college — like when they graduate Penn — a lot of them end up being in New York. I see a lot of my old customers from Philly, and it helps to spread my name. Opening in New York was so much easier after I had a spot at Penn. I've always wanted to go to Harvard."
Villard Michel Richard has barely been open for a week, but chef Michel Richard is already noticing a pattern. "My guests have been to my restaurants in D.C. and L.A., and they know me from before," he says.
Consider the competitive set.
No matter how successful a restaurateur is in her or his hometown, New Yorkers won't care about a restaurant if it feels like something that's been done before in New York.
Both Umami Burger and Fatburger, another L.A. transplant, opened their first New York locations in June. While Fatburger seems popular among Murray Hill's post-college crowd, it's hardly a destination burger spot — New Yorkers aren't looking for the Next Great Fast-Food Burger (there's Shake Shack for that).
Umami founder Adam Fleischman considered this when expanding to Manhattan: "Fatburger is similar to so many other burger places with fast-casual quick service," he says. "We're differentiated as a sit-down, full-service concept. New Yorkers see that we're taking it seriously and feel like we're taking care of them."
Don't play it safe when putting your menu together.
"I had no idea how much tripe we'd sell here," says Toro chef and co-owner Ken Oringer. "It's got to be one of our top-selling dishes." Offal and other ingredients that might seem odd or exotic in other cities almost always play well in New York.
"A lot of people say if you make it in New York, you can make it anywhere, but I don't think that's true," Chiang says. "My first couple of restaurants started out in the suburbs [of Pennsylvania]. With my type of food, it's much easier to be in the city. People are more adventurous." In New York, Chiang's actually been criticized for not making his food spicy enough.
Fleischman agrees that New Yorkers aren't necessarily the hardest to please: "I think L.A. diners are way tougher," he says. "They're always on weird diets. New Yorkers like to eat more, and they walk a lot. They're more open to rich food."
Cultivate a line.
A long wait time is cultural capital in this city. Big lines get people curious — Mission Chinese and Pok Pok were both notorious for long waits when they opened, after all — and draw in more customers. The trick for owners, though, is to capitalize on the hype by making it organized and fair.
"Without our line system, it would have never worked," Fleischman says. "At the beginning, we had 400 people waiting on the wait list, and there's no way they could all wait on the sidewalk." The solution: text them so that they can go to a bar or wait at home.
Trust the concept.
New York's hard-core real-estate market inevitably forces owners to tweak their plans and designs to fit into awkward spaces, but no out-of-town restaurateur should overhaul the entire menu and design when they've got a model that's proven successful somewhere else.
"A lot people said, 'Stick with who you are, do what you do, and don't deviate from that," says Oringer. "We stuck to that plan. If people try to think too much or hit with a bang, they're trying too hard."