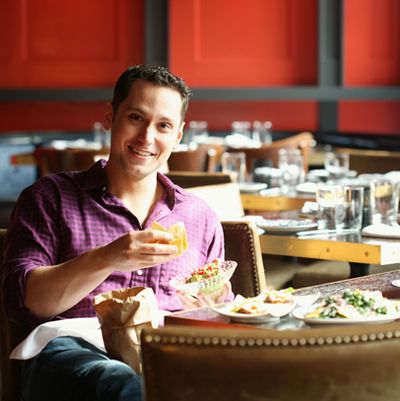 McGorry, at La Cenita.
Photo: Melissa Hom
Orange Is the New Black actor — he's often referred to as "the nice guard" — Matt McGorry is a former bodybuilder, and he still tries to stick to a healthy diet. But his eating habits aren't based on what he eats, it's all about when he eats. "It's called intermittent fasting," he explains. "It's sixteen hours of not eating, which includes time sleeping, and then eight hours of eating." That can get tricky when his schedule is at the mercy of call times, rehearsals, and other Orange-related business. Of course, he'll make allowances for non-work activities as well, such as this past weekend when he was a groomsman in his friend's wedding. At least, that's the excuse he gave Grub for his fried-Oreo feast. Read the rest in this week's Grub Street Diet.
Friday, October 11
On my way to the studio to record commentary for the OITNB DVD, I stopped at a Starbucks for a coffee. I get it the same way every time, and it's pretty bare bones — some half-and-half and three Splenda. It's generally a morning ritual for me to go to a coffee shop to work on a script, and I just sit there and read for an hour or two, because I just need to get out of the house.
I did the commentary, and then I went to my old high school, La Guardia, and spoke to the graduating seniors, and did a VO audition. Even with my intermittent fasting, 4:30 p.m. is a bit late for me for my first meal, so I was kind of dying by the time I was done. I went to Bareburger and had a Cranberry Blue salad — baby spinach, dried cranberries, and Wisconsin blue — with elk and a fried egg, dressing on the side. When Bareburger opened in my neighborhood, I thought it was the greatest thing in the world. I could probably have it every day of the week. And they have a lot of exotic meat, like boar, which people say is a little "gamier." I've never understood what the term gamey means. If you ask in a restaurant, "What does that mean?" they say, "You know … gamey." It's like after umami, the sixth flavor that can't be defined. It's a weird Inception-like mind twister.
Then I had to run and pick up a tux for the wedding. Because I had waited too long to eat, I was starving by the end of the day, so I had some peanut butter, just straight out of the jar. Crunchy is my preference by far, but my girlfriend bought the peanut butter this time, so I had to deal with the smooth. We had our three-year anniversary last week, and as a gift, she knows I have an incredible sweet tooth, so she had some See's Candies shipped. They were sitting in my freezer, and they were too easy to grab. I love the ones with caramel and nougat.
We were introduced to Omai in lower Chelsea by a couple of friends a few months ago, and we've been going back to that restaurant pretty consistently ever since. Since we had a pretty long week, we ordered in and ate while doing a belated viewing of the last three episodes of Breaking Bad — or so we thought. I tried the ginger chicken in a clay pot with coconut curry vegetables, and realized one of the episodes hadn't downloaded to my iTunes. We had four episodes to watch, not three, but at that point, it was one in the morning, and we didn't have time to watch another episode. I had some caramel-cookie-crunch gelato to help me get through the anxiety of missing the finale of Breaking Bad.
Saturday, October 12
Coffee in the morning, and then a salad bowl at Chipotle for a 2 p.m. lunch. But the fun really started just before the wedding's rehearsal dinner, which was at a bowling alley in New Jersey. We were starving, and we were at the mercy of the schedule of the wedding and travel. They told us the food was going to come out at 7, 7:15, but a couple of friends and I couldn't wait, so we went across the street to a T.G.I. Fridays. Along with our snack of Buffalo chicken poppers, I got a frozen-strawberry margarita, and now you know my dirty secret of enjoying really fruity cocktails — it's an excuse to get sugar without feeling like I'm eating dessert.
Then we went back to the rehearsal dinner, which was buffet style. I had some penne à la vodka, eggplant rollatini, chicken, and a Shock Top pumpkin-flavored beer … plus a shot of Jameson for a toast. You must take a shot when prompted by the man who is getting married. I had four drinks that night, and each one was a totally different type of alcohol, and there was cider later on.
You also caught me on the one day a year that I would eat a fried Oreo. Actually, I had two of them at the bowling alley. There's no food that makes me feel worse: The next morning, I feel like I took a shot of battery acid, but for the brief seconds that I'm enjoying it, it's quite delightful.
Sunday, October 13
I usually just tough out a hangover. Sometimes I take some ibuprofen, but I try not to take that on an empty stomach and I don't really eat in the morning, so I had some peanuts. That may have inadvertently helped. I was scooping handfuls of them, in between taking wedding photos of all the groomsmen.
We were a little early at one of the wedding-photo locations, but there was a bar. It actually looked like a place that, had it been in my neighborhood, I would love to go to. I'm not crazy about beer in general, but my girlfriend loves it, and they had a ton of beers on tap. It was a pretty solid last-minute find, and since I knew I wasn't going to eat any vegetables for the rest of the trip, I decided to seize the opportunity there and have a salad with chicken.
Then, at the cocktail hour before the reception, I had six Jack-and–Diet Cokes with the hors d'oeuvres. For the actual reception dinner, there was pork, lobster tail, and then the wedding cake, which was vanilla, chocolate, and red velvet. That was pretty great.
Monday, October 14
The wedding festivities closed out with the wedding brunch, and I ate French toast, scrambled eggs, and bacon. I don't usually make bad food choices so early in the day. I'd rather do it closer to bed when it's not interfering with productivity. But it's the same thing when I'm working on Orange — there are some days that I'm up so early that I do have to eat when I get to set, otherwise I won't be able to make it through the day.
For dinner, I grabbed some turkey meatballs and roasted vegetables at Whole Foods, at the counter where you can pick up hot food. Roasted Brussels sprouts are one of my favorite vegetables. I think they've been an "in" vegetable lately. Kale might have surpassed them, but Brussels sprouts will always have my heart. A roasted Brussels sprout is one of my favorite things in the world, and I'm a little upset that when I was younger, I had the impression that they were not tasty.
Tuesday, October 15
After a workout, I got a banana-and-strawberry protein shake at my gym. For a late lunch, I went to Chipotle and had chicken, black beans, brown rice, salsa, and guacamole. On the days where I'm lifting weights, I have a few more carbs.
Now that we're in production on Orange, picking up dinner at Whole Foods is the better option than going out to eat, which we do a lot when we have more time. But now I do Whole Foods a couple times a week. That night I got grilled salmon with salsa verde. It was incredibly expensive — $18 for the whole thing — which made me depressed when I was checking out, but then I realized I'm not going to cook it myself. So I shelled out for it. And I got a good heaping of vegetables as well.
Wednesday, October 16

I was back on set. They have a great catering company there, and they'll often bring out snacks like, Oh, it's matzo-ball soup! But it's usually before I start eating for the day, so I have a running joke with the catering guys that I never eat their food — it'd be a problem if they were offended. Thankfully, the lunch catering is handled by different people, so I can't be completely starved out.
They had some healthy options that day, so I had the grilled chicken and Caprese salad, and alfalfa sprouts and veggies in a whole-wheat pita with hummus. And then I regretted it, because I thought we were going to film my scene before lunch, but we ended up rehearsing at 1 p.m. and then taking lunch, so by then, I actually wasn't hungry. So I barely ate anything at lunch — just a little kale salad with dried cranberries and pumpkin seeds and grilled fish.
My lady and I needed some one-on-one time together, and I was done relatively early that day, so we took it as a chance to celebrate. We went out to the Half King, which is one of our favorite restaurants. I had a Kobe burger with white Cheddar and bacon, and the sweet-potato fries, which I absolutely love. And they have this great Jack Daniels pecan pie — maybe there's some chocolate in it, too? — with pumpkin-spice gelato. I kind of went for it.
Related: And Now, 8 Amazing Outtakes From Matt McGorry's Grub Street Diet Shoot