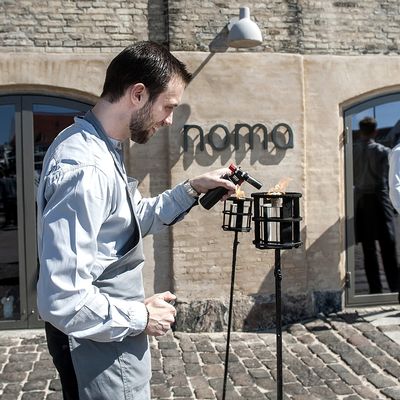 This guy's not going to be blogging about lighting torches for the next three months.
Photo: Keld Navantoft/AFP/Getty Images
Apparently, some disgruntled former worker at René Redzepi's acclaimed Copenhagen restaurant Noma supplied local paper Jyllands-Posten with the standard-issue letter given to incoming stagiaires (basically kitchen interns, also called stages). In that letter was wording that claims the restaurant's proprietors submit the names of stages who leave before completing the requisite three-month stint to some nebulously maintained international "blacklist" of lame line cooks. The idea that the world's top chefs keep such a roster in circulation is hilarious (and untrue) — but it also demonstrates just how desperate these chefs are to keep the stagiaire system in place.
Here's the wording in the letter:
Ending your stage early without consent or simply not showing up will result in your name being added to a blacklist, which will be shared with others restaurants around the world with whom we share a good relationship.
On the surface, the alleged threat was really just directed at the guys who stop showing up for shifts, while adding that the same fate awaits those who would dare to "blog, publish, or post" about the restaurant "online or otherwise."
Noma's owners verified that the letter is real, but were quick to point out that there is no actual blacklist, and that the term blacklist itself was a fluke, the result of a poor translation by a staff member who drafted the guide.
"There is no doubt that the word 'blacklist' is far from the standards we set at Noma and Danish norms," managing director Peter Kreiner tells the Copenhagen Post, while he informs Eater that Noma never actually had, nor does it have now, a blacklist of errant ex-employees, adding that this particular document slipped through the cracks.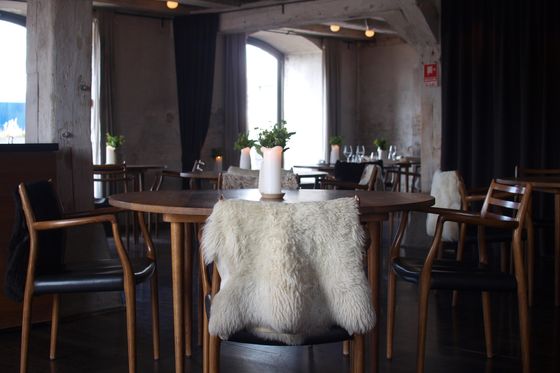 Noma's dining room chairs are draped with the skins of interns who didn't behave.Photo: Tomislav Medak / flickr
Everyone has calmed down a little, but for a few minutes at least, all of this made Redzepi seem like a draconian taskmaster perched atop a pile of bleached skulls as towering as the S. Pellegrino World's 50 Best Restaurants list.
But here's the thing: If the worst thing that happens to you while you work in the high-pressure kitchen of a world-class restaurant is that someone threatens to put your name on some list, you can consider yourself lucky. Grub Street has seen much worse, much more real abuse heaped on kitchen laborers.
At Noma, as is the case with many of the world's most exclusive restaurants, a full third of the staff works without compensation. No accommodation is offered, nor discounts for airfare to or from Copenhagen, and the workers don't even get to have proper dinner at the restaurant. Young cooks signing up for the experience get staff meals taken care of, and that's about it.
Noma won't shut down if a few of its people quit mid-service, and it can easily find more since the restaurant receives between 400 and 700 applications from prospective stages every month. But the paid staffers need to be able to rely on the free labor. If those workers don't have any financial incentive to stick around, what keeps them there when they decide they're tired of dandelion leaves for hours on end?
Restaurants have to do something because they still need free labor to do much of the kitchen's necessary busywork. Kitchen hopefuls, however, have less incentive than ever to work for free.
The stage model used to be rooted in the idea of structure: Stages would arrive at a restaurant and commit to working multiple years, in return gaining experience and education. Fifty years ago, it was the only way to see what happened inside professional kitchens. Now, though, anyone interested in working in a restaurant need only glance at the Internet or flip on a TV to get at least a peek at what happens inside a pro kitchen. More serious students can go to culinary school and eventually get paying jobs (low-paying, but still paying).
That system is flawed, too, but the point is that wannabe chefs now have options, and will often jump from restaurant to restaurant in order to build their résumé. (Earlier this year Pok Pok chef-owner Andy Ricker lamented the CVs he sees with applicants who have "worked at four top-notch restaurants in one year," expressing frustration with the younger "snowflake" generation of staigiares.)
Whoever put Noma's stage guide together, and inserted the fake threat, decided that instead of incentivizing good behavior, it would be easier to simply create a deterrent to bad behavior. What's most surprising is that one of the world's best restaurants couldn't think of a more innovative carrot to dangle in front of its workers.
Noma apologises for blacklisting threat [Copenhagen Post]
Noma Apologizes for Threatening Stagiers With a Global Restaurant Blacklist [Eater]