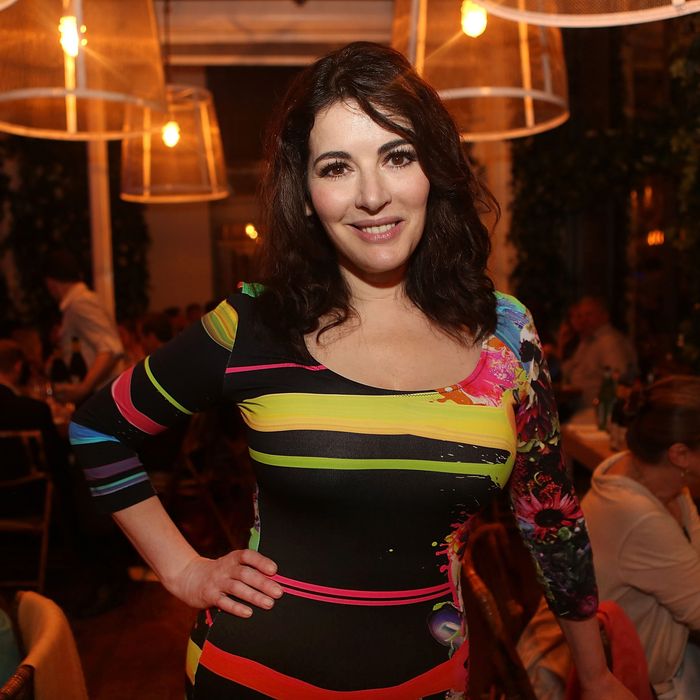 "Feeling comfortable in the kitchen is essential for everyone, male or female," she says.
Photo: Aaron Davidson/Getty Images
Nigella Lawson stayed more or less silent after that horrible choking incident in June and her subsequent divorce from Charles Saatchi. The celeb chef has since returned to Twitter after months of radio silence. In addition, over the weekend, Lawson gave a short interview with the U.K. Observer, not only about her approach to food, but about feminism — though people continue to assign greater meaning to Lawson's words than even she might intend.
The short Q&A; happens to be Lawson's first prominent interview since the events that precipitated her public split from the art collector, which isn't brought up. Instead, we learn that the 53-year-old co-host of The Taste claims she's more of a "kitchen klutz" than a chef or cook, and that her first cookbook was an attempt to memorialize her mother and sister, who had both died young.
Most significant, Lawson addresses a consideration that's long attached itself to her career — especially this past summer. "Are you a feminist?" the interviewer asks. Here's Lawson's full reply.
I feel the answer to be so self-evidently a "yes", I am almost baffled by the question. When I wrote How to Be a Domestic Goddess, many felt I was saying that women's place was in the kitchen, but the ironic pictures on the endpapers surely undermined that, except for those people who consciously chose to misread my intent.

Feeling comfortable in the kitchen is essential for everyone, male or female. At the time it seemed so many people were fearful of cooking, and that meant home was never more than a stop-off from work. Women of my generation were keen — rightly — not to be tied to the stove, but the ramifications of this were that they felt a sense of dread in the kitchen. How can this be good for anyone? I also feel that to denigrate any activity because it has traditionally been associated with the female sphere is in itself anti-feminist.
You are right. EVERYONE READ THIS LINK "@naommmi93: Misleading titles to delegitimize feminism - http://t.co/3UyBD3hbe3 #feminism— Nigella Lawson (@Nigella_Lawson) October 21, 2013

"Nigella Lawson: Feminism makes women feel guilty and affects cooking skills," reads one response headline. "I blame feminism for making women dread the kitchen, says Nigella Lawson," screams another.
Chefs and food people in the U.K. tend to be fed more readily into tabloid hoppers than their counterparts in the states, so the hyperbole is expected, but that isn't why the kinds of blatant pronunciations above are appalling. Lawson is being drafted to serve some sociological purpose — even if her only real objective is to teach people how to make a really terrific sticky toffee pudding.
The six headlines (and counting) collected by Feminist Things that are worded to make it seem like Lawson attacked the movement when she did not are almost laughable in their misreadings. But because it's a sign that Lawson is still being cast in a role she's actively saying she refuses to play, it's just not funny.

Nigella Lawson: 'I'm not a chef — I'm not even trained' [Observer UK]
Misleading Titles [Feminist Things]
Related: The Problem With Turning Nigella Lawson Into a Hero [The Cut]
Related: Nigella Lawson and Charles Saatchi's Divorce Confirmed