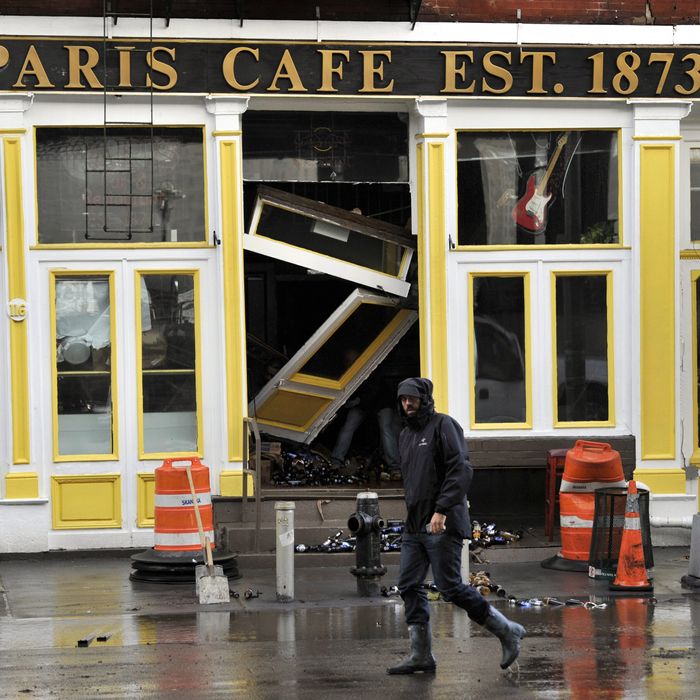 The Paris Cafe, seen here immediately after the storm, reopened on October 17.
Photo: Timothy A. Clary/AFP/Getty Images
"People are starting to forget about the hurricane," says Calli Lerner, co-owner of Keg No. 229 in the Seaport. "But we're still in the middle of it." A year after Sandy hit New York, most of the damage has been repaired and many restaurants that flooded are doing better than ever. But that is far from the case all around, as the situations of Keg No. 229 — where Lerner is serving drinks, but is still a few weeks away from opening the kitchen — and many other still-struggling restaurants testify. In short, the current state of the restaurants that were submerged by Sandy varies widely — often closely related to where they are located. Grub Street took a look at the most severely affected neighborhoods to see how the hospitality industry is doing twelve months after the worst hurricane in New York City's history.
Seaport
If you're looking for the highest concentration of restaurant uncertainty one year after the storm, no Manhattan neighborhood tops the Seaport, whose historic blocks along South, Front, and Water streets got inundated with as much as eight feet of water. Even Schermerhorn Row has gone eerily quiet; it's like finding yourself on an empty Hollywood set mimicking the real Seaport.
 
At Keg No. 229, Lerner's business partner Sandy Tedesco traces a line on the brick wall above her head. "The water came up to here." Now, though, the bar is on pace to be at 100 percent in a couple of weeks — being fully reopened by the one-year mark clearly carries psychological weight. Blockmates Il Brigante and Jack's Stir Brew Coffee are on a similar schedule.
 
Post-Sandy life near the Seaport has been particularly difficult for Lerner, Tedesco, and twelve other Front Street merchants, who sat completely idle for nine months after the storm. Their landlord — the Durst real-estate family, managers of One World Trade Center and owners of most of the block — had installed an enviro-friendly geothermal heating/cooling system so top of the line that it required ten months (and one fact-finding trip to Europe) to repair. "It was a mess," Tedesco says. Some merchants shut down (the tapas joint Salud) or shipped out (Barbarini), but most, somehow, found ways to wait, tending to heaps of paperwork or soliciting donations on crowd-funding sites like Lucky Ant.
 
The in-limbo owners could start rebuilding on July 1. Months behind by then, they'd already formed a merchants association — the Old Seaport Alliance — to lure back patrons to what had become a second family, what Marco Pasanella, a highly regarded vintner on South Street, calls "Mayberry with a New York edge."
 
At the Bridge Cafe on Water Street, the studs are still exposed, and the 30-foot trip from the kitchen to the dining room is a precarious tightrope-walking act on open floor beams. Adam Weprin says bringing his 219-year-old establishment up to code is no cakewalk. "The good news," he says, "is I have the oldest wood-frame commercial building in Manhattan; the bad news is now Landmarks gets to say, 'Fix it up to our liking.'" Standing out front, he points out two Water Street buildings for sale. "People left the neighborhood because they're afraid of another storm," he laments. "We're gonna have storms in the world, and we have to learn to deal with them."
 
West Village and Soho
After six feet of water flooded the kitchen, Perry St. wasn't able to reopen until the end of February. Owner Jean-Georges Vongerichten, who lives above the restaurant, estimates that the damage cost half a million dollars — and that's not counting the price of rebuilding a kitchen, complete with more powerful pumps to help remove water. But it didn't hurt his bottom line: "This year, Perry St. had the biggest growth out of all of my restaurants," he says. "People are very loyal. The regulars have only become more regular, and we're 18 to 20 percent up from prior years." He admits that he was fortunate: He could relocate staffers and transfer food that would have otherwise spoiled from the Mercer Kitchen and ABC Kitchen (which both briefly lost power) to his uptown restaurants. "We could deal with it financially and emotionally," he says.
 
But on Grand Street, Lucky Strike's six dark weeks may have caused its customers to stray. "While there was a great deal of well wishes from the public, there was definitely a loss in momentum," says general manager Jeremy Bullis. "On a daily basis, I'm trying to think of where 10 percent of customers went. We felt the effects of Sandy all summer long."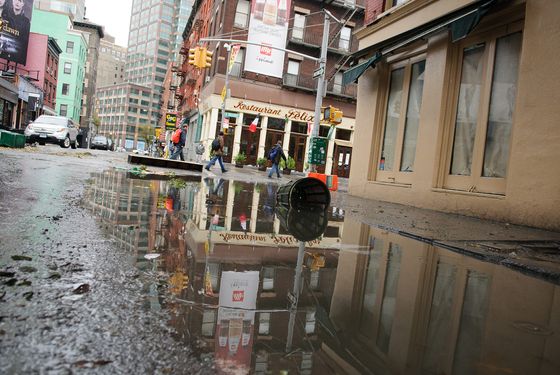 Soho, after the storm.Photo: Tiffany L. Clark/Demotix
Red Hook
"You don't put things back the way they were," Fort Defiance owner St. John Frizell told us last year."You put them back the way you wanted them to be." Noah Bernamoff says the storm not only destroyed Mile End's smokehouse and bakery on Pier 41, it prompted him to reformulate his business plan entirely. He and his wife Rae have regrouped and now share some waterfront space with Fleisher's Meats. "We found out a lot of our equipment cost more to repair than it would to just replace it," Bernamoff says. Part of the production kitchen has been remade into an area open to special events and guest-chef visits. 
 
Van Brunt Street's Baked, which served thousands of cups of hot coffee to volunteers right after the storm, will soon open a second location in Tribeca. The greatest loss, insists co-owner Matt Lewis, is the exodus of longtime regulars in the months after the storm: "We were crushed to hear that some of our neighbors had left Red Hook permanently."
 
Miraculously, only two restaurants in Red Hook closed permanently: the fledgling Vern's Kitchen and Pub, and Philly-Pinoy, the Pioneer Street Filipino hut. One year after the storm, far more places are open or planned: Erin Norris's Grindhaus is on its way; a local couple will open a Thai restaurant serving Chiang Mai sausages and homemade ice cream in an old check cashing place; and the wandering Neapolitan specialists from Pizza Moto are attempting a restoration of an immense brick oven that was hidden behind drywall for 50 years inside a Hamilton Avenue storefront. 
 
There's more good news, too: The line of customers at Hometown Barbecue regularly stretches out the door. Around the corner, music and whiskey are back at Sunny's, the storied old longshoreman's bar. At Court Street Grocers Hero Shop, which opened in July, the breakfast sandwich has gained a cult following. And Monica Byrne and Leisah Swenson reopened their quaint, comfortable Home/Made, and added a new business: Atelier Roquette, a postindustrial-rustic events space on Commerce Street.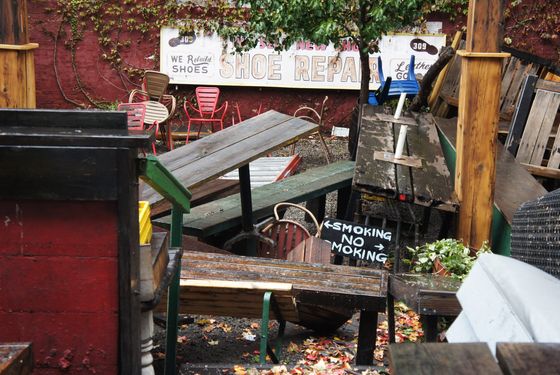 The backyard of Red Hook's Ice House Bar after Sandy.Photo: Matthew Leising/Bloomberg
East Village
However long and arduous the road to neighborhood-wide recovery was in the East Village, camaraderie was stirring. "People who don't even like each other started getting along—and not some kiss-kiss bullshit either," observes Eduard Frauneder, chef-owner of Edi & the Wolf on Avenue C. His doors opened each morning with hot coffee.
 
"It was, 'You just fed me my first hot meal in two days, and I'm gonna lug over a sump pump to get your basement cleared and give you gas I siphoned out of a car,'" ABC Beer Co. owner Zach Mack says. "For example, if we needed ice, we just went next door," to Bobwhite Lunch and Supper Counter. (On election night, one week after Sandy, ABC still had no power, so Mack checked results on Twitter and filled in a hand-drawn map of the United States. When Florida finally rolled around, he recalls, "We were just like, 'Who cares? Drinks!' Everyone was cheering; they needed it. And that's when the switch flipped off — we were out of crisis mode.")
 
On Avenue B, Idle Hands organized recovery pub crawls nightly, and there were talks of Avenue C block parties. Elsewhere, pre-storm circumstances were more severe at spots like Arcane, a French-Caribbean joint at 7th Street, or East Village Tavern, a domestics-only craft beer bar near 10th Street — both were facing closure, but are flourishing today. "I don't know of one single place around us in Alphabet City that went under because of Sandy," Frauneder says. "And not that many places were hit harder than Avenue C."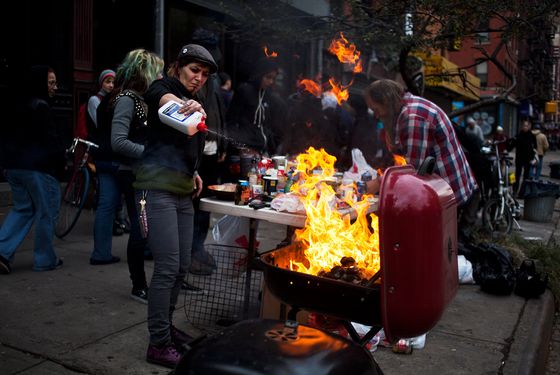 A party, of sorts, in the East Village.Photo: Konstantin Sergeyev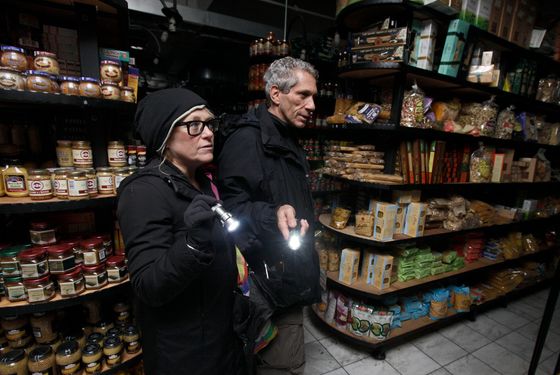 A Tribeca couple shops by flashlight on October 30.Photo: AP Photo/Richard Drew
Tribeca
Though many of Tribeca's big-money restaurants appeared to bounce back more seamlessly than businesses in other neighborhoods, there was still plenty of behind-the-scenes hand-wringing.
 
Drew Nieporent, told the Times last year that he lost $600,000 in revenue and $30,000 in ingredients while Tribeca Grill, Nobu, and Corton were closed. (Nieporent announced in July that Corton would close indefinitely — however, the shuttering was unrelated to Sandy.)
 
"People were displaced," Locanda Verde's Andrew Carmellini says. "Our customers were living in hotels in other parts the cities, they were scattered — it was scary." Carmellini says that the lost revenue didn't stop when the power came back on, either: "It wasn't Sandy itself, it was the whole season afterwards … your fourth quarter's the strongest quarter of the year," but he says attendance was way down. "The last time I saw anything like it, it was 9/11." He adds, "I'm blessed to have pretty popular restaurants, so if I was feeling the effects, certainly everyone else was, too."
 
However, he says that this year has been one of his strongest, and the bounceback can be seen elsewhere in the neighborhood, which has seen a number of big openings in the past few months: American Cut, Khe-Yo, and Masaharu Morimoto's revamp Bisutoro among them.
 
Dumbo
The most talked-about closing to hit Dumbo was Governor, which was fast becoming a destination restaurant pre-Sandy. Its owners announced in February after months of fund-raisers that they would be abandoning their unsalvageable dining room. New owners came in, and by July, the space became Atrium. "When we first opened, we had so many people from nearby dropping by to say hi and welcome us," says partner Leslie Affre. "We've really gotten to know our neighbors."
 
Unfortunately, another hard-hit spot still sits empty: The East River-facing space that was Bubby's Tribeca has yet to land a new tenant.
 
Sandwich shop Little Muenster, which opened on Front Street weeks before the storm, managed to persevere and was joined down the block with the opening, in the spring, of the neighborhood's first Pinkberry, spurring concerns that more chains would eventually find their way into the waterfront neighborhood. 
 
On the water, 45-year restaurant veteran Michael "Buzzy" O'Keeffe has painstakingly reconstructed the barge-based River Café, which is now reopened for special events. One byproduct of the stately restaurant's painstaking overhaul will be the debut of pancakes, eggs, and oatmeal served in the 70-seat Terrace Room for the very first time. In other words, Brooklyn will finally have a Power Breakfast place to rival that at the Loews Regency.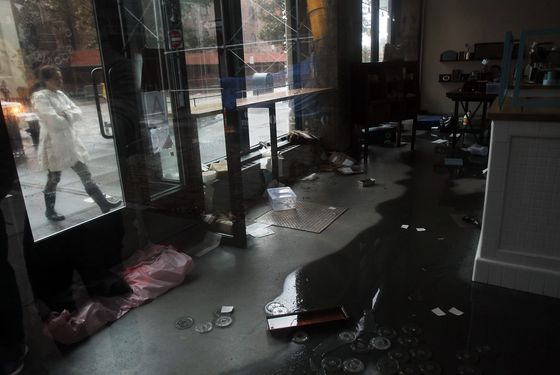 Flood waters receding in Dumbo.Photo: Spencer Platt/Getty Images
Coney Island and Brighton Beach
The storm managed to claim two locations of Nathan's Famous. The Boardwalk location opened in March, but the iconic 24/7 Surf Ave. location shuttered for nearly seven months. The restaurant was completely gutted and rebuilt, with a redesigned dining room and the addition of an oyster bar, in time for Memorial Day weekend.
When the storm hit Totonno's, another Coney Island landmark, owners were still in debt following the misfortune of a 2009 fire, so they were forced to spend months frustrated by loan denials, insurance claims, and unreliable contractors. But the shop managed to reopen on Palm Sunday thanks to community outreach that spanned two coasts: The owners received a $5,000 donation from the team behind San Francisco's Coi restaurant at the behest of longtime customer Allison Robicelli.
The area's festive dining halls rebounded as well: Brighton Beach's Tatiana and Coney Island's Garguilo's both reopened after full restorations.
Howard Beach and the Rockaways
In Howard Beach, two of the area's most prominent spaces were nearly wiped out: Russo's on the Bay lost all but one bottle of wine in its inventory. Its sister restaurant, Vetro, was under eleven feet of water during the worst part of the storm surge. Yet miraculously, both spots were opened by December.
The community spirit was present elsewhere: Saffron Restaurant and Tapas Bar on Cross Bay Boulevard, which opened its own doors to serve a free Thanksgiving dinner to still-suffering residents.
 
But no reopenings were as speedy as boulevard pizzerias Romano and Gino's. Ginos's had its generator revving 48 hours after the storm, and Romano offered free slices to neighbors and National Guardsmen one day later with no power and only its gas ovens operational.
 
Meanwhile, the Rockaway Beach Boardwalk suffered critical damage similar to New Jersey's Seaside Heights, with the now-closed Harbor Light Pub and reopened Rockaway Beach Club suffering the most massive devastation. But by Memorial Day weekend, Bungalow Bar, Connolly's, and Thai Rock all returned to form, following the lead of Rockaway Taco, which suffered only minor damage and had already closed for the season when the storm hit. They reopened in early May, weeks before the first Rockabus rode back into town.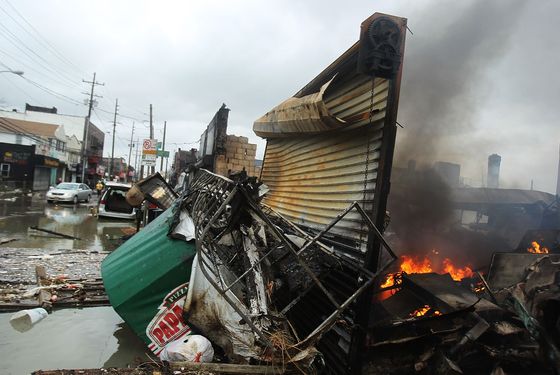 The scene in the Rockaways.Photo: Spencer Platt/Getty Images