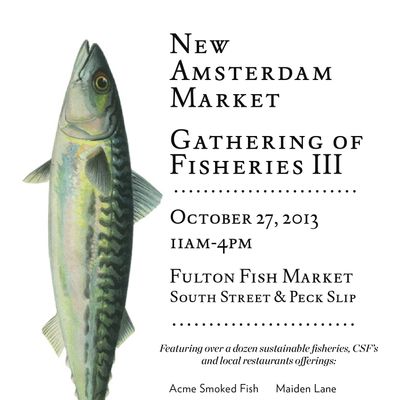 You won't want to miss this one.
Photo: Courtesy of New Amsterdam Market
The Howard Hughes Corporation has broken ground on its massive redevelopment of Pier 17, leaving the future of the two old Fulton Fish Market buildings in doubt. New Amsterdam Market, which seeks a permanent home on the site, will hold another of its blockbuster events from 11 a.m. to 4 p.m. this Sunday, October 27. In addition to fifteen tons of Champlain and Hudson Valley vegetables coming in by boat, the day is all about sustainable seafood, featuring fish and shellfish from ACME Smoked Fish, Luke's Lobster, Main Street Farm, Big City Fish Share, Gulf Wild, Iliamna Wild Smoked Salmon, and Maine Dayboat Scallops.
Montauk-based Dock to Dish will somehow conduct a spearfishing demo underneath the FDR on-ramp, chef Peter Hoffman and Four Fish author Paul Greenberg will be on hand, and the guys from Maiden Lane will serve pickled oysters. Oh, and there's a big yellowfin-tuna butchering demo at 1 p.m. with Village Fishmonger. More than 50 of the market's regular vendors will also operate stalls chockablock with pasture-raised meats, poultry, farm vegetables, fall fruits, and provisions.
Gathering of the Fisheries [Official Site]
Related: Can New Amsterdam Market Revitalize the Post-Sandy Seaport?
Related: Related