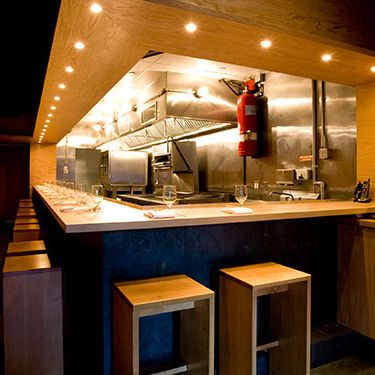 Will the last one out please turn off the lights?
Photo: Courtesy of Momofuku Ko
David Chang says he will move his acclaimed twelve-seat chef's-counter restaurant at 163 First Avenue to Extra Place between Bowery and Second Avenue. The new Momofuku Ko may be open as soon as the end of the year, the Times reports. But that's not all the chef-restaurateur has planned.
Chang says the move will allow him to add tables, meaning there'll be a dining area separate from the chef's counter for the first time, and a "waiting room for guests." He did not say how many seats Ko 2.0 will have total, but Sean Gray will remain as the restaurant's chef de cuisine.
Momofuku Ko was named a "Best New Restaurant of the Year" by New York's Adam Platt in 2009, who later gave it a "Most Influential Restaurant" accolade in 2011. Platt gave Ko a seldom-seen four-star rave just a month after opening.
In addition to expanding Lucky Peach as a Momofuku property and debuting a line of proprietary fermented foods made from things like cashews and pine nuts in the last few months, David Chang has also hinted at expansion beyond his extant restaurant properties in New York, Sydney, and Toronto. Whether or not more big announcements like this one are on the way, the first days of the new Ko will be timed with a major milestone for Chang's original restaurant, Momofuku Noodle Bar, which turns ten years old in 2014.

Kingside Opens, Momofuku Ko Is Moving and More [NYT]