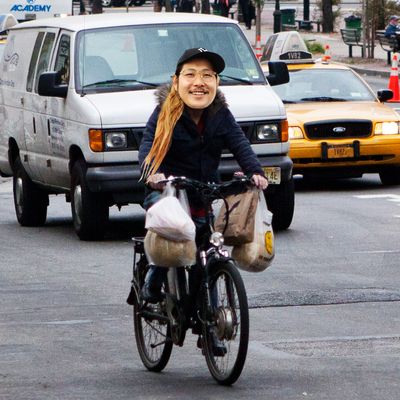 Danny Bowien probably won't deliver your food himself.
Photo: Konstantin Sergeyev / Bowien: Melissa Hom
Earlier this week, Mission Chinese Food made what was basically the biggest announcement in the history of New York City food delivery: Danny Bowien's menu could now be dispatched to any Manhattan location below 59th Street. (The actual delivery is handled by a start-up called Caviar, which can also deliver food from spots like Katz's and Maharlika; Han Dynasty is on the way.) That is very good news for New York's kung-pao-pastrami fans — but that delivery zone is huge. Could Mission and Caviar really maintain quality control? Grub wanted to know, so we recruited a half dozen folks around town to order whatever they wanted and report back on their experiences. Here's what we discovered.
Ease of Delivery
As noted, if you want thrice-cooked bacon delivered to your door, you're going to have to sign up for yet another online delivery service, Caviar. Luckily, Caviar's setup is pretty straightforward, and ordering is easy: Click on the picture of the dish you want and it gets added to your order.
After that, Caviar is also shockingly good about letting you know where your order is. Many of our orderers encountered delays — no doubt related to the fact that they ordered during the lunch rush of Mission's first week offering wide delivery — but in every case, Caviar e-mailed or called to explain the delay. You can also track your delivery guy's progress once the order goes out.
Caviar's couriers also got high marks across the board. As one midtown-office responder reported, "Before I could get to the lobby he beat me to it and came up, somehow convincing security to let him through, which doesn't usually happen — nice touch."
Verdict: Solid reviews all around for Caviar's online system and customer service.
Wait Time
Do not expect a 30-minutes-or-less guarantee here: When you order, Caviar's system lets you select a one-hour delivery window, but during busy times, you might end up waiting two hours or more. The fastest any of our diners got their food was 62 minutes, and that order was put in around 5:30 p.m., not exactly prime time. One lunch orderer, whose food arrived 45 minutes after the delivery window, noted, "We were starving by the time the food arrived."
Caviar never left orderers in the dark, though, always e-mailing with updates (sometimes unnecessarily, apologizing for delays when the food still arrived during the designated delivery window), though their missives definitely have a it's-them-not-us tone that sorta throws Mission under the bus:
I am emailing you to let you know that your order is still being made. Mission Chinese Food has been extremely backed up during the lunch rush. Rest assured, we have a courier standing by and will attempt to get your order to you as soon as we can. Thanks for being patient!
Verdict: Order early in the day so you're up front in the queue, or during downtime, and you shouldn't have a problem. Otherwise be prepared to wait.
Cost:
The delivery menu is more limited than the in-restaurant choices, but food prices are exactly the same. Caviar lumps tax, tip, and its flat delivery fee into a single charge, which can look ominous as one big number (New York Mag's large office lunch order, which came to $119 in food costs, had an additional $31.98 charge). But, considering how much that fee covers, it's not as bad as it seems. All in all, a pretty solid value considering the delivery service spares you the time it would take to wait at the restaurant.
Verdict: Not the cheapest lunch in the world, but not outrageous.
Food Quality:
Here's where things break down: Even though Mission Chinese's food isn't the most technically complicated stuff on the planet, it really loses a lot of its magic in transit. No matter how talented a chef Danny Bowien is, his kitchen's food still succumbs to the everything-is-sorta-the-same-temperature fate that befalls almost all Chinese delivery.
Sizzling cumin lamb breast arrived warm-ish, and definitely not sizzling; cold salads wilted when they were packaged in the same bag as warm foods; chicken wings arrived still-crispy for one of one orderers, but soggy and underseasoned for others.
Packaging was also a problem. While each dish gets its own little to-go container (helpfully labeled), most orderers had at least one issue involving a broken delivery vessel: "Kung pao pastrami container was fucked up," reported a magazine editor who works at the far reaches of the delivery zone, adding, "Onions were hanging out of the container leaking goo everywhere." An order involving shaved pork belly as well as Chinese chicken salad was "slightly grey and oversteamed after sitting for 45 mins in plastic containers," said a writer who lives near Union Square.
And then there's this complaint from an orderer who also got the Kung Pao pastrami:
When I had this in the restaurant, the veggies had been plentiful, cooked less, and cut into bigger pieces; all of which helped the dish. This was just salty cubes of dry meat floating in oil next to a smattering of chopped peanuts and a few pieces of grease-soaked celery and onions. Blech.
Verdict: Food quality isn't anywhere near what you get at the restaurant — it's closer to the leftovers you bring home if you can't finish everything. Keep that in mind when choosing what you'll have.
Overall: Mission's delivery isn't any worse than other Chinese delivery around town, but it still feels disappointing since the restaurant is held to a higher standard. If you don't expect a transcendent experience, and just want some spicy carrot pickles with salt-cod fried-rice, you'll be fine.
And, as several orderers learned, if you offer to order Mission Chinese lunch for the office, you'll be a hero — your ravenous, slobbering co-workers won't even notice that the thrice-cooked bacon could have been hotter.