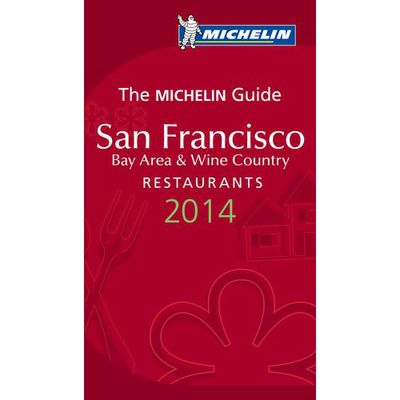 The guide is now available.
Photo: Courtesy of Amazon
Michelin's inspectors informed this year's Bay Area star winners yesterday and dropped the full 2014 list later in the afternoon, and there are surprises throughout. The excellent Restaurant at Meadowood and the French Laundry remain the area's only three-star establishments, while the seven two-star contenders remain mostly unchanged from the previous year's edition of the guide. In the one-star category, however, there are a few shake-ups: Chef-owner Melissa Perello's perpetually jammed Frances, which underwent a face-lift this spring, lost its star; Masa's, which closed this year, is also off; Michael Tusk's Quince (finally) joined the two-star club. Stuart Brioza and Nicole Krasinski's generally acclaimed State Bird Provisions, which was last year mysteriously absent from the rankings — "It just didn't meet our criteria this year," we were told — has landed its first star. The full list, straight ahead.

San Francisco MICHELIN Guide 2014
Starred establishments

Three Stars
The French Laundry, Thomas Keller
The Restaurant at Meadowood, Christopher Kostow

Two Stars
Atelier Crenn
Baume
Benu
Coi
Manresa
Quince
Saison

One Star
Acquerello
All Spice
Ame
Auberge du Soleil
Aziza
Bouchon
Boulevard
Campton Place
Chez TJ
Commis
Farmhouse Inn & Restaurant
Gary Danko
Keiko à Nob Hill
La Folie
La Toque
Luce
Madera
Madrona Manor
Michael Mina
Plumed Horse
Solbar
Sons & Daughters
SPQR
Spruce
State Bird Provisions
Terra
Terrapin Creek
The Village Pub
Wakuriya

MICHELIN Guide San Francisco 2014 [Michelin]
Earlier: Michelin Stars for 2013 Announced: Atelier Crenn Gets Two, SPQR Earns a Star, Fleur de Lys Loses Theirs