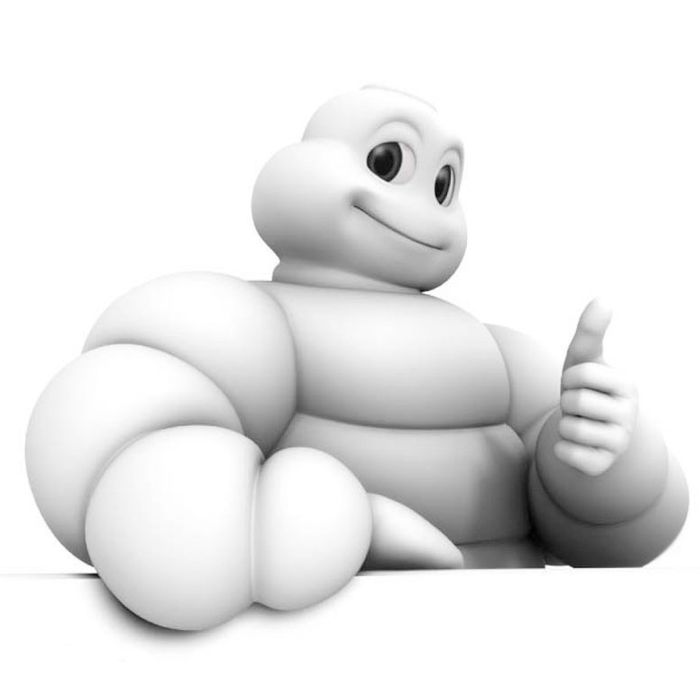 He's looking at you.
Photo: Courtesy of Michelin
The little red guidebook announced its "Bib Gourmand" picks for New York City last week, and this afternoon Michelin unveiled its star rankings for 2014. Brooklyn's River Café, which previously had one star but was nearly destroyed by Hurricane Sandy eleven months ago, is not included in this year's guide. Meanwhile, César Ramirez's Chef's Table at Brooklyn Fare remains the only restaurant in that borough with three stars. Gordon Ramsay at the London has dropped off the list completely, and newcomers Carbone, Aska, and the Musket Room have all climbed aboard. The entire constellation, straight ahead.
Three Stars:
Chef's Table at Brooklyn Fare
Daniel
Eleven Madison Park
Jean Georges
Le Bernardin
Masa
Per Se
Two Stars:
Atera
Jungsik
Momofuku Ko
Marea
Soto
One Star:
15 East
Ai Fiori
Aldea
Annisa
Aska
Aquavit
Aureole
A Voce Columbus
A Voce Madison
Babbo
Blanca
Blue Hill
Bouley
The Breslin
Brushstroke
Cafe Boulud
Cafe China
Carbone
Casa Mono
Caviar Russe
Danji
Danny Brown Wine Bar & Kitchen
Del Posto
Dovetail
Gotham Bar and Grill
Gramercy Tavern
Hakkasan
Ichimura at Brushstroke
Jewel Bako
Junoon
Kajitsu
Kyo Ya
Le Restaurant
Lincoln
Minetta Tavern
The Modern
The Musket Room
NoMad
Oceana
Peter Luger
Public
Rosanjin
Rouge Tomate
Seäsonal
Spotted Pig
Sushi Azabu
Sushi of Gari
Tamarind Tribeca
Telepan
Tori Shin
Torrisi Italian SpecialitiesTulsi
Wallsé
wd~50
Some more notes: Drew Nieporent and Paul Liebrandt's Corton, which closed in July after Liebrandt left, has also vanished. The Elm, where Liebrandt cooks now, may have been open for too short a time period for consideration.
Smith Street New American stalwart Saul, which is moving to the Brooklyn Museum, is off, while A Voce Columbus and A Voce Madison retained their stars, despite losing chef Missy Robbins earlier this year. Notable absences from the list include Empellón Cocina, Lafayette, Luksus, Mission Chinese Food, Montmartre, Pok Pok Ny, and Pearl & Ash. Upper West Side fine-dining restaurants Telepan and Lincoln, on the other hand, received one star each. Neither made last year's guide.
Related: New York Critic Adam Platt's Ten Best New Restaurants 2014
Related: New York Critic Adam Platt's Best New Chefs 2014
New York City 2013 [Michelin]