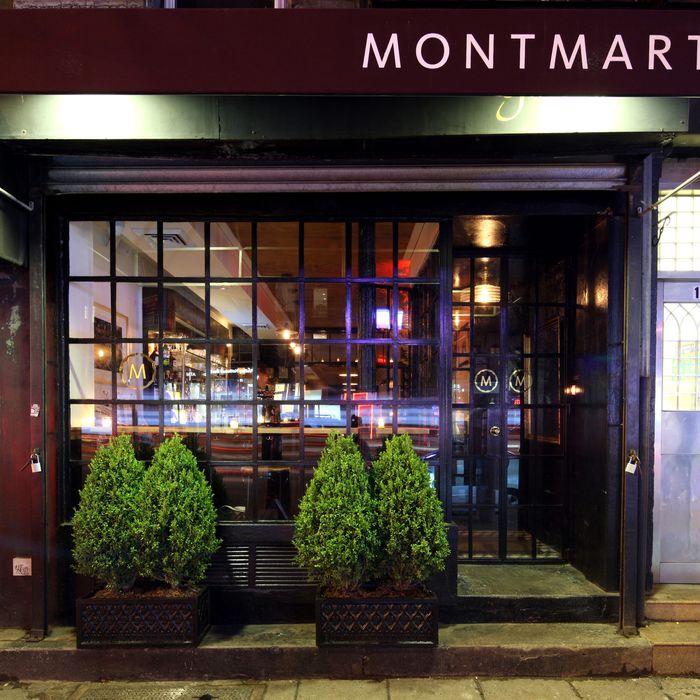 The revamped menu includes snails with Burgundy, skate amandine, and an ample raw bar.
Photo: Melissa Hom
We learned on Tuesday that Michael Toscano of Perla has replaced chef-partner Tien Ho at Montmartre in Chelsea, and owner Gabriel Stulman promised an overhauled menu and culinary direction "inspired by the history of French cuisine and technique" at the eight-month-old restaurant. Toscano's new dishes debuted yesterday, and the menu is filled with takes on bistro standards (steak tartare) and some Escoffier-style deep cuts (duck with farro and Albufera sauce). Check it out, straight ahead.
The former chef's inventive nods to Southeast Asian flavors, which came in the form of things like braised short rib "pot-au-phô" for two and the chile-and-coconut-spiked bouillabaisse served with fluke, have been replaced by more traditionalist-leaning plates like snails with carrots and Burgundy, and the salad of little gem lettuce with endive, pear, and walnuts. Toscano shows his admiration for nose-to-tail dishes here with the lamb entrée, for example, which comes with tongue, neck, and leg meat, as well as piperade and artichokes.
Menu [PDF]
Earlier: Perla Chef Michael Toscano Replaces Tien Ho at Montmartre