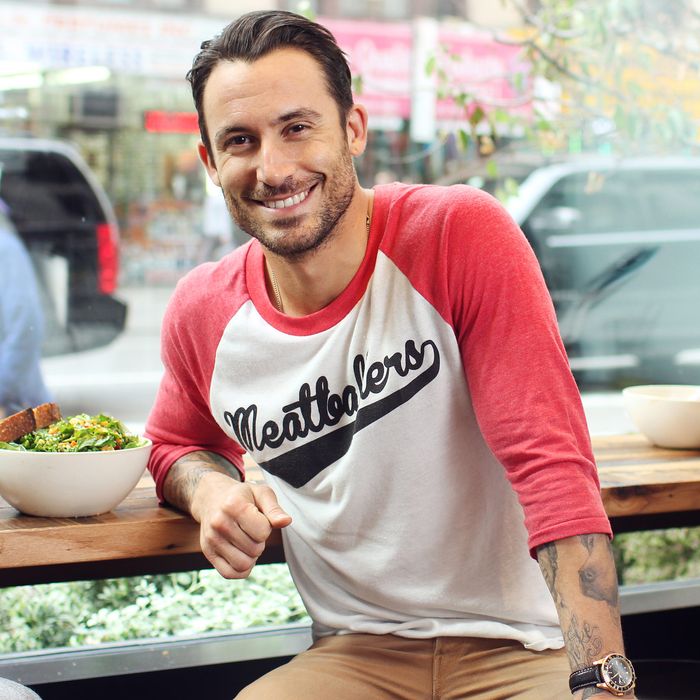 Chernow, at Sweetgreen in the Flatiron District.
Photo: Melissa Hom
You may have noticed that, for a guy who runs a growing empire of meatball-sub shops, Michael Chernow looks pretty healthy. "I do believe that giving a damn about what you put into your body is super important," says the Meatball Shop co-founder. "Depriving myself of anything is counterproductive because then I obsess about it." That means that while, yes, he eats at his own restaurants and doesn't avoid things like sushi feasts and fresh-baked muffins, he also grabs plenty of salads and apples (and makes a point to work out six days a week). In addition to food and fitness, read all about Chernow's E! auditions, weekend tractor pulls, and plenty more in this week's Grub Street Diet.
Friday, October 4
Around nine, I made a chocolate-whey protein shake at home in Brooklyn after my workout. When I first started caring about my health, I was a maniac. It took me a lot of time to understand balance.
I've been auditioning for a show on the E! Network called The Trend. It's a hosted weekly talk show, and I've made it to the third and final round to be a co-host. The show's about all trends: reality television, fashion, music, and food. I was there with Chrissy Teigen, Coco Rocha, and Jeremiah Brent, and a couple of others. It was pretty intense, but everyone was really cool. They approached me to read for it and then called me back. Chances are I don't get it!
While waiting, I ate cold, hard oatmeal around 11 a.m., and at 2 p.m. the casting agent ordered in lunch from Republic, a recommendation from Coco. I had a little salmon and a little seafood pad thai.
Every Friday night, my wife [Donna] and I leave to go upstate. She'll typically pick me up from one of the restaurants, and she always has a bag of honey-wheat pretzels in the car — the only junk food we eat. We bought our house at the end of August in Ghent. It's been the best thing that's happened to us, ever.
On our way upstate, we stopped and met with my buddy John Silverman, who's one of the owners of Ed's Lobster Bar. He's got a place up there, and we had dinner with him at one of his spots: Magoya in Chester. I had the sashimi deluxe, an eel-and-avocado roll, and edamame. I got home and had peanut M&M;'s, my second-favorite junk food.
Saturday, October 5
We live right down the street from the largest biodynamic farm in the country: Hawthorne Valley Farm. I had half of an everything bagel with cream cheese, half an apple, a cinnamon muffin baked fresh on the farm, and coffee.
Saturday was Ghent Day, when all the farmers bring their antique tractors and tractor-pull. I was able to pull a couple of tractors. It's such a fucking redneck thing to do, but it's so much fun. Everyone in town brought baked goods, and we got apple-cider doughnuts, maple-syrup honey, and a bottle of the most incredible spicy barbecue sauce I've ever had in my life.
I had a huge Honeycrisp apple, and then we cooked at home. Every weekend we cook breakfast, lunch, and dinner, for the most part. I never, ever cook during the week, unfortunately. We made a local-veggie egg scramble with kale, sweet potato, Pecorino cheese, carrots, and a whole-wheat tortilla. And I had a Reeds ginger beer.
When we're upstate we do a lot of landscaping, and the end goal is to farm the property. We're currently working to clear the area of the house that's overgrown with trees and bushes and resow it. I had a chocolate-peanut-butter-flavored Greens protein bar. You'll notice that I eat five or six times a day, and it's the perfect snack.
We very quickly became friendly with our neighbors, and my buddy Kurk Kneller owns Locust Hill Farm, where he raises cattle. He's got some of the most amazing heirloom breeds in the country. He always drops off meat, and we had a grass-fed, grain-finished rib eye, which we fired up on the Big Green Egg. It's essentially a ceramic wood-fired grill, but the magic is that you can get it at the temperature you want and then hold it for hours and hours. It's the most amazing outdoor cooking utensil I've ever used in my life.
We also cooked butternut squash with Tuscan kale and quinoa, and I had a cigar to finish. Then some more peanut M&M;'s.
Sunday, October 6
At 7:30 a.m., I had freshly picked apples from our apple tree with yogurt, my wife's homemade muesli, and agave. You have to climb up 50 feet on our heirloom apple tree and shake the branches to get the apples.
I had a Greens protein bar at 11 a.m., and then at 2:30 I ate a kale salad with butternut squash, quinoa, smoked trout, and goddess dressing — and Donna's freshly baked whole-wheat rolls with oats, carrots, raisins, sunflower, pumpkin seeds, and walnuts. Later, around 6 p.m., I had a few small apples from the tree.
Daniel [Holzman] and his mom, Sherry, came on Sunday afternoon, and we all cooked dinner together. We smoked a chicken on the Big Egg, and it was spectacular. My wife made an amazing brioche bread casserole with sausage, walnuts, quinoa, onions, and figs. We had a late-harvest tomato salad with basil, roasted turnips with sautéed turnip greens, a pea salad with snap peas, shelling peas, green zucchini, shallots, and fresh oregano.
Monday, October 7
We headed back to the city in the morning, and 7 a.m. I had apples, muesli, yogurt, agave, and Caffe Vita coffee. Donna puts raisins, dried figs, roasted almonds and cashews, and coconut flakes in the muesli. I had an apple at 10 a.m. and a Greens protein bar at noon.
Almost every day, I eat the Meatball Shop's kitchen-sink salad with veggie balls and pesto. It's super healthy. I don't get sick of it. I'm a creature of habit.
Tomoe is my favorite restaurant in New York, hands down. I grew up in New York, and I've been going there for years and years. For the money that I spend there, the quality of fish that I get surpasses anything else. I did have the best sushi meal I've ever had in my life a couple of weeks ago at Sushi Yasuda, but I just love Tomoe. I think it's better than Blue Ribbon.
I ate there with Daniel , and we had toro kakuni, salmon ceviche, spicy king crab, sashimi, ikura, uni, an eel-and-avocado roll, and green tea. We make it a point to spend time as friends as well as business partners. We've had our ups and downs — it's not easy working with your best friend. We grew up with each other, and we love each other. We have to be business parters, but we don't have to be friends.
Tuesday, October 8
I woke up at 8 a.m. and made espresso at home. I can't convince my wife to allow me to spend $500 on a La Marzocco machine. I also had an apple before I went to the gym.
Around 11:30 I had an apple and a Love at First Sight from Juice Press. I'm a green-juice guy, and I think that Juice Press does it the best.
I went to Sweetgreen for lunch and had a kale salad with avocado, quinoa, corn, tofu, and tomatoes. I pop in once or twice a week; I feel good eating there. There's never a line with less than 50 people, but it just moves.
I went to the Meatball Shop in Chelsea for the launch of the Q Ball, our partnership with Equinox.
We talk about expanding [to other cities] all the time, and it's tough figuring out where to go next. The next step is pretty crucial. That said, we're not going anywhere anytime soon because there are still neighborhoods that we feel are underserved in New York, and we'd like to be there.
It was our beverage director's birthday, so the Meatball Shop's management team went out to Tertulia. We ordered the family-style chef's tasting menu: butter-lettuce salad with anchovies and croutons, pan con tomate and Ibérico ham, croquetas con jamón, bresaola butter, bacalao with egg and piperrada, fried eggplant with romesco, arctic char, smoked chicken, and rice with snails. It was really great.
Wednesday, October 9
I woke up and had apples, yogurt and muesli, agave, and Caffe Vitta coffee. And then at 12:30 p.m. I went to the Bedford Avenue Meatball Shop and had a few veggie balls with pesto, and seltzer with a splash of lemonade. I bounce around to all the restaurants. I try to be a good daddy and see all the kids as much as I can.
At 2 p.m. I had a spicy sabzi salad at Sweetgreen, and at around 6 p.m. a Greens protein bar. For dinner I went to a great little Mexican place around the corner from my apartment, Taco Chulo. I always get the same thing there: the ensalada de temporada with grilled cod.
I went to Tasti D-Lite and ordered vanilla and mud pie with rainbow sprinkles. I've been eating it two days a week for two years.