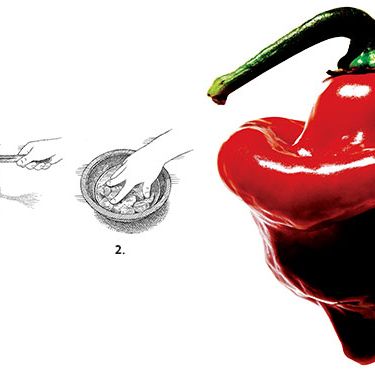 Photo: Bobby Doherty/New York Magazine; Illustrations by John Burgoyne
Mild and aromatic, the squat ají dulce pepper makes the perfect pickle, according to Gramercy Tavern's Michael Anthony, who uses it to garnish sashimi-style black sea bass. Anthony is such a fan of pickling, in fact—for the technique's ability to extend produce's short seasons, to add a bright burst of acidity to any dish, and to frugally utilize every part of the plant—that he has dedicated an entire kitchen station to "pickle exploration." This basic method for quick refrigerator pickles employs a simple ratio (three parts rice vinegar, one part water, one part sugar, and a pinch of salt) and can be found in The Gramercy Tavern Cookbook (Clarkson Potter; out October 29).
Michael Anthony's Pickled Ají Dulce Peppers
2 cups ají dulce or other small red peppers, stemmed
3/4 cup rice vinegar
1/4 cup water
1/4 cup sugar
1 tbs. kosher salt
Put the peppers in a medium bowl. In a small saucepan, combine the vinegar, water, sugar, and salt. Bring to a boil over high heat, stirring until the sugar and salt are dissolved. (1) Pour the pickling liquid over the peppers, and (2) cover with a plate to keep them submerged. Let cool to room temperature. Cover the bowl with plastic wrap, and refrigerate for at least 6 hours or overnight. Transfer the pickles and liquid to a container, cover, and refrigerate. Makes about 1 pint.
*This article originally appeared in the October 14, 2013 issue of New York Magazine.